Workplace Bullying and It's Impact and Remedies in the 21st Century Issues
Negash Geleta

Department of Management, College of Business and Economics, Ambo University, Ethiopia
Keywords:
Workplace, Bullying, 21st Century Issues.
Abstract
This paper is prepared to see the concept of bullying and its impacts in the work place and suggest some remedies based on the empirical data. Then the rationale of this paper document is to address why and how businesses organization should promote healthy work environments, to stimulate awareness of WPB and its negative impact on employee health, to explore current and prospective anti-WPB laws, and to present employer and employee responsive strategies to combat this business challenge. This activity was performed by using introducing the topic, reviewing the existing literature and drawing conclusion which can help different organization to update their current position.
References
Appelbaum, S., Semerjian, G., & Mohan, K. (2012). Workplace bullying: Consequences, causes and controls. Industrial and Commercial Training, 44(4), 203-210.

Bauman S 2013. Cyber bullying: What does research tell us? Theory into Practice, 52(4):249-256.

Bentley, T.A., et al. (2012). Perceptions of workplace bullying in the New Zealand travel industry: Prevalence and management strategies. Tourism Management, 33, 351-360.

Berkowitz, L.: 1993, Aggression: Its Causes, Consequences, and Control (McGraw-Hill, New York).

Bond, S.A., Tuckey, M.R., & Dollard, M.F. (2010). Psychosocial safety climate, workplace bullying, and symptoms of posttraumatic stress. Organization Development Journal, 28(1), 37-56.

Catanzariti, J. 2003 Workplace Bullies your time is up! Law Society Journal, 2003, 41, 11, pp.51-53

Crawshaw, L. (2005). Coaching abrasive executives: Exploring the use of empathy in constructing less destructive interpersonal management strategies. Unpublished doctoral dissertation, Fielding Graduate University, Santa Barbara, CA

Deirmenjian, J.M. (1999). Stalking in cyberspace. Journal of the American Academy of Psychiatry and the Law, 27, 407-413.

Djurkovic, N., McCormack, D., & Casimir, G. (2004). The physical and psychological effects of workplace bullying and their relationship to intention to leave. International Journal of Organization Theory and Behavior, 7(4), 469-497.

Einarsen, S. and B. Raknes: 1997, 'Harassment at Work and the Victimization of Men', Violence and Victims 12, 247–263.

Einarsen, S.: 1999, 'The Nature and Causes of Bullying at Work', International Journal of Manpower 10, 16–27.

Giacalone, R. A. and J. Greenberg (eds.): 1997, Antisocial Behavior in Organizations (Sage, Thousand Oaks, CA).

Goodno NH 2011. How public schools can constitutionally halt cyber bullying: A model cyber bullying policy that considers first amendment, due process, and fourth amendment challenges. The Wake Forest Law Review, 46:641-700.Available at http://wakeforestlawreview.com/wpcontent/ uploads/2014/10/Goodno_LawReview_11.11. pdf. Accessed 17 March 2015.

Harvey, M. and M. Novicevic: 2001, 'Selecting Expatriates for Increasingly Complex Global Assignments', Career Development International 6, 78–86.

Heames, J., & Harvey, M. (2006). Workplace bullying: A cross-level assessment. Management Decision, 44(9), 1214-1230.

Keashly, L., V. Trott and L. M. MacLean: 1994, 'Abusive Behavior in the Workplace: A Preliminary Investigation', Violence & Victims 9, 341–357.

Keelan, E.: 2000, 'Bully for You', Accountancy 125, 56

Leymann, H. and A. Gustafsson: 1996, 'Mobbing at Work and the Development of Post-Traumatic Stress Disorders', European Journal of Work and Organizational Psychology 5, 251–276.

Li Q 2005. New bottle but old wine: A research of cyber bullying in schools. Computers in Human Behavior, 23(4):1777-1791. http://dx.doi.org/10.1016/j.chb.2005.10.005

Liefooghe, A., & Mackenzie Davey, K. Accounts of workplace bullying: the role of the organization. European Journal of Work and Organizational Psychology, 2001, 10 (4), 375-392.

Lin, N.: 1999, 'Social Networks and Status Attainment', Annual Review of Sociology 15, 467–487.

Martin, W., & Lavan, H. (2010). Workplace bullying: A review of litigated cases. Employee Responsibilities and Rights Journal, 22(30), 175-194.

McCarthy, P., M. Sheehan and D. Kearns: 1995, 'Managerial Styles and Their Effects on Employee Health and Well Being in Organizations Undergoing Restructuring', Report for Work safer Australia, Griffith University, Brisbane.

Meloni, M., & Austin, M. (2011). Implementation and outcomes of a zero tolerance of bullying and harassment program. Australian Health Review, 35, 92-94.

Meloy, J.R. (2007). Stalking: The state of the science. Criminal Behavior and Mental Health, 17(1), 1-7.

Morrill, C., Zald, M. N., & Rao, H. (2003). Covert political conflict in organizations: Challenges from below. Annual Review of Sociology, 29, 391-415.

Namie, G., & Namie, R. (2003). The bully at work: What you can do to stop the hurt and reclaim your dignity on the job. Naperville, IL: Sourcebooks.

Olafsson, R. F. and H. L. Johannsdottir: 2004, 'Coping with Bullying in the Workplace: The Effect of Gender, Age and Type of Bullying', British Journal of Guidance & Counseling 32, 319–333.

Pate, J., & Beaumont, P. (2010). Bullying and harassment: A case of success? Employee Relations, 32(2), 171-183.

Power, J. L., et al. (2011). Acceptability of workplace bullying: A comparative study on six continents. Journal of Business Research.

Reyns, B.W., & Henson, B., & Fisher, B. (2012). Stalking in the twilight zone: Extent of cyber stalking victimization and offending among college students. Deviant Behavior, 33, 1-25.

Rhodes, C., Pullen, A., Clegg, M., & Pitsis, A. (2010). Violence and workplace bullying: What are an organization's ethical responsibilities? Administrative Theory & Praxis, 32, 96-115.

Saam, N.J. (2010). Interventions in workplace bullying: A multilevel approach. European Journal of Work and Organizational Psychology, 19, 51-75.

Salin, D. (2003). The prevention of workplace bullying as a question of human resource management: Measures adopted and underlying organizational factors. Scandinavian Journal of Management, 24, 221- 231.

Tuckey, M.R., Dollard, M., Hosking, P., & Winefield, A. (2009). Workplace bullying: The role of psychosocial work environment factors. International Journal of Stress Management, 16(3), 215-232.

Wheeler, A. R., Halbesleben, J., & Shanine, K. (2010). Eating their cake and everyone else's cake too: Resources as the main ingredient to workplace bullying. Business Horizons, 53, 553-560.

White, M. (2014, March). Bullying at Work: How to Make It Stop. Time, 183(9). Retrieved fromhttp://time.com/17168/bullying-at-work-how-to-make-it-stop/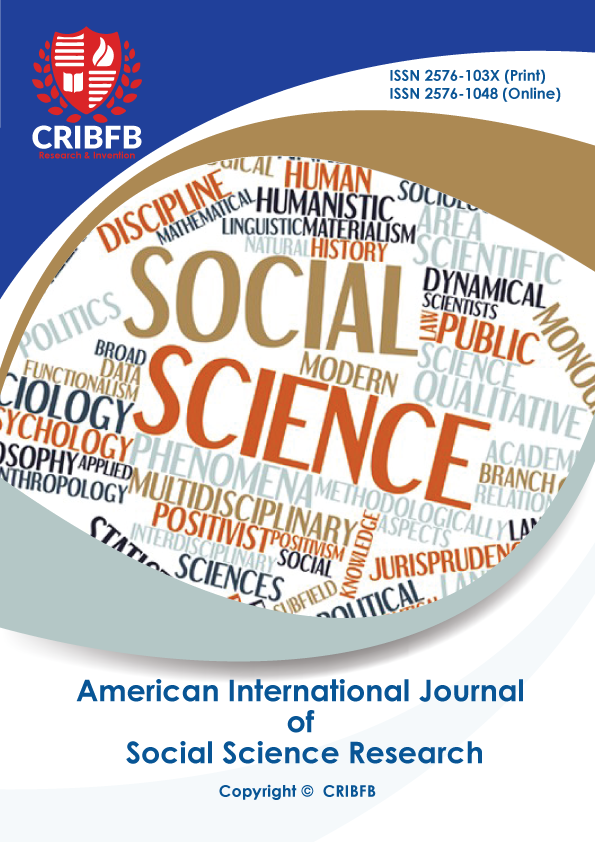 How to Cite
Geleta, N. (2020). Workplace Bullying and It's Impact and Remedies in the 21st Century Issues. American International Journal of Social Science Research, 5(2), 1-7. https://doi.org/10.46281/aijssr.v5i2.513
Section
Original Articles/Review Articles/Case Reports/Short Communications
Copyright (c) 2020 Negash Geleta
This work is licensed under a Creative Commons Attribution 4.0 International License.