Analytical Approach on Women Education in India
N. Sreedhar

Dept. of Economics, Rayalaseema University, Kurnool, A.P. India

B. Ravi Kumar

Dept. of MBA, Amrita Sai Institute of Science and Technology – India
Keywords:
Literacy Rate, India, Education, Women.
Abstract
The importance of education had been recognized since the dawn of civilization as the most crucial element of becoming a human being. Women are a very important key factor in the development of human society. In India half of the population consists of women. The 11th five year plan (2007-2012) gave importance to women empowerment in all social, economic and political areas along with continuation of priority keeping over the issues like education, health, and income generating activities. The education and stated that there cannot be educated people without education of women. In India women have a much lower literacy rate than men. Literate women are better decision makers and they contributed more to the life of the community. An African proverb says "If a man is University Education Commission of India (1948-49), just after independence, felt the need of women's e educated, an individual is educated. If a women is educated the entire family is educated". Many states have large rural - urban differential in female literacy rate. Women power is crucial to the economic growth of any country. In recent times, people are realizing the value of women education. Even the low income families are willing to educate their children. Women are very important segment in development at local to global levels. Economic independence and education of women will go a long way in attaining self-reliance for women. The United Nations Development programme constituted eight Millennium Development Goals (MDG) for ensuring equity and peace across the world. The third Millennium Development Goal is directly related to the empowerment of women in India. What Indian women need therefore is not just empowerment, but a complete "Identity Revolution".
References
Rajesh pal. (2011).Women Empowerment through Formative Education. 'Social Welfare' 58(6), 11-12
Anupam Hazra, .(2011).Women Need an Identity Revolution" 'Social Welfare' 57(12),.8-10
V.Govindappa &D.Hanumantha Rayadu,"Economic Empowerment of Women- A case study of garment factory workers in Doddaballapur Industrial Area".'Southern Economist' 50(19),44-46
A. Celine Rita and D.Rajasekhar.(2012). Role of Women in Independent India. 'Southern Economist' 51(11),7-,9
R.Vidhya .(2012). Status and Empowerment of Women in India.Southern Economist,50(20),8-10
N.S. Sumathi .(2014).Self Help Groups: An effective approach to women empowerment in India". 'International Journal of Applied Management Research,6,67
Census of India 2001
Shilpa Tripathi .(2010).Redressing Illiteracy: Quiet Revolution for the Empowerment of Women" 'Social Welfare' 57(4)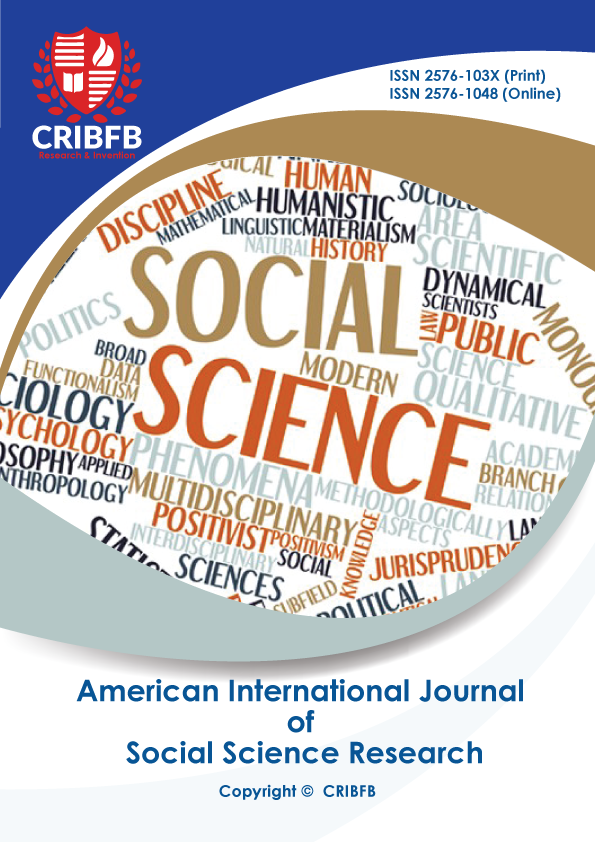 How to Cite
Sreedhar, N., & Kumar, B. R. (2018). Analytical Approach on Women Education in India. American International Journal of Social Science Research, 2(2), 12-15. https://doi.org/10.46281/aijssr.v2i2.174
Section
Original Articles/Review Articles/Case Reports/Short Communications
Copyright (c) 2018 N. Sreedhar, B. Ravi Kumar
This work is licensed under a Creative Commons Attribution 4.0 International License.