Assessment of Menstrual Waste Disposal and the Environment: The Role of Adult Education in Nigeria
Adekunle Olatumile

Department of Adult Education, Faculty of Education, Adekunle Ajasin University Akungba-Akoko, Ondo State, Nigeria

Elizabeth Aanuoluwapo Ajayi

Department of Adult Education, Faculty of Education, Adekunle Ajasin University Akungba-Akoko, Ondo State, Nigeria
Keywords:
Menstrual hygiene; menstrual waste disposal; Menstrual Management Education; Environmental Adult Education
Abstract
The phenomenon of menstruation portends great impact on the environment and its calls for concern. Environmental effect of menstrual hygiene and related issues has been downplayed Nigeria. This study was conducted to assess menstrual waste disposal practices and it's implication on the environment. A self-constructed questionnaire was used to elicit information for the survey design research. While multistage sampling technique was used to select 194 participants of females within the age range of 20 and 59 in Akungba-Akoko, Ondo State. The four research questions raised for the study were answered descriptively while the two hypotheses were tested using inferential statistics at 0.05 level of significance. Finding revealed among others that though the female adults were aware of the environmental implication of indiscriminate menstrual waste disposal, they practices does not correlate with their awareness because menstrual waste disposal knowledge is not in public domain, while the knowledge gained is informal from older women who themselves lack adequate knowledge. It was therefore recommended among others, that adults deserves to be empowerment by Adult Education through Menstrual Waste Education (MWE)   to improve hygiene as well as the environment during menstrual cycle due to the precarious situation it places on women.
References
Crofts, T. (2012). Menstruation Hygiene Management for School Girls in Low-Income Countries. Leistershire: Water Engineering and Development Centre, Loughborough University.
Dargan, T. Selvaraj, J. and Singh, D. (June 5, 2015). World Environment Day 2015: Menstrual Waste Disposal and the Environment. Retrieved on January 31, 2018 from www.india.com/news/india/world-environment-day-2015-menstrual-waste-disposal-and-the-environment-409523
George, A. and Murcott, A. (1992). Monthly strategies for discretion: Shopping for sanitary towels and tampons. The Sociological Review 40(1). Retrieved on January 31, 2018 from https://doi.org/10.111/j1467-954x.1992.tb02949.x
Gultie, T. K. (2014). Practice of menstrual hygiene and associated factors among female Mehalmeda high school students in Amhara regional state, Ethiopia. Science Journal of Public Health. 2(3), 189-195.
Houses, S., Mahon, T. and Cavill, S. (2012). Menstrual Hygiene Matters: A Resource for Improving Menstrual Hygiene around the World. UKAid.
Jogdand, K. and Yerpude, P. (2011). A Community Based Study on Menstruation Hygiene Among Adolescent Girls. Indian Journal of Maternal and Child Health. 13 (3) 1-6.
Kaur, R., Kaur, K. and Kaur, R. (2018). Menstrual hygiene, management and waste disposal: Practices and challenges faced by Girls/women of developing countries. Retrieved on January 31, 2018 from doi: 10.1155/2018/1730964
Lawan, U M., Yusuf, N W. and Musa, A. B. (2010). Menstruation and menstruation hygiene amongst adolescent school girls in Kano, North-western, Nigeria. African Journal of Reproductive Health 14(3), 201-208.
Lumutenga, N., Khaista, M., Muwazi, R. Wakoko-Studstill, F. Naigaga, I., Hossfold, L. and Ralston, M. (2018). Women empowering women through reusable sanitary pads. Journal of Community Engagement & Scholarship 10(1), 141-151.
Montogomery, P., Ryus, C. R., Dolan, C. S., Dopson, C. and Scott, L. (2012). Sanitary pads intervention for girl's education in Ghana: A pilot study. Plos one 7(10) Retrieved on January 31, 2018 from doi: 10.1371/journal.pone.0048274
Oche, M. O. Umar, O. O., Gana, G. J. and Ango, J. T. (2012). Menstrual health: The unmet needs of adolescent Girls' in Sokoto, Nigeria. Scientific Research and Essays 7(3), 410-418.
Onyegegbu, N. (2008). Menstruation and menstrual hygiene among women and young females on Rural Eastern Nigeria. Journal of Science Teachers Association of Nigeria (JSTAN) 28, 193-206.
Raina, D. and Balodi, G. (2014). Menstrual hygiene: Knowledge, practices and restrictions amongst girls of Dehradun, Uttarakhand, India. Global Journal of Interdisciplinary Social Sciences 3(4), 156-162.
Rheinlander, T. and Wachira, M. (2015). Menstrual hygiene. Global Health Minders. Retrieved on January 31, 2018 from http://GHM-MenstrualHygiene-Brief.pdf
Rumun, A. J. and Msuega, A. P. (2014). Menstrual knowledge and practices among adolescent females in Makurdi Metropolis. Global Journal of Interdisciplinary Social Sciences 3(3), 113-121.
Woeller, K., Miller, A., Robertson-Smith, A. and Bohman, L. (2015). Impact of advertising on tampon wear-time practices. Clinical Medicine Insights Women Health 8, 29-31. Retrieved on January 31, 2018 from doi: 10/4137/CMWH.S25123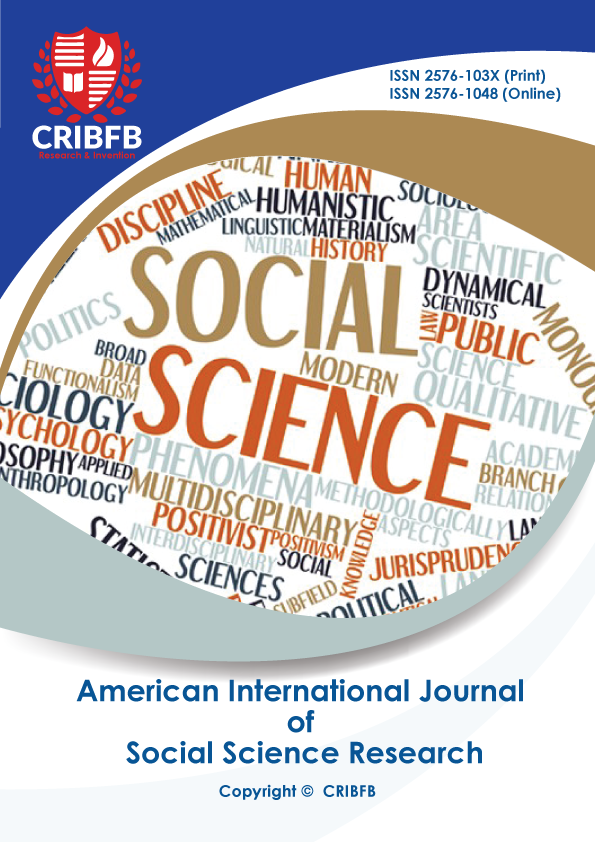 How to Cite
Olatumile, A., & Ajayi, E. A. (2019). Assessment of Menstrual Waste Disposal and the Environment: The Role of Adult Education in Nigeria. American International Journal of Social Science Research, 4(2), 78-87. https://doi.org/10.46281/aijssr.v4i2.350
Section
Original Articles/Review Articles/Case Reports/Short Communications
Copyright (c) 2019 Adekunle Olatumile,Elizabeth Aanuoluwapo Ajayi
This work is licensed under a Creative Commons Attribution 4.0 International License.