Money Politics: The Problem of Good Governance in Ese-Odo Local Government Area, Ondo State, Nigeria
David Tolo

Department of Adult Education, Faculty of Education, Adekunle Ajasin University, Akungba-Akoko, Ondo State, Nigeria

Oluwakemi Ibidapo Abolarin

Department of Guidiance and Counselling, Faculty of Education, Adekunle Ajasin University, Akungba-Akoko, Ondo State, Nigeria
Keywords:
Democracy, election, money politics, corruption and bad governance.
Abstract
This study examined critically how money and gifts have been used to influence the electorates during elections in Ese-Odo Local Government Area of Ondo State. Politicians in Nigerian society, especially in Ese-Odo LGA seem to have their ways in forcing themselves into seat of power by manipulating the thought of the electorates thereby engaging them into vote-buying and vote-selling. The population for study consisted of 213600 citizens. The sample consisted of four hundred (400) respondents. Three research questions were raised for the purpose of the study. The data that were retrieved from the respondents were three hundred and ninety-eight. Descriptive statistics was used to analyse the data and one hypothesis was also tested. The study found out that using money and other gifts by the politicians to influence the electorates is one of the major reasons for bad governance in Ese-Odo LGA. The study concluded that money politics has brought a great setback to democracy and has hampered the development of the masses and that of the society at large. The study, there for, recommended that for there to be free and fair elections in the society, the electorates must be enlightened on the civic rights of the electorates so as not to get involved in money politics. This will enable the electorates to vote for any political aspirant of their choice. Electoral laws should be strictly adhered to, and any electoral officer who is involved in using the period of elections as a means of extorting money from the political contestants should be dealt with. However, any political member who is caught in the act of vote-buying should be severely punished according to electoral laws. By doing this, the masses will be able to secure their well-being and that of the generations yet to come for sustainable development.
References
Abdulrahman, A., Danladi, O. &Sani, U. (2016) Money politics and analysis of voting behaviour in Nigeria: challenges and prospects for free and fair elections. International Journal of Public Administration and Management Research (IJPAMR), 3 (3), pp. 88-99

Akinpelu, J. (1988) Introduction to Philosophy of Adult Education. Ibadan: University of Ibadan

Babayo, S. & Mohammed, K. (2018) Impact of money politics: exploring the general elections in the Fourth Republic. Asia Pacific Journal of Education. www.researchgate.net

Edward, A. (2014) Money politics inside Indonesia. Retrieved from www.insideindonesia.org/money-politics

Kura, B.Y. (2014) "Clientale democracy": political party funding and candidate selection in Nigeria" African Journal of Political Science and International Relations. 8(5):124-137.

Kwaghga, B. &Tarfa, A. (2015) Money politics and vote buying in Nigeria: a threat to democratic governance in Makurdi Local Government Area of Benue State. International Journal of Public Administration and Management Research (IJPAMR), 2 (5), pp. 65-73

MidjkAn, K. (2014) Bad governance and the suggested effective measures of governance. Retrieved from kalbaq.wordpress.com/2015/02/19/bad-governance-and-the-suggested-effective-measures-of-governance/

Mohammed, H. &Aluigba, M.T. (2013) "Election rigging and political instability in Nigeria: The Case of 2007 General Elections" in Journal of Democratic Studies Mambayya House.

Omilusi, M. (2016) "An assessment of political parties and democratic consolidation in Nigeria's Fourth Republic" European Journal of Research in Social Sciences. 4(1):1-17.

Omoyele, B. H. (2018) Money-politics and vote buying in the 2016 gubernatorial election in Ondo State, Nigeria. Unpublished manuscript, Adekunle Ajasin University, Akungba-Akoko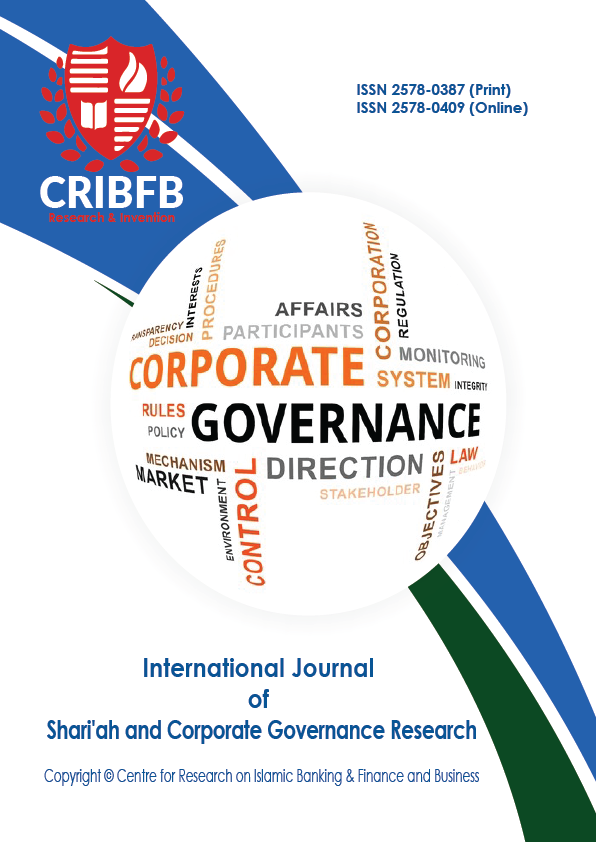 How to Cite
Tolo, D., & Abolarin, O. I. (2019). Money Politics: The Problem of Good Governance in Ese-Odo Local Government Area, Ondo State, Nigeria. International Journal of Shari'ah and Corporate Governance Research, 2(2), 54-61. https://doi.org/10.46281/ijscgr.v2i2.371
Section
Original Articles/Review Articles/Case Reports/Short Communications
Copyright (c) 2019 David Tolo,Oluwakemi Ibidapo Abolarin
This work is licensed under a Creative Commons Attribution 4.0 International License.