Current Issue
Vol 3 No 2 (2020): International Journal of Shari'ah and Corporate Governance Research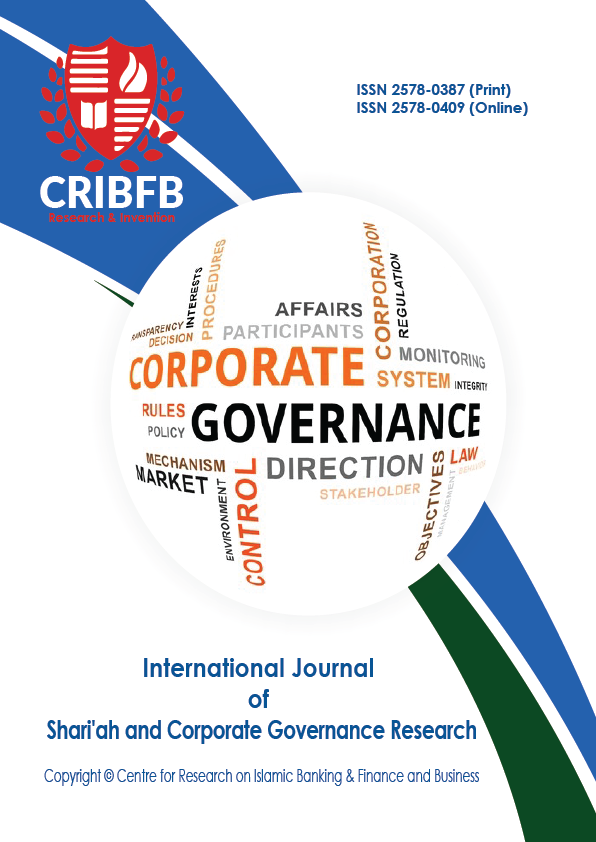 General Information of IJSCGR
ISSN: 2578-0387 (Print)
ISSN: 2578-0409 (Online)
Publisher: Centre for Research on Islamic Banking & Finance and Business
Management Office: 8700, Broadway St., Houston, TX-77061, USA
E-mail: info.ijscgr@cribfb.com


View All Issues
Aims & Scope
International Journal of Shari'ah and Corporate Governance Research (IJSCGR) is a refereed international journal. The journal aims are to publish papers that provide current issues within the Shari'ah and Corporate Governance perspective. The Journal focuses on topics related to to-
Corporate Governance
Corporation
Democratic
Investment
Shareholder
Democracy
Rights
Activism
Board Of Directors
CEO
Board
Election
Proxy
Voting
Vote
Democratic Corporate Governance
Shareholder Activism
Shari'ah Governance
Shari'ah Supervisory Board
Shari'ah Audit Committee
Shareholder Rights
Proxy Voting
Workplace Democracy
Stockholders
Stockholder
Investor
Investors
Pension
Fund
Funds
Fiduciary
Mutual Funds
Mutual Fund
Trustee
Trustees
Board of Trustee
Boards of Trustees
Governance
Corporate
Regulation
Islamic Studies
History of Islamic Scholars etc.
International Journal of Shari'ah and Corporate Governance Research currently has an acceptance rate of 40%. The average time between submission and final decision is 15 days and the average time between acceptance and publication is 10 days.
IJSCGR welcomes high-quality original research papers, survey papers, review papers, tutorials, technical notes as well as discussion papers.
----------------------------------------------------------------------
NOTE:
The publisher and journal have a policy of "Zero Tolerance on Plagiarism". We check the plagiarism issue through two methods: reviewer check and plagiarism prevention tool (https://www.turnitin.com).
All submissions will be checked by Turnitin before being sent to reviewers.
Keep a Similarity Index <20% and single-source matches are not <2%
----------------------------------------------------------------------

Other Libraries: