Shariah Governance: Perspective of Islamic Finance
Md. Rezaul Karim Miajee

Department of Business Administration, The Millennium University, Dhaka, Bangladesh
Keywords:
Syariah Governance, Islamic Finance, regulatory framework.
Abstract
The present short paper is an attempt to anlyze the Shariah Governance of Islamic Finance. Corporate governance issues are especially important in developing economies, since these countries do not have a strong, long-established financial institution infrastructure to deal with corporate governance issues.
References
Ahmad Suhaimi Yahya. (2009). Isu-isu Shari'ah Dalam Menjadikan Perundangan Sivil Sebagai Rujukan Bagi Kewangan Islam.
Alnasser, SAS & Muhammed, J. (2012). Introduction to corporate governance from Islamic perspective, Humanomics, Vol. 28 No. 3, 220-231
BNM (2011). Shariah Governance Framework for Islamic Financial Institutions.
Engku Rabiah Adawiyah Engku Ali. (2009). Isu-isu Perundangan dan Kehakiman dalam Kewangan Islam.
Garas, SN & Pierce, C. (2010). Sharia supervision of Islamic financial institutions, Journal of Financial Regulations and Compliance, Vol. 18 No 4, 386-407
Hamza, H. (2013). Sharia governance in Islamic banks: Effectiveness and supervision model, International Journal of Islamic and Middle Eastern Finance and Management, Vol 6 No 3, 226-237.
Hasan, Z. (2011). A survey on Shariah governance practices in Malaysia, GCC countries and the UK, International Journal of Middle Eastern Finance and Management, Vol 4 No 1, 30-51
Zurina Shafie, Ahmad Zainal Abidin, Supiah Salleh, Kamaruzaman Jusoff & Nawal Kasim. (2013). MiddleEast Journal of Scientific Research 13 (Research in Contemporary Islamic Finance and Wealth Management), 7-11.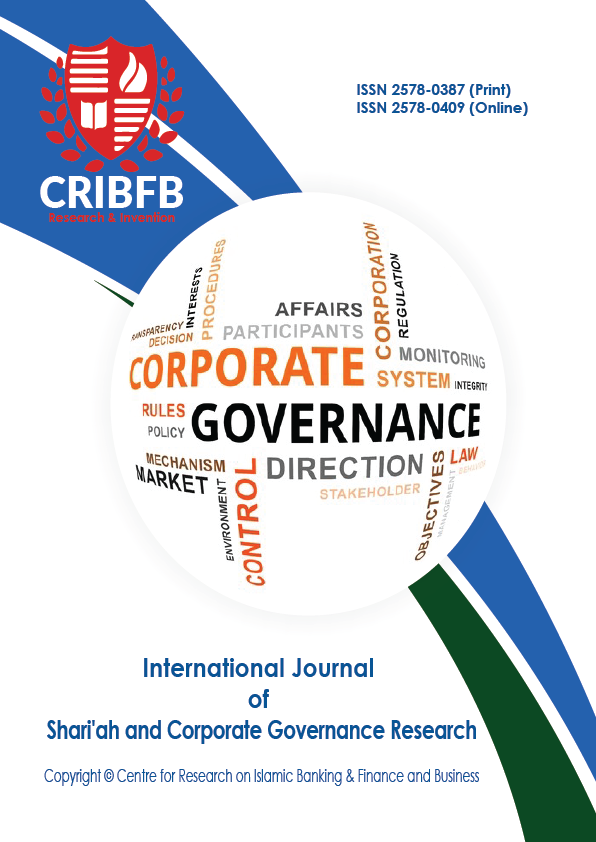 How to Cite
Miajee, M. R. (2018). Shariah Governance: Perspective of Islamic Finance. International Journal of Shari'ah and Corporate Governance Research, 1(1), 1-2. https://doi.org/10.46281/ijscgr.v1i1.31
Section
Original Articles/Review Articles/Case Reports/Short Communications
Copyright (c) 2018 Md. Rezaul Karim Miajee
This work is licensed under a Creative Commons Attribution 4.0 International License.