In-Service Teachers' Perception of Continuing Education Programmes in Two African Universities
Francis O. Olaniyi

Department of Adult Education, Faculty of Education, Adekunle Ajasin University, AkungbaAkoko, Nigeria

Dumisani R. Nzima

Professor, Department of Educational Psychology and Special Education, Faculty of Education, University of Zululand, Kwa Dlangezwa, Republic of South Africa
Keywords:
Postcoloniality; Language; Orientalism; Colonizer; Colonized; Identity; Hybridity.
Abstract
The study compared the in-service teachers' perception of continuing education programmes from two universities in Africa; University of Zululand, South Africa (UZ), and Adekunle Ajasin University, Akungba-Akoko, Nigeria, (AAU). The study covers the impact, effectiveness and efficiency of UZ and AAU on in-service teachers' of continuing education programmes. The target population and sample for the study were the current teachers of continuing education programmes of these universities. The instrument tagged 'Questionnaire for Perceptions of Continuing Education Programmes by in-service Teachers'   (QPCEPIT) was designed and used for data collection. The descriptive survey research design of ex-post facto was adopted for the study. 150 questionnaires were randomly used for pilot study, carried out at Ekiti State University, Ado Ekiti, Nigeria, whilst 500 questionnaires each were administered at both UZ and AAU of which 365 and 321 responses were valid and analysed respectively. Four research questions were carefully formulated to ascertain the perceptions of continuing education programmes by in-service teachers in the selected universities. Inferential statistics was used to draw conclusions and test the research questions for the study. The results of the comparative study revealed that the conclusiveness of the learning environment, the nature and quality of student support services provided, the quality and learners' perception of course modules or materials, accommodation problems and venue of the programme were the major predictors for motivation of in-service teachers of the programme. Based on the findings of the study recommendations were made on how the programme will have impact on the in-service teachers and how the universities that are running the programme will be effectively and efficiently manage the programme for the acceleration and advancement of socio-economic growth in South Africa, Nigeria, and the world at large.
References
Abdullahi, J. (1997). Strategic manpower development in Nigeria: New challenges and directions. Education and Society, 17(3), 17–23.
Aderinoye, R. (2007). Nigeria non-formal education-Education for all global monitoring report. Paris.
Aderinoye, R. A. (1997). Literacy education in Nigeria. Ibadan: University Press Ltd.
Aderounmu, W. (2007). Impact of sandwich programme on educational development of Nigeria. In An address delivered ar LANRAD continuing education center.
Ahmed, M. (1999). Literacy and non-formal education: Overlap and divergence. In D. A. Wagner, R. L. Venezky, & B. V. Street (Eds.), Literacy: An international handbook. New York: Westview Press.
Anyanwu, C., Omole, M., Lanre, & Akintayo, M. (1988). Concept and practice of continuing education. In Akinpelu, Okedara & Omolewa (Eds.) Language and Adult Education. Ibadan: University Press Ltd.
Behr, A. (1984). New perspective in South Afrian education (2nd ed.). Pretoria.
Christie, P. (2008). Opening the door of learning: Changing schools in South Africa. Johannesburg: Heinemann.
Drucker, P. (1994). Knowledge, work and society: The social transformation of this country. Retrieved from http://www.ksg.harvard.edu/ifactory/ksgpress/www/ksgnew/transcripts/drucklec.html
Egunyomi, D. A., & Aderinoye, R. A. (2001). Open-learning system for development:The Nigerian experience. In J. T. Okedara, C. N. Anyanwu, & M. A. Lanre Omole (Eds.), Rethinking Adult and Non-Formal Education. Ibadan: Stirling-Horden (Nig) Ltd.
Egunyomi, D. (1999). Principles and practice of continuing education in Nigeria. Ibadan: Gabesther Educational Publisher.
Ezimah, M. O. (2004). Knowing adult education: Its nature, scope and processes. Owerri: Springfield Publishers Ltd.
Gagne, M., & Shepherd, M. (2001). A comparism between a distance and a traditional graduate accounting class. T.H.E Journal International Review of Research in Open and Distance Learning, 28(9), 4. Retrieved from http://www.thejournal.com/magazine/vault/A3433.cfm
Hayes, A. (2006). Teaching adults. London: Ashford Colour Press Ltd.
Henderson, E. S. (1981). The evaluation of in-service teacher training. London: Croom Helm.
Jarvis, P. (1983). Adult and continuing education: Theory and practice (Ist Editio.). London: Routledge.
Jegede, O. (2010). Taking the distance out of higher education in 21st century Nigeria. In Convocation ceremony and 10th anniversary of the Federal Polytechnic, Oko, Anambra State held on friday, 28th. Oko: Unpublished.
Ojo, R. (2010). Concepts in adult education. In S. Jegede (Ed.), Adult ducation series, Vol 1. Lagos: Editext Publisher Ltd.
Omolewa, M. (2000). The language of literacy. Adult Education and Development, (55), 221–228.
Omolewa, M. (1981). Adult education practice in Nigeria. Ibadan: Evans Brothers Publishers Limited.
Okediran, A. (2001). Philisophical issues in language for adult and non-formal education in philosophical foundation of adult and non-formal education. Essays in Honour of Professor Emeritus Jones Adelayo Akanbi Akinpelu.
Ono, Y., & Ferreira, J. (2010). Acase study of continuing teacher professional development through lesson study in South Africa. South African Journal of Education, 30, 59–61.
Siaciwena, R. (2011). Open and distance learning in Southern African Development Community (SADC). In Regional Open and Distance Learning Awareness Workshop. Johannesburg, South Africa.
Torres, R.-M. (2000). Lifelong learning in the North, education for all in the South. In M.-A. Carolyn (Ed.), Lifelong learning perpective (pp. 3–12). Hamburg: UNESCO Institute for Education.
UNESCO (1996). Learning: The treasure within. Paris: UNESCO.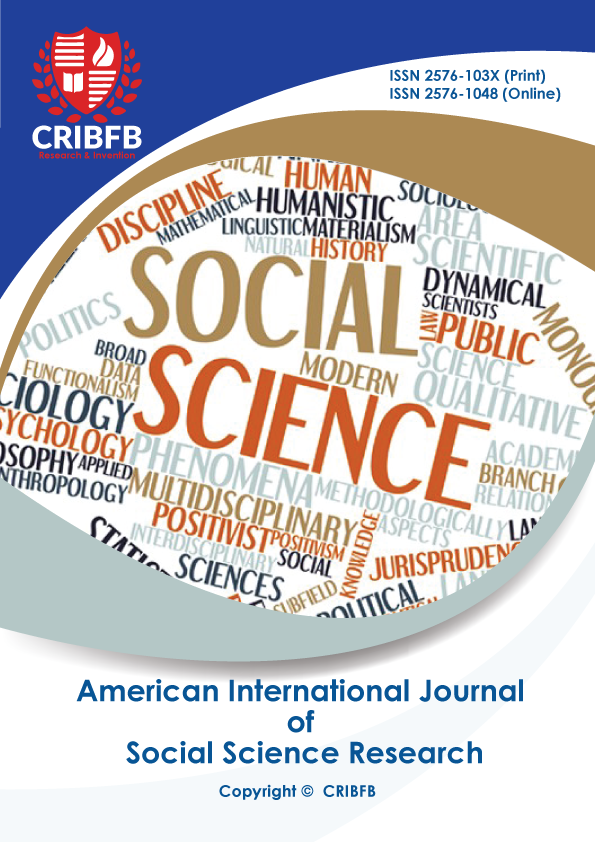 How to Cite
Olaniyi, F. O., & Nzima, D. R. (2019). In-Service Teachers' Perception of Continuing Education Programmes in Two African Universities. American International Journal of Social Science Research, 4(2), 127-135. https://doi.org/10.46281/aijssr.v4i2.375
Section
Original Articles/Review Articles/Case Reports/Short Communications
Copyright (c) 2019 Francis O. Olaniyi, Dumisani R. Nzima
This work is licensed under a Creative Commons Attribution 4.0 International License.