The Role of Women towards Political Participation in Nigeria
Ibrahim Suleiman

Department of Political Science, Bauchi State University, Gadau, Nigeria
Keywords:
Political Participation, Women Participation &Factors affecting Women Political Participation in Nigeria.
Abstract
This study investigates the factors that limit women's participation in Nigeria's politics using case study period between 1999 and 2015, among these factors are socioeconomic development, the country's cultural heritage, historical legacies and institutional designs. The study employs secondary source as a method ofdata collection. The study reveals that the patriarchal system and male domination of the society, which relegates women to subordinate role, has created women's inferiority complex and alienated them from the mainstream politics in Nigeria. The Nigerian political culture of thuggery and gangsterism has   made the political terrain too dangerous for most women to venture into mainstream politics. Besides, the stigmatization of women politicians by fellow women discourages the political participation of the former while religious beliefs and institutional arrangements that restrict women to family responsibilities in the country coupled with lack of genuine and decisive affirmative action to encourage women's political participation, have created a legacy that limit women's political participation in the country as a whole. Consequently, the study emphasizes the need to address those factors that entrench women subordination in Nigeria's politics. These include, among others, the reformation of all religious, statutory and customary laws and practices that perpetuate women's subordination in the country and the explicit specifications and modalities of affirmative actions on women's political participation and clear guidelines for implementations in the Nigeria constitution.
References
Adu, Olufunmilayo (2008) "The Missing Link: Women's Representation and Participation in Nigeria's Electoral Politics and their Effects on Nigeria's Development". A PhD Thesis. Dept of Political Science. Haverford College, USA.
Ajayi, Kunle (2007) 'Gender Self-Endangering: The Sexist Issue in Nigerian Politics'. Journal of Social Science Vol. 14. Number 2. pg 137 – 147).
Akiyode-Afolabi, Abiola & Lanre Arogundade (2003) Gender Audit – 2003 Election and Issues in Women's Political Participation in Nigeria. Lagos: Women Advocates Research and Documentation Centre.
Alexander, Amy C. & Welzel (2007) Four Theories Tested on Four Different Aspects of Gender Equality. Irvine: University of California.
Alkali, Richard (2007) Nigeria: "The Challenges Women Face in Politics". Retrieved on April 18, 2008 from the website (www.jstor.org)
Amadiume, Ifi (1997) Re-inventing Africa: Matriarchy, Religion and Culture. New York: Zed Books Ltd.
Anifowose, Remi (2004) Women Political Participation in Nnigeria: Problems & Prospects." In Akinboye (ed) Paradox of Gender Equality in Nigerian Politics. Lagos: Concept Publications.
Attoe, Effah (2002) "Problems Militating Against Women in Politics." Retrieved on 18www.onlinenigeria.com) th April, 2008 from the website (
Badawi, Ghaji (2007) "Libraries and Women's Participation in Nigerian Politics" IFLA Journal, Vol. 33, No. 2, 168-175
Bari, Farzana (2005) Women's Polio\tical Participation: Issues and Challenges. United Nations: EGM/WPD-EE/2005/EP.12
Bruce, Adeyinka A. (2004) "Essentialising Gender Justice and Women's Empowerment." In Akinboye (ed) Paradox of Gender Equality in Nigerian Politics. Lagos: Concept Publications.
Cain, M., Sheda Rokeya Khan and Shamsun Nahar (1979) 'Class, Patriarchy, and Women's work in Bangladesh' Population and Development Review 5, pg 405 – 438
Ezeigbo, Akachi (2004) 'Literature: A Tool for Gender Activism in Nigeria.' In Akinboye (ed) Paradox of Gender Equality in Nigerian Politics. Lagos: Concept Publications.
Fashola, Raji Babatunde (2008) "300 Days in Office". A Publication of the Lagos State Ministry of Information and Strategy.
GADA (2008) "Gender Analysis of the Executive and Legislative Positions (2007 Elections)". A Publication of Gender And Development Action. Surulere, Lagos.
Georgina, Waylen Third World Politics. Buckingham: Open University Press.
Henderson, Sarah (2006) Participation and Protest: Women and Politics in a Global World. Oxford: Oxford University Press.
Ikpe, Eno Blankson (2004) 'The Historical Legacy of Gender inequality in Nigeria.' In Akinboye (ed) Paradox of Gender Equality in Nigerian Politics. Lagos: Concept Publications.
Inter-Parliamentary Report (2007) Women in Parliament in 2007: The Year in Perspective. Retrieved on 18th September, 2008 from website (www.ipu.org).
Pasaud-Becane, Genevieve (1999) Participation of Women in Political Life. Geneva: Inter-Parliamentary Union
Peterson, Spike V. & Ruysn Anne Sisson (1999) Global Gender Issues (2nd Ed). Colorado: Westview Press.
Krook, M. L. (2005) Comparing Methods for Studying Women in Politics: Statistical, Case Study, and Qualitative-Comparative Techniques. Washington DC: American Political Science Association.
Lewu, M. A. Y. (2005) "Women in Nigerian Politics". In Hassan A. Saliu (ed) Nigeria Under Democratic Rule (1999 – 2003) Vol 2. Ibadan: University Press plc.
Miki, Caul (1997) "Women's Representation in Parliament: The Role of Political Parties." Irvine: Center for the Study of Democracy. Retrieved on 30www.democ.uci.edu/publications/papersseriespre2001/caul.htm) th April, 2008 from website (
Norris, Pippa (2000) "Positive Discrimination Policies for Women." In Klausen Jyette & Charles S. Maier (ed.) Has Liberalism Failed Women? Parity, Quotas & Political Representation. New York: St Martin's Press.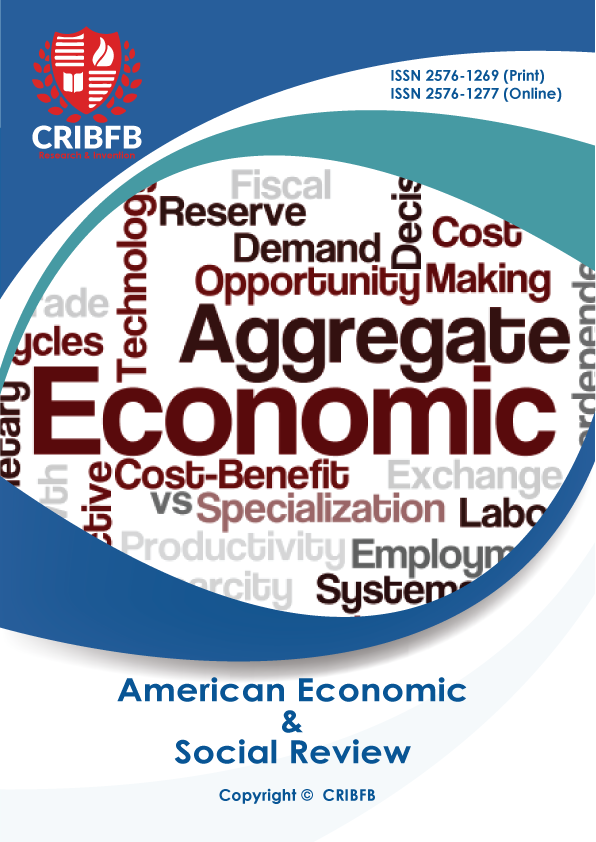 How to Cite
Suleiman, I. (2017). The Role of Women towards Political Participation in Nigeria. American Economic & Social Review, 1(1), 15-44. https://doi.org/10.46281/aesr.v1i1.146
Section
Original Articles/Review Articles/Case Reports/Short Communications
Copyright (c) 2017 Ibrahim Suleiman
This work is licensed under a Creative Commons Attribution 4.0 International License.