Buhari's Administration and Review of Nigeria's Foreign Policy: A Realist Approach
Yusuf Ibrahim Gamawa

Department of Political Science, Bauchi State University, Gadau, Nigeria
Keywords:
Realism, Nigeria, Africa, Global, Foreign Policy, Review.
Abstract
There is no doubt that Nigeria's foreign policy is indeed outdated. This is evidenced in the fact that we now live in different times. Though Nigeria's role in Africa still remains significant, however, the time "Africa" was made the centre piece of Nigeria's foreign policy, was a time when many countries in the continent were struggling to throw off the yolk of colonialism. And the adoption of such a policy was to stand in solidarity with those nations that were struggling to achieve or gain independence. And today, no single country in the continent is under foreign rule or direct control, and the times now call for a review of Nigeria's foreign policy to reflect the nations current circumstances and realities among the committee of states across the globe. And there is no time than under the present administration of President Muhammadu Buhari. The Buhari administration must look critically and make an assessment of how and which way to direct Nigeria's foreign policy. The responsibility appears to be binding on President Buhari's administration having been neglected or not given the required attention by many previous regimes and administrations. The confidence of Nigerians in President Buhari's vision, promises and commitment to change and general progress/ greatness of Nigeria seems to justify such expectations in the area of foreign relations and policy. There is need for Nigeria to be more involved in world affairs and to seek observer status in certain supranational institutions including the E.U, NATO and the SCO (Shanghai Cooperation Organisation) in this era of globalisation, and the accompanying system of interdependence. This paper tries to provide a guide with regards to the review of the foreign policy of Nigeria by President Buhari to reflect the realities and challenges of the times in which we are living. The paper argues that Nigeria must be a global player despite being a regional power in consideration of its pottentials and position in the scheme of things, drawing lessons based on Realist theories in international affairs and conduct as well as the experiences of certain states like Japan as models for foreign policy development.
References
Ade-Ibijola, Aderemi Opeyemi, (2013). Overview of National Interest, Continuities and Flaws in Nigeria's Foreign Policy,International Journal of Academic Research in Bussiness and Social Sciences.3(1).
Adefore.(2008).Foreign Policy: Nigeria's Primary Objectives, Nigeria Today, 9(1). Nigeria High Commission, London, 1979. Anthony Vinci, Armed Groups and Balance of Power, Routledge
BBC News, "The Mint Countries: Next Economic Giants?",6 January, 2014.
Chubundu V.N, "Foreign Policy with Particular Reference to Nigeria: 1961-2002", Spectrum Books Limited, Ibadan, 2002.
Claire Vallings, Magui Moreno-Torres.(2005).Drivers of Fragility: What Makes States Fragile?,Poverty Reduction in Difficult Environment Working Papers, April,
Dinneya G.(2006).Political Economy of Democratisation in Nigeria, Concept Publication Limited, Lagos.
Easton D. (1965).A Framework for Political Analysis, Prentice Hall Inc, Eaglewoods Cliffs, New Jersey
Emily Meierding.(2010).IR Theory as Politics, International Politics as Theory: a Nigerian Case Study, International Studies Review,15(2).
Frankel J, "British Foreign Policy: 1945-1973", Oxford University Press, London, 1975.
Friedrish Meinecke.(1957).Machiavellianism: The Doctorine of Raison d'etat and its Place in Modern History, Trans. Douglas Scott, New York,
Gambari I. A.(1975).Nıgerıa and the World: A Growing Internal Stability, Wealth and External Influence", Journal of International Affairs,
Gambari I.A.(1989).Theory and Reality in Foreign Policy Making : Nigeria After the Second Republic, NJ : Humanities Press International, Atlantic Highlands
Herbst J.( 2000).States and Power in Africa", Princetown University Press, Princetown
Holsti K.J.(1998). International Relations Theory and Domestic War in the Third World: The Limits of Relevance, Macmillan, Hampshire
Jackson R.H.(1990).Quasi States: Sovereignty, International Relations and the Third World. Cambridge University Press, Cambridge
Keneth Pyle.(2008). Japan Rising: The Resurgence of Japanese Power and Purpose, Century Foundation,
Mahmud S.(2001).Controlling African States Behavior: International Relations Theory and International Sanctions, Hampshire.
Martins Nijhoff ( 1976).The Dynamics of Euro-African Cooperation: Article 2-4 and Article 7 (29) of the Lome Convention", the Haque
Mearsheimer J.J.(2006).Structural Realism
Mearsheimer J.J.(2001). The Tragedy of Great Power Politics", W.W Norton and Company, New York,
Michael Sinclair.(1983).An Analysis of Nigerian Foreign Policy: The Evolution of Political Paranoia", South African Institute of International Affairs
Mohammed Ayoob.(2002).Inequality and Theorising in International Relation: The Case of Subaltern Realism, International Studies Review, 4(3)
Morgenthau H.J.(1997).Polıtıcs Among Nations: The Struggle for Power and Peace (Fourth ed), Alfred A. Knopf, New York.
Neuman S.G.(1998).International Relations Theory and the Third World", Macmillan, Hampshire
Niccolo Machiavelli.(1961).The Prince, Penguin.
Ogunbadejo O,(1979/80). Nigeria's Foreign Policy Under Military Rule, 1966-1979, International Journal, 35
Okolo J.E. (1988). Morality and Realism in Nigerian Foreign Policy.World Affairs,150
Raymond Aron.(1966).Peace and War : A Theory of International Relations
The Guardian.(2015).Obama meets new Nigerian president with praise for anti-extremist agenda.
Waltz K. (1979).Theory of International Politics.McGraw Hill, New York.
Wright S.(1983).Nigerian Foreign Policy: A case of Dominance or Dependence, Macmillan, London.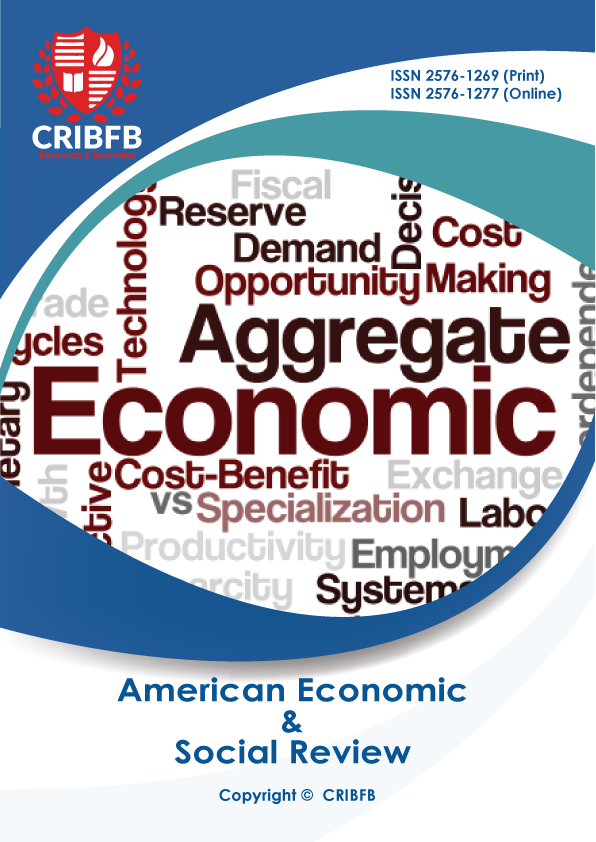 How to Cite
Gamawa, Y. I. (2018). Buhari's Administration and Review of Nigeria's Foreign Policy: A Realist Approach. American Economic & Social Review, 2(1), 71-79. https://doi.org/10.46281/aesr.v2i1.156
Section
Original Articles/Review Articles/Case Reports/Short Communications
Copyright (c) 2018 Yusuf Ibrahim Gamawa
This work is licensed under a Creative Commons Attribution 4.0 International License.