Policy Reforms in Nigerian Health Sector and the Potential for Poverty Reduction
Ibrahim Suleiman

Department of Political Science, Bauchi State University, Gadau, Nigeria

Sambo Abubakar

Department of Public Administration, Bauchi State University, Gadau, Nigeria

Hamza Shehu Mohammed

Department of Political Science, Bauchi State University, Gadau, Nigeria
Keywords:
Policy reform, Health sector reform & Poverty reduction in Nigeria.
Abstract
This paper studies the policy reforms in the Nigerian health sector and potentiality of the sector towards poverty reduction in the country. The study investigates the contribution of health in the process of poverty reduction by various governments in Nigeria. The study employs secondary source as a methods of data collection. The study reveals that health sector reform involves more than just improvement in health or health care. It is a process motivated by the need to address fundamental deficiencies in health care systems that affect all health care services. Health sector reform in Nigeria is based on the poor health status of the population and the poor rating of the health system itself. The study reveals that Nigerian health status was ranked 187 out of 191 countries by WHO in 2000. The infant mortality rate, the under-five mortality rate and the maternal mortality ratio are some of the indicators that are often used to compare health status of populations. Nigeria's figures on each of the three indicators are some of the worst in the world, even by the standard of developing countries. The health sector reform was one of the social sector reforms undertaken by the Obasanjo administration, with the National Economic Empowerment Development Strategy (NEEDS) providing the overall national development framework. The NEEDS, itself, has four major goals: wealth creation, poverty reduction, employment generation and value re-orientation. Consequently, the study look at the contribution of the health sector reform towards reduction of poverty in Nigeria.
References
Berman, Peter.(nd) Health Sector Reform: Making Health Development Sustainable.
Federal Ministry of Health.( 2004). Report of proceeding of 52nd National Council of Health.
Federal Ministry of Health.(2010). Report of proceeding of 53rd National Council of Health.
Lamine, and Lili Presentation.(2014)
National Bureau of Statistics.( 2005). Poverty Profile for Nigeria, Abuja.
Omoruan, A. I., Bamidele, A.P. & Phillips, O.F.(2009). Social Health Insurance Sustainable Health care Reform in Nigeria. Ethno-Med, 3 (2); 105-110.Conference "Options & Prospects" Ministry of Health.
Sharif, Abdullah I. (2011). Secretary General Council of Co-operative Health Insurance, "Compulsory Health Insurance Way Forward", Health Insurance Conference –"Options & Prospects" Ministry of Health.
Shehu U. (2000). Health systems reforms: the challenges for community physicians.Paper delivered at the Annual Conference of the Association of Community Physicians of Nigeria, Jos 2002.
The Second Annual Report.(2008).Cooperative Health Insurance Council,Ministry of Health, Riyadh Saudi Arabia.
World Bank Development Report.(1993). Investing in health. New York: Oxford University Press.
World Health Organisation. World Health Report. (2000). Health Systems: Improving Performance. Geneva, WHO
World Wide Web : www.cchi.gov.sa (Council of Co-operative Health Insurance July 2011.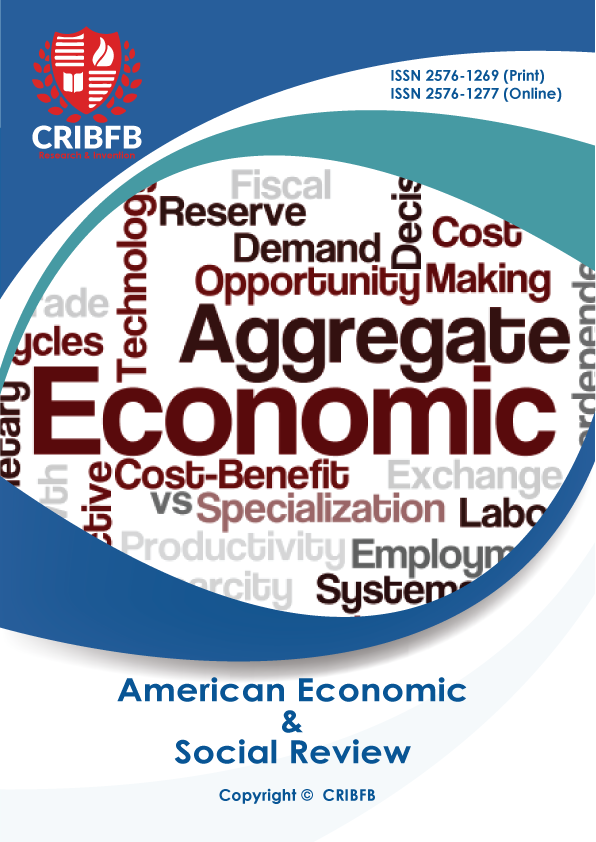 How to Cite
Suleiman, I., Abubakar, S., & Mohammed, H. S. (2017). Policy Reforms in Nigerian Health Sector and the Potential for Poverty Reduction. American Economic & Social Review, 1(1), 7-14. https://doi.org/10.46281/aesr.v1i1.145
Section
Original Articles/Review Articles/Case Reports/Short Communications
Copyright (c) 2017 Ibrahim Suleiman,Sambo Abubakar, Hamza Shehu Mohammed
This work is licensed under a Creative Commons Attribution 4.0 International License.