The Role of Sports on the Development of Tribes Unity: Afghan Society, Kabul, Afghanistan
Keywords:
Sports, Development, National Unity, Effects, Afghan Society.
Abstract
Sports play a major role in the life of humans as well as it has social and physical benefits for the humans' body. The purpose of this research was to investigate the role of sports, relationships between nation and Afghan community, and its impacts on the development of Afghan people life. This study employed mixed research approach, and the data were collected from seventy-nine respondents through questionnaire and interview. All participants were elected through random sampling method, and the data was analyzed through IBM 24 version of (SPSS). Likewise, the findings of this research showed that sports play an essential role in Afghan community as well as it is inseparable part in their life. Moreover, men and women are very interested in participating sports. Furthermore, the study revealed that participation in sports and physical activities play a unique role on the development of Afghan community and tribes.
References
Bahir, H. (2017). Fundamentals of Physical Education, Waygal Publications. p2.

Bethell-Bennett, I. A. (2014). Amanda Sives. 2010. Elections, Violence and the Democratic Process in Jamaica 1944-2007 Deborah A. Thomas. 2011. Exceptional Violence: Embodied Citizenship in Transnational Jamaica.

Beutler, I. (2008). Sport serving development and peace: Achieving the goals of the United Nations through sport. Sport in society, 11(4), 359-369.

Carrington, B., & Mcdonald, I. (2008). The Politics of 'Race'and Sports Policy in the United Kingdom'. Sport and Society: A Student Introduction, 2, 230-254.

Carron, A. V., Bray, S. R., & Eys, M. A. (2002). Team cohesion and team success in sport. Journal of sports sciences, 20(2), 119-126.

Chamberlain, J. M. (2013). Sports-based intervention and the problem of youth offending: a diverse enough tool for a diverse society? Sport in Society, 16(10), 1279-1292.

Dacombe, R. (2013). Sports clubs and civic inclusion: rethinking the poverty of association. Sport in society, 16(10), 1263-1278.

Darnell, S. C., Whitley, M. A., & Massey, W. V. (2016). Changing methods and methods of change: Reflections on qualitative research in sport for development and peace. Qualitative Research in Sport, Exercise and Health, 8(5), 571-577.

Dixon, K. (2011). A 'third way'for football fandom research: Anthony Giddens and structuration theory. Soccer & Society, 12(2), 279-298.

Eitzen, D. S., & Frey, J. H. (1991). Sport and society. Annual Review of Sociology, 17(1), 503-522.

Europe, C., & Ministers, C. (2001). European Sports Charter.

Haudenhuyse, R., Theeboom, M., & Nols, Z. (2013). Sports-based interventions for socially vulnerable youth: Towards well-defined interventions with easy-to-follow outcomes. International Review for the Sociology of Sport, 48(4), 471-484.

Lindsey, I. (2013). Community collaboration in development work with young people: Perspectives from Zambian communities. Development in practice, 23(4), 481-495.
Long, J., Fletcher, T., & Watson, B. (Eds.). (2017). Sport, leisure and social justice. Taylor & Francis.

Luschen, G. (1990). On theory of science for the sociology of sport: new structuralism, action, intention and practical meaning. International review for the sociology of sport, 25(1), 49-63.

Manz, C. C., & Neck, C. P. (1995). Teamthink: beyond the groupthink syndrome in self-managing work teams. Journal of Managerial Psychology, 10(1), 7-15.

Myers, D. G., & Twenge, J. M. (2018). Exploring social psychology (8th ed.). New York, NY: McGraw-Hill Education.

Perkins, S. (2000). Exploring future relationships between football clubs and local government. Soccer & Society, 1(1), 102-113.

Richardson, A. (2013). Group cohesion. Retrieved December 03, 2017, from http://www.idfpa.net/sports-psychology---group-cohesion

Sadan, E. (1997). Developing a Theory of Empowerment, Empowerment and Community Planning. Theory and Practice of People–Focused Social Solutions, Hameuchad Publishers, Tel Aviv.

Schulenkorf, N. (2010). Bridging the divide: The role of sport events in contributing to social development between disparate communities. European Journal of Tourism Research, 3(2), 127.

Spaaij, R. (2013). Cultural diversity in community sport: An ethnographic inquiry of Somali Australians' experiences. Sport Management Review, 16(1), 29-40.

Stride, A., & Fitzgerald, H. (2017). Working towards social justice through participatory research with young people in sport and leisure. In Sport, Leisure and Social Justice (pp. 98-110). Routledge.

Sugden, J. (2015). Assessing the sociology of sport: On the capacities and limits of using sport to promote social change. International review for the sociology of sport, 50(4-5), 606-611.

Wise, S. (2014). Can a team have too much cohesion? The dark side to network density. European Management Journal, 32(5), 703-711.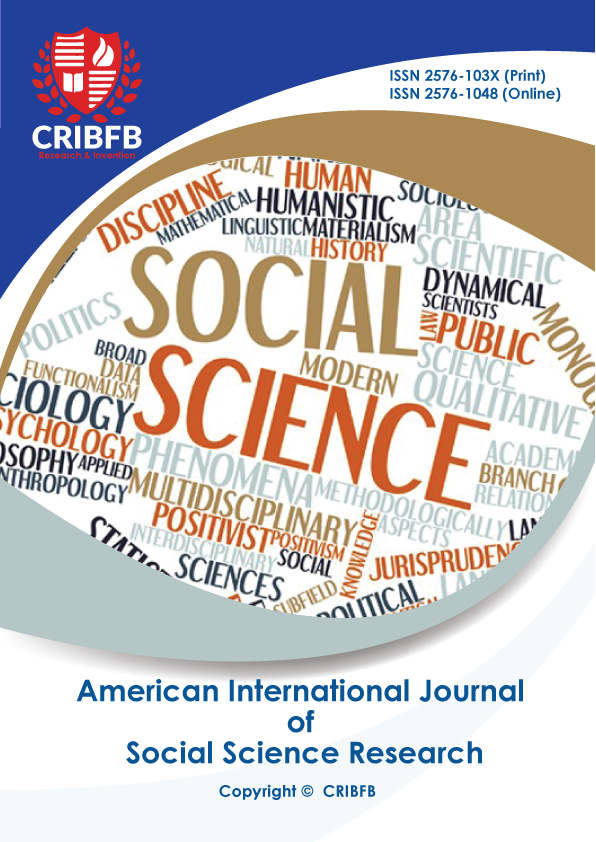 How to Cite
Bahir, H. (2020). The Role of Sports on the Development of Tribes Unity: Afghan Society, Kabul, Afghanistan. American International Journal of Social Science Research, 5(3), 53-56. https://doi.org/10.46281/aijssr.v5i3.794
Section
Original Articles/Review Articles/Case Reports/Short Communications
Copyright (c) 2020 Hizbullah Bahir
This work is licensed under a Creative Commons Attribution 4.0 International License.