Corruption as Cankerworms towards Economic Development in Nigeria
Ibrahim Suleiman

Department of Political Science, Bauchi State University, Gadau, Nigeria
Keywords:
Corruption, Cankerworms, Economy, Development, Nigeria
Abstract
Corruption has been corrosively eating the fabrics of the Nigerian nation. Its persistence in the form of fraud, mismanagement, misappropriation, diversion of public funds, tax evasion, money laundering etc. has led Nigeria into unfortunate national and even international circle of criminal minded persons. This therefore has made the development of the country and its attendant benefits only a paper work or rather an illusion. This paper conceptualizes corruption beyond the point of public officers taking bribes and gratification, committing fraud, stealing public funds and assets to equally include, deliberate violation of standards for gainful ends which may be in cash or kind. It therefore, encompasses any decision, act or conduct that is considered pervasive to democratic norms and values. The method utilized by this work is incidence analysis and documentary research. The paper which is divided into five sections concluded that, only anti-corruption policies and programs anchored on ethical, balanced, independent, and self-sustained, people oriented can succeed in Nigeria and thereby ensure national economic development. The paper recommended among other things for a successful anti-corruption crusade in third world countries that, international agencies such as Paris Club, IMF, World Bank, UNO should review their policies and conditions to reflect war against corruption especially among third World leaders even while in office. That a mandatory involvement of all community based organizations be considered in annual budget formulation, monitoring and evaluation to avoids misappropriation and looting in the country.
References
Achebe, C. (1998). The Trouble with Nigeria Enugu, Fourth Dimension Publishers.
Awoniyi, S. (2003). Aso-rock Villa the Fountain of Corruption, African Press Ibadan
Daily Trust News paper (2003). Contribution to PDP and Obasanjo, 13 June, P.14 and P.18
Gboyega, A. (1996) .Corruption and Democratization in Nigeria, (ed), AgboAreo Publishers, Ibadan.
Global News (2011). Massive lost Due to corruption, September, 2 P.3-9
Ikubaje John, G. (2004). Anti-corruption Initiative and Corruption Survey Report in Nigeria; The Challenges and the Way Forward, CDD's Project.
Joseph T. Wells Encyclopedia of Fraud (2002) Austin, Texas, Obsidian Publishing Company Inc.
Musa, B. (1983).Our struggle for a New Social Order in Nigeria: Nigerian Democratic Review. Action Centre Information and Documentation Ibadan.
Nye, J. S. (1976).Corruption and Political Development: A case – Benefit Analysis.The American Political Science Review.
Onyiuke, N. O. (2006). Obasanjo subscribed to 200 million shares. This Day, September, 14.
Obasanjo, A. O (2006).Nigeria Emulate Latest Successful Industrial Countries. The News, July, 17,
Odunlami T. (2006).Baba's Boys and their Deals, The News, July, 17, pp.20-22
Rose, A. (1997).Corruption and Development in Boris Pieskovic et al (ed): Annual World Bank Conference on Development Economics Washington D.C.
Ribadu, N. (2006).Atiku Release 14 Cheques Paid to PDP, Others. This Day, Sept. 14
The Economist (2007).A Nation in Waiting, View from broad. Sunday Trust, Oct. 28, P, 39.
Usman Y.B. (2001).Some Observations on the Problem of Corruption in Nigeria from a Historical Perspectives.The Nigerian Institute of Advanced Legal Studies. Abuja
UNDP (2002; 2008) Report on Nigeria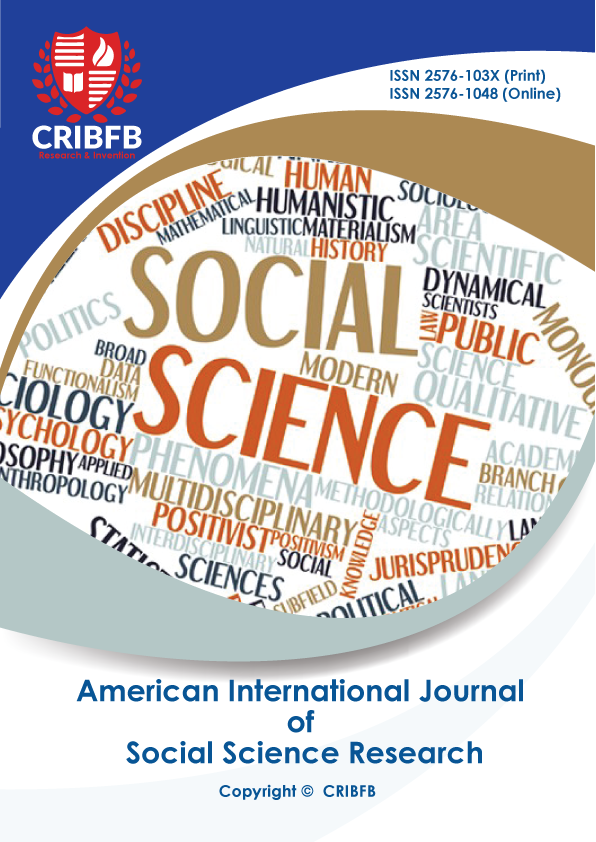 How to Cite
Suleiman, I. (2017). Corruption as Cankerworms towards Economic Development in Nigeria. American International Journal of Social Science Research, 1(1), 42-51. https://doi.org/10.46281/aijssr.v1i1.161
Section
Original Articles/Review Articles/Case Reports/Short Communications
Copyright (c) 2017 Ibrahim Suleiman
This work is licensed under a Creative Commons Attribution 4.0 International License.