FACTORS INFLUENCING PARENTS' CHOICES ABOUT ENROLLING THEIR CHILDREN'S IN PRIVATE SCHOOLS (A CASE STUDY IN JALALABAD CITY)
Qudratullah Nazari

Kandahar University, Afghanistan

Enayatullah Dadman

Kandahar University, Afghanistan
Keywords:
Digital Education, Factors, Influencing, Teachers Hiring, Security Threats.
Abstract
The sight of this research paper was to examine the key components of impacting parent's choice select privet schools for enrollment of their children's, in Jalalabad city therefore this research paper was designed to find out the most important factors in the mention topic, otherwise for the collecting of data used survey method and the instrument of the data was interview with parents who choose privet schools for their children's education level, the present study find out three most important factors which are security threats, digital education system, and teachers hiring, the result clearly indicate that privet schools are better for their children's according to security sects, education level and teachers quality that are hire by education services providers, the findings also show that parents got great feedback from privet school services and they were satisfied from school administrations and schools staff, it is sagest for further researches that many more of factors will consider in this section.       

References
Akhter, N. (2017). Factors Affecting Parents' Inclination towards Private School System in Pakistan. Journal of Elementary Education, 27(2), 49-69.

Adzima, K. (2014). The factors influencing parental valuation of Pennsylvania charter schools in grades 3–6. Journal of School Choice, 8(2), 159-191.

Amonoo, J. (2014). Factors influencing parents' choice of a senior high school for their children (Doctoral dissertation, university of cape coast).

Davis, A. M. (2011). Why Do Parents Choose to Send Their Children to Private Schools: Georgia Southern University, Georgia, Electronic Theses and Dissertations? 382, Retrieved from https://digitalcommons.georgiasouthern.edu/etd/382

Hidayati, D., & Rifa'i, A. A. (2020). Factors Influencing Parents' Decisions on Choosing an Islamic Primary School in Bandung Indonesia. Randwick International of Social Science Journal, 1(1), 121-126.

Hamid, O., Robert, C., Daud, A., Hodi, F. S., Hwu, W. J., Kefford, R., ... & Ribas, A. (2019). Five-year survival outcomes for patients with advanced melanoma treated with pembrolizumab in KEYNOTE-001. Annals of Oncology, 30(4), 582-588.

Kampanatsanyakorn, O. (2020). Factors influencing parents' choice in pre- schools' selections in Thailand: Mahidol University, Thailand.

Lee, D. P. Y, Ting, S. H. & Lo, M. C. (2017). Chinese or Malay-medium schools? A study of factors influencing Chinese parents' choice of primary schools in Sarawak, Malaysia. Kajian Malaysia, 35(1), 41–67. https://doi.org/10.21315/km2017.35.1.3.

Mawene, D., & Bal, A. (2018). Factors Influencing Parents' Selection of Schools for Children with Disabilities: A Systematic Review of the Literature. International Journal of Special Education, 33(2), 313-329.

Msendekwa, M. B, & Lubuva, A. H. (2019). Factors influencing parent's decisions to choose pre- schools for their Childers: Journal of Co-operative and Business Studies (JCBS), 4(1).

Suppramaniam, S. I., Kularajasingam, J. A., & Sharmin, N. H. (2019). Factors Influencing Parents Decision in Selecting Private Schools in Chittagong City, Bangladesh: International Journal of Recent Technology and Engineering, 7(5).

Taha, N, M, Talib, J, I, Salleh, M, A, & Farhah, T, S. (2019). A Study on Factors Influencing Parents' Choice of Preschool Education in Malaysia: International Journal of Innovation, Creativity and Change, 6(1).

UNICEF. (2010). Progress for children: achieving the MDGs with equity (No. 9). Unicef.

Yaacob, N. A., Osman, M. M., & Bachok, S. (2014). Factors influencing parents' decision in choosing private schools. Procedia-Social and Behavioral Sciences, 153, 242-253.

Yaacob, N. A., Osman, M. M., & Bachok, S. (2015). An assessment of factors influencing parents' decision making when choosing a private school for their children: a case study of Selangor, Malaysia: for sustainable human capital. Procedia environmental sciences, 28, 406-417.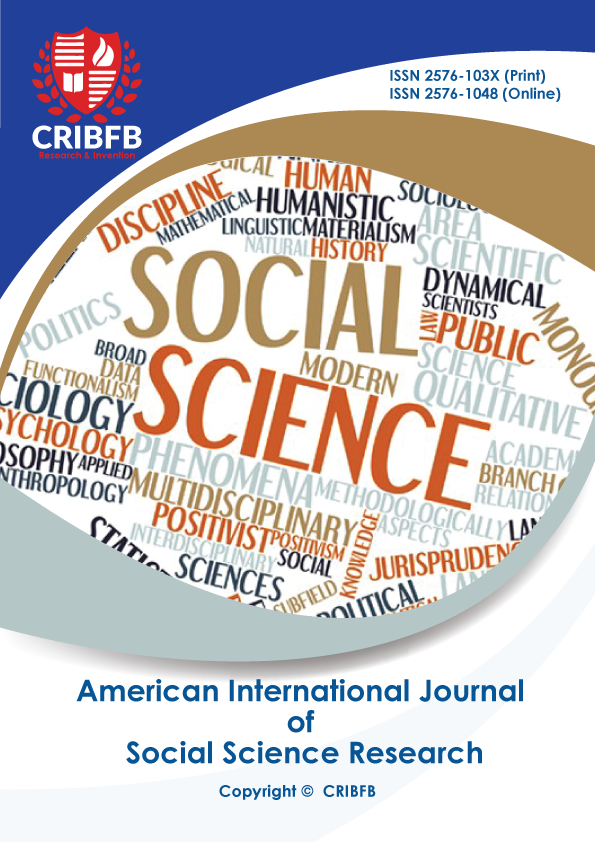 How to Cite
Nazari, Q., & Dadman, E. (2021). FACTORS INFLUENCING PARENTS' CHOICES ABOUT ENROLLING THEIR CHILDREN'S IN PRIVATE SCHOOLS (A CASE STUDY IN JALALABAD CITY). American International Journal of Social Science Research, 7(1), 30-35. https://doi.org/10.46281/aijssr.v7i1.1277
Section
Original Articles/Review Articles/Case Reports/Short Communications
Copyright (c) 2021 Qudratullah Nazari, Enayatullah Dadman
This work is licensed under a Creative Commons Attribution 4.0 International License.