Ideas of Sheikh Isma'il Idris Bin Zakariyya: Legacy for Progressive Contemporary Islamic Movement
Ibrahim Suleiman

Department of Political Science, Bauchi State University, Gadau, Nigeria
Keywords:
Islamic Political Thought, Islamization of Knowledge, Political Participation, Social Justice, Democracy, Welfarism and Social Responsibilities.
Abstract
This paper discussed the role and ideas of Sheikh Isma'il Idris in religionand politics in Nigeria. It is very paramount that Islamic scholars are considered to be relevant in modelling the minds of Muslims Ummah towards participation in politics and electoral process. Therefore, this article highlights the major contributions made by this Islamic scholar and outlines his role in terms of revivalism during his life-time and beyond. This is accomplished by investigating his major works and his teachings especially in shaping participation in political circle so as to ensure that Muslims are participated in the political and electoral process in Nigeria. In his political thought, Sheikh Idris believed strongly in Muslim's participation in politics and governance as against the otherviewsof anti-democratic arguments. His major concern is to encourage Muslims Ummah particularly the youths to participate in government activities in order to protect the interest of their religion considering the diverse nature of the country. Hence, assessing his role and ideas will significantly improve our understanding of Islamization movement towards determining social reality, justice and equity along Islamic ethics and values.
References
Abun-Nasr, J. M. (2007). Muslim communities of Grace: The Sufi Brotherhoods in Islamic Religious life, London: Hurst & company.
Adam, J. (2005). The role of JIBWIS in development of Arabic and Islamic Culture in Jos; BA – dissertation in Arabic studies, University of Jos Nigeria.
Aliyu, T. (nd). Ingantaccen Tarihin JIBWIS. (The authentic history of JIBWIS) Jos: Abdulaziz Printing co.
Gumi, A. and Tsiga, I.A, (1992). Where I stand. Ibadan: Spectrum Books.
Jallo, M. I. (nd). Risalataan Maftuhataan ila za'im al-Jama'a al-Islamiyya, Sheikh Thani Yahya Jingir. Kaduna: no Publ.
Kane, O. (2003). Muslim Modernity in post-colonial Nigeria: A study of society for Removal of innovation and reinstatement of Tradition. Leiden: rill.
Loamier, R. (1997). "Islamic Reform and political change: The example of Abubakar Mahmud Gumi and 'Yan Izala Movement in Northern Nigeria in African-slam and Islam in Africa. Encounter between Sufi and Islamist, edited by David Wester land & Eva Evers Rosander, London. Hurst.
Umar, M.S. (1983). Islamic revivalism today, the example of Jama'atul Izalatul Bid'a Wa'iqamatus Sunna, BA. Thesis, Jos, University of Jos, Nigeria.
Umar, M.S. (1993). Changing Islamic identities in Nigeria 1960-1980: From Sufism To anti-Sufism in Muslim identity and social change in sub-saharan Africa, edited by Louis Brenner. London: Hurst.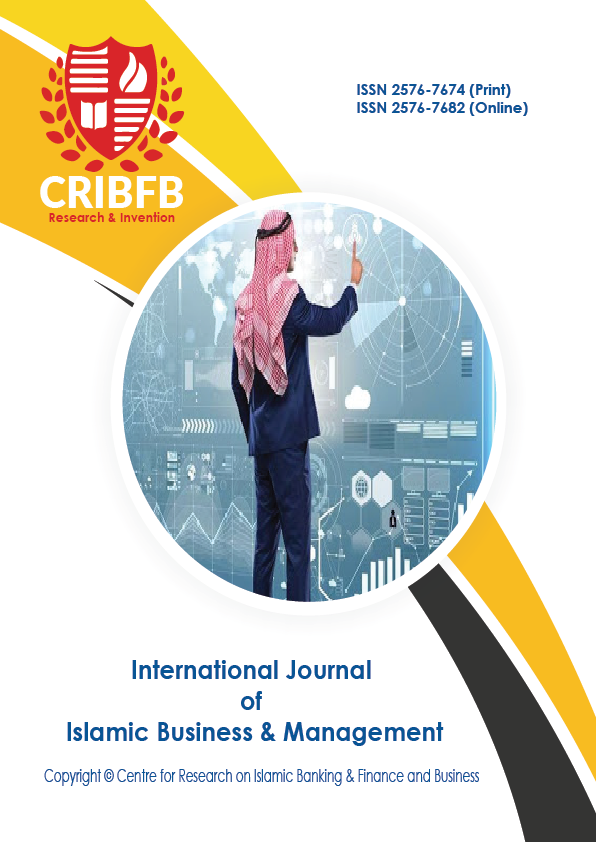 How to Cite
Suleiman, I. (2018). Ideas of Sheikh Isma'il Idris Bin Zakariyya: Legacy for Progressive Contemporary Islamic Movement. International Journal of Islamic Business & Management, 2(2), 1-8. https://doi.org/10.46281/ijibm.v2i2.54
Section
Original Articles/Review Articles/Case Reports/Short Communications
Copyright (c) 2018 Ibrahim Suleiman
This work is licensed under a Creative Commons Attribution 4.0 International License.