Islamic Microfinance and Sustainable Development Goals in Bangladesh
Md. Harun Ur Rashid

Dept. of Economics & Banking,International Islamic University Chittagong (IIUC), Bangladesh

Mohammed Jashim Uddin

Dept. of Economics & Banking,International Islamic University Chittagong (IIUC), Bangladesh

Shah Asadullah Mohd. Zobair

Dept. of Economics & Banking,International Islamic University Chittagong (IIUC), Bangladesh
Keywords:
Islamic Microfinance (IMF), Islamic Microfinance Institutions (IMFIs), Sustainable Development Goals (SDGs), Bangladesh.
Abstract
The main objective of this study is to explore the Islamic Microfinance Instruments in achieving the Sustainable Development Goals (SDGs) in Bangladesh. The methodology of this study is based on secondary data including existing relevant literature, and annual reports of different financial institutions. The findings of this study show that Islamic microfinance institutions have a broader scope to attain SDGs through their various investment modes.The study categorizes the Islamic microfinance instruments into four broadly parts which are profit and loss sharing financing, non-profit & loss sharing financing, Islamic social enterprise based financing and charity based financing which have a positive effect to the real sector of the sustainable economy that will lead towards achieving SDGs. The Islamic Microfinance institutions are continuing their efforts in attaining SDGs through their various products. With growing the potentiality, Islamic microfinance has both direct and indirect impacts on ensuring economic development, environmental sustainability, and social inclusion by creating employment opportunity, spreading knowledge and skills, making self-dependent, protecting from adverse effects. The paper also tries to put recommendations to reduce the challenges of Islamic microfinance acting as impediments to achieving the SDGs.
References
Abul Rahman, A. R. (2007). Islamic Economics: Theoretical and Practical Perspectives in a Global Context. Islamic Microfinance: A Missing Component in Islamic Banking.
Abdul Rahman, R., & Dean, F. (2013). Challenges and solutions in Islamic microfinance. Humanomics, 29(4), 293-306.
Ahmed, H. (2004). Frontiers of Islamic Banks: A Synthesis of the Social Role and Microfinance. Munawar Iqbal Islamic Banking in Practice 10 Said M. Elfakhani, Yusuf M. Sidani and Omar A. Fahel An Assessment of the Performance of Islamic Mutual Funds 39 Obiyathulla Ismath Bacha Value Preservation through Risk Management A Shariah Compliant Proposal for Equity Risk, 118.
Ahmed, H., Mohieldin, M., Verbeek, J., & Aboulmagd, F. W. (2015). On the sustainable development goals and the role of Islamic finance.
Akhter, W., Akhtar, N., & Jaffri, S. K. A. (2009). Islamic micro-finance and poverty alleviation: A case of Pakistan. Proceeding of the 2nd CBRC, Lahore.
Al Mamun, A., Adaikalam, J., & Abdul Wahab, S. (2012). Investigating the Effect of Amanah Ikhtiar Malaysia's Microcredit Program on Their Clients Quality of Life in Rural Malaysia.
Bank, B. (2014). Development of Islamic Banking in Bangladesh, April-June, 2014. Dhaka, Bangladesh. http://www. bangladesh-bank. org/pub/quarterly/islamic_banking/apr_jun_2014. pdf.
Bank, W. (2016). http://www.worldbank.org/en/news/press-release/2016/10/03/bangladesh-can-overcome-extreme-poverty-through-more-inclusive-growth
Bank, w. (2016). https://bdnews24.com/economy/2016/10/03/bangladesh-s-extreme-poverty-rate-drops-to-12.9-percent-says-world-bank.
Bhuiyan, A. B., Siwar, C., Ismail, A. G., & Talib, B. (2011). Islamic microcredit is the way of alternative approach for eradicating poverty in Bangladesh: A review of Islami bank microcredit scheme. Australian Journal of Basic and Applied Sciences, 5(5), 221-230.
Bhuiyan, A. B., Siwar, C., & Rashid, M. (2011). ISLAMIC MICROCREDIT IN BANGLADESH. The Global Journal of Finance and Economics, 8(1), 1-21.
Bin Mohamad, M. R. (2013). The Role of Entrepreneurial Competencies as a mediator in the relationship between Microfinance and Small Business Growth. Journal of Entrepreneurship and Business, 1(1), 21-31.
Buiter, W. H., & Rahbari, E. (2015). Why Economists (and Economies) Should Love Islamic Finance. Journal of King Abdulaziz University: Islamic Economics, 28(1), 139-162.
Caplan, G. (2013). An approach to community mental health (Vol. 3): Routledge.
Davis, F. D., & Venkatesh, V. (2004). Toward pre-prototype user acceptance testing of new information systems: implications for software project management. IEEE Transactions on Engineering Management, 51(1), 31-46.
Dhaoui, E. (2015). The role of Islamic Microfinance in Poverty Alleviation: Lessons from Bangladesh Experience.
Dossey, L. (2007). The peasant and the professor: on trust, microcredit, and world poverty. Explore The Journal of Science and Healing, 3(5), 433-444.
Fernandez, A. (2010). Microcredit and Women's Outward Mobility in Rural Bangladesh: A Study of the Grameen Bank.
Foundation, I. (2015). Islamic Mission, Bangladesh Islamic Foundation
Hassan, M. K., & Tufte, D. R. (2001). The x-efficiency of a group-based lending institution: The case of the Grameen Bank. World Development, 29(6), 1071-1082.
Hopwood, B., Mellor, M., & O'Brien, G. (2005). Sustainable development: mapping different approaches. Sustainable development, 13(1), 38-52.
Hussain, M., Shahmoradi, A., & Turk, R. (2016). An overview of Islamic finance. Journal of International Commerce, Economics, and Policy, 7(01), 1650003.
Karim, L. (2008). Demystifying micro-credit: the Grameen Bank, NGOs, and neoliberalism in Bangladesh. Cultural Dynamics, 20(1), 5-29.
Kates, R. W., Parris, T. M., & Leiserowitz, A. A. (2005). What is sustainable development? Goals, indicators, values, and practice. Environment(Washington DC), 47(3), 8-21.
Khan, A. A., & Phillips, I. (2010). The influence of faith on Islamic microfinance programmes. Islamic Relief Worldwide.
Laila, T. (2010). Islamic Microfinance for Alleviating Poverty and Sustaining Peace. Paper presented at the World Universities Congress, Canakkale, Onsekiz Mart University, Turkey.
Lawal, I. M., & Imam, U. B. Islamic Finance; A Tool For Realizing Sustainable Development Goals (SDG) In Nigeria.
Mahmood, R., & Mohd Rosli, M. (2013). Microcredit position in micro and small enterprise performance: the Malaysian case. Management research review, 36(5), 436-453.
Mamun, A., Uddin, M. R., & Islam, M. T. (2017). An Integrated Approach to Islamic Microfinance for Poverty Alleviation in Bangladesh. Üniversitepark Bülten| University Park Bulletin.
Md Saad, N. (2010). Achieving human development objectives through microfinance institution: the case of Amanah Ikhtiar Malaysia. Journal of Islamic Economics, Banking, and Finance, 6(2), 65-78.
Mohiuddin, M. F. (2017). Islamic social enterprises in Bangladesh: Conceptual and institutional challenges. Cogent Business & Management, 4(1), 1305674.
Nabi, M. G., Islam, M. A., Bakar, R., & Nabi, R. Islamic Microfinance As a Tool of Financial Inclusion in Bangladesh.
Obaidullah, M., & Khan, T. (2008). Islamic microfinance development: Challenges and initiatives.
Omar, M. Z., Noor, C. S. M., & Dahalan, N. (2012). The economic performance of the Amanah Ikhtiar Malaysia rural microcredit programme: A case study in Kedah. The world, 2(5).
Parveen, J. A. (2009). Sustainability Issues Of Interest-Free Micro-Finance Institutions In Rural Development And Poverty Alleviation. The Bangladesh Perspective. Theoretical and Empirical Researches in Urban Management, 4(2 (11), 112-133.
Shirazi, N. S. (2012). Targeting and Socio-Economic Impact of Microfinance: A Case Study of Pakistan. Islamic Economic Studies, 20(2), 1-28.
Uddin, H., & Barai, M. K. (2016). Islamic Microcredit: The Case of Bangladesh. Journal of Accounting, 6(1), 49-64.
Usman, A., Tasmin, R., Ulum, Z., & AA, A. (2016). The Role of Islamic Micro-Finance in Enhancing the Wellbeing of the Clients: Exploratory Factor Analysis. INNOVATION AND MANAGEMENT, 1835.
Usman, A. S., & Tasmin, R. (2016a). The Relevance of Islamic Micro-finance in achieving the Sustainable Development Goals. International Journal of Latest Trends in Finance and Economic Sciences, 6(2), 1115-1125.
Usman, A. S., & Tasmin, R. (2016b). The Role of Islamic Micro-finance in Enhancing Human Development in Muslim Countries. Journal of Islamic Finance, 5(1), 53-62.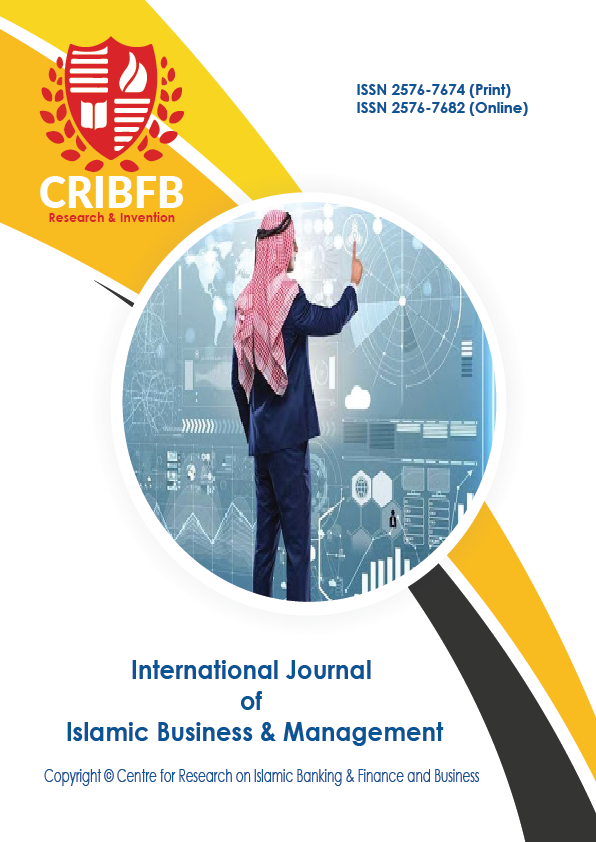 How to Cite
Rashid, M. H., Uddin, M., & Mohd. Zobair, S. (2018). Islamic Microfinance and Sustainable Development Goals in Bangladesh. International Journal of Islamic Business & Management, 2(1), 67-80. https://doi.org/10.46281/ijibm.v2i1.53
Section
Original Articles/Review Articles/Case Reports/Short Communications
Copyright (c) 2018 Md. Harun Ur Rashid, Mohammed Jashim Uddin, Shah Asadullah Mohd. Zobair
This work is licensed under a Creative Commons Attribution 4.0 International License.