Economic- Juristic Analysis of Usury in Consumption and Investment Loans and Contemporary Jurisprudence Shortages in Exploring Legislator Commandments
Bijan Bidabad

Professor, Economics and Chief Islamic Banking Advisor, Bank Melli, Iran
Keywords:
Usury, Islamic banking, Jurisprudence
Abstract
In this article, by analyzing the deduction methodology of jurisprudence commandments, we try to touch the existing shortages in its methodological aspects. By discussing on different sources of Islamic jurisprudence like the Quran, Sunna (Tradition), consensus, intellect, fame, analogy, preference, public interest considering, blocking the means, we will explicates that the divine authority (person who is allowed by the messenger or by someone whom messenger has allowed him) has been ignored in religious deduction, and thus these different ideas have emerged in Islamic commandments. In this regards, juristic decrees may be compared, which are different and even conflict solutions to a unique problem or question. These conflicts enlighten two important propositions.
The juristic deduction methodology needs revision.
Ignorance to theosophy principle of jurisprudence is the main source of conflicts.
By defining and analyzing usury and interest in an economic-juristic frame and specifically in the Quran and with respect to wisdom or theosophy principle in jurisprudence to distinguish usury and non-usury finance, we conclude:
The loaner must share in profit and loss of the economic activity of the loan receiver.
The rate of interest-because of inability to determine the capital productivity rate a priori- should not be determined and conditioned in advance.
Receiving interest in consumption loans is usury and not allowed.
Transformation of credit and deposit markets' oscillations to the real sector is the main initiation of real sector economic fluctuations. Respect to wisdom (theosophy) principle of religious legislation, and by introducing a mathematical model, we show that usury causes economic fluctuations and by deleting usury from the economy, we conclude that real economy will be more stable.
DOI: https://doi.org/10.5281/zenodo.3402329
References
English references
Chapra, U.(2000) why has Islam prohibited interest? Rational behind the prohibition of interest, Review of Islamic economics, No.9, 2000 / I42 H, pp. 5-20.
Mills, P.S. and Presley J.R. (1999) Islamic finance, theory, and practice.
Mohammad Nejatullah Siddiqi (2000), Islamic banks concept, percept, and prospects, Review of Islamic economics, No. 9, 2000 / I42 H, pp. 21-35.
Razavi, M. (2000), Islamic economics: a system design, college of economic affairs, Tehran.
Farsi references
حضرت آقاي دكتر نورعلي تابنده، مجموعه مقالات فقهي و اجتماعي، انتشارات حقيقت، تهران، 1380. http://www.sufism.ir
حضرت حاج سلطانحسين تابنده گنابادي، رسالة رفع شبهات. انتشارات حقيقت، 1377، چاپ پنجم. http://www.sufism.ir
حضرت حاج ملا سلطانمحمد بيدختي گنابادي سلطانعليشاه، سعادتنامه، انتشارات حقيقت، 1379، تهران. http://www.sufism.ir
حضرت حاج ملا سلطانمحمد بيدختي گنابادي سلطانعليشاه، ولايتنامه، انتشارات حقيقت، 1379، تهران. http://www.sufism.ir
حضرت حاج ملا سلطانمحمد بيدختي گنابادي سلطانعليشاه، مجمع السعادات، انتشارات حقيقت، 1378، تهران. http://www.sufism.ir
حضرت حاج ملا سلطانمحمد بيدختي گنابادي سلطانعليشاه، بشارت المؤمنين، انتشارات حقيقت، 1360، تهران. http://www.sufism.ir
استاد محمود شهابي، ادوار فقه، جلد اول، سازمان انتشارات وزارت فرهنگ و ارشاد اسلامي، چاپ دوم، 1366.
بيدآباد، بيژن و عبدالرضا هرسيني (1382) تحليل فقهي- اقتصادي ربا در وامهاي مصرفي و سرمايه‌گذاري و كاستيهاي فقه متداول در كشف احكام شارع. http://www.bidabad.com
بيدآباد، بيژن و عبدالرضا هرسيني (1382) شركت سهامي بانك غيرربوي و بازبيني ماهيت ربوي و غيرربوي عمليات بانكي متداول. مجموعه مقالات سومين همايش دوسالانة اقتصاد اسلامي «نظرية اقتصاد اسلامي و عملكرد اقتصاد ايران»، 4-3 دي 1382، پژوهشكده اقتصاد، دانشگاه تربيت مدرس، صص 224-193، تهران .
بيدآباد، بيژن و عبدالرضا هرسيني (1382) تحليل فقهي-اقتصادي انواع بيمه‌و ويژگيهاي شيوة حكومت اسلامي. پژوهشكدة پولي و بانكي، بانك مركزي ايران. http://www.bidabad.com
بيدآباد، بيژن و عبدالرضا هرسيني (1383) نرخ و پاية مالياتي در ماليه اسلام و بناي حكمت در اصول فقه پوياي اماميه، پژوهشكدة پولي و بانكي، بانك مركزي ايران. http://www.bidabad.com
توتونچيان، ايرج (1379) پول و بانكداري اسلامي و مقايسه آن با نظام سرمايه‌داري، نشر توانگران.
جامع الاحاديث، نور 2، مركز تحقيقات كامپيوتري علوم اسلامي، ديسك فشرده CD.
سيد مصطفي محقق داماد، مباحثي از اصول فقه، دفتر اول، مبحث الفاظ، مركز نشر علوم اسلامي، چاپ دهم.
سيد مصطفي محقق داماد، مباحثي از اصول فقه، دفتر دوم، منابع فقه، چاپ نهم، مركز نشر علوم اسلامي.
سيّد روح الله موسوي خميني، تحريرالوسيله، ترجمه محمدباقر موسوي همداني، انتشارات دارالعلم، قم، چاپ سوم 1375.
عبدالرزاق سنهوري مجلة اطلاعات سياسي- اقتصادي شماره‌هاي 111 و 112.
موسايي ميثم (1376) تبيين مفهوم و موضوع ربا از ديدگاه فقهي. پژوهشكده پولي و بانكي، تهران.
نجفي، محمد حسن، جواهرالكلام، دارالكتب الاسلامية، چاپ ششم.
Arabic references
حضرت حاج ملاسلطانمحمد بيدختي گنابادي سلطانعليشاه، بيان السعاده في مقامات العبادة، طبع الثاني، دانشگاه تهران، 1346. ترجمة محمد رضاخاني وحشمت‌الله رياضي،سازمان چاپ و انتشارات وزارت فرهنگ و ارشاد اسلامي، 1377. http://www.sufism.ir
ابن منظور، لسان العرب، نشر ادب الحوزه، قم، 1405 قمري.
ابوعلي فضل بن طبرسي، مجمع البيان في تفسير القرآن، موسسة الاعلمي للمطبوعات، طبع الاول، بيروت، 1415 قمري.
الامام فخر رازي، تفسير الكبير، دارالفكر، لبنان، 1415 قمري.
الترمذي، سنن الترمذي، انتشارات دارالفكر.
جلال الدين سيوطي الشافعي، الحاوي.
حر عاملي، وسايل الشيعه، مؤسسة آل البيت لاحياء التراث، طبع الاول، بيروت، 1413 قمري.
حسن محمدتقي جواهري، الربا فقهياً و اقتصاديا، دارالمرتضي، طبع الثاني.
راغب اصفهاني، المعجم المفردات الفاظ القرآن، انتشارات دارالفكر بيروت، لبنان.
روضه كافي، مركز تحقيقات كامپيوتري اسلامي، ديسك فشرده CD. قم.
محسن الحكيم، منهاج الصالحين، بلحاشية السيد محمد باقر الصدر، دارالتعارف للمطبوعات، بيروت 1400 قمري.
محمد حسين الطباطبائي، الميزان في تفسير القرآن، مؤسسة الاعلمي للمطبوعات، بيروت، لبنان. ترجمة الفارسي انتشارات موسسة مطبوعات دارالعلم، قم، طبع الثالث، 1387 قمري.
سيوري، جمال الدين المقداد بن عبدالله، كنز العرفان في فقه القرآن، المكتبة المرتضوية الاحياء الآثار الجعفرية.
شهيد الاول، لمعة دمشقيه.
شهيد الثاني، زين الدين الجبل العاملي، منية المريدين. مركز تحقيقات كامپيوتري اسلامي، ديسك فشرده CD.
شيخ كليني، الاصول الكافي، جامع الاحاديث، نور 2، مركز تحقيقات كامپيوتري علوم اسلامي، ديسك فشرده D‍C.
شيخ مفيد، المقنعه، مؤسسة النشر الاسلامي، طبع الثاني، 1410 قمري.
طوسي، تهذيب الاحكام، انتشارات صدرا.
عبدالباقي، محمد فؤاد، 1420 قمري، المعجم المفهرس لالفاظ القرآن الكريم، مؤسسه الاعلمي للمطبوعات، بيروت، لبنان.
عبدالرزاق سنهوري مصادر الحق في الفقه الاسلامي، دار احياء التراث العربي، لبنان.
فضل الله، محمد حسين، من وحي القرآن، دارالزهرا، بيروت.
محقق حلي، المختصر النافع.
محقق حلي، شرايع الاسلام، انتشارات علمي تهران، طبع الثاني، 1374.
مسلم، صحيح المسلم، دارالفكر، بيروت، لبنان.
ملا محمّد باقر مجلسي، بحارالانوار، مؤسسة الوفا، طبع الثاني، لبنان، بيروت، 1403 قمري.
نوري، ميرزا حسين، المستدرك الوسائل، مؤسسة آل البيت لاحياء التراث، طبع اول، قم، 1407 قمري.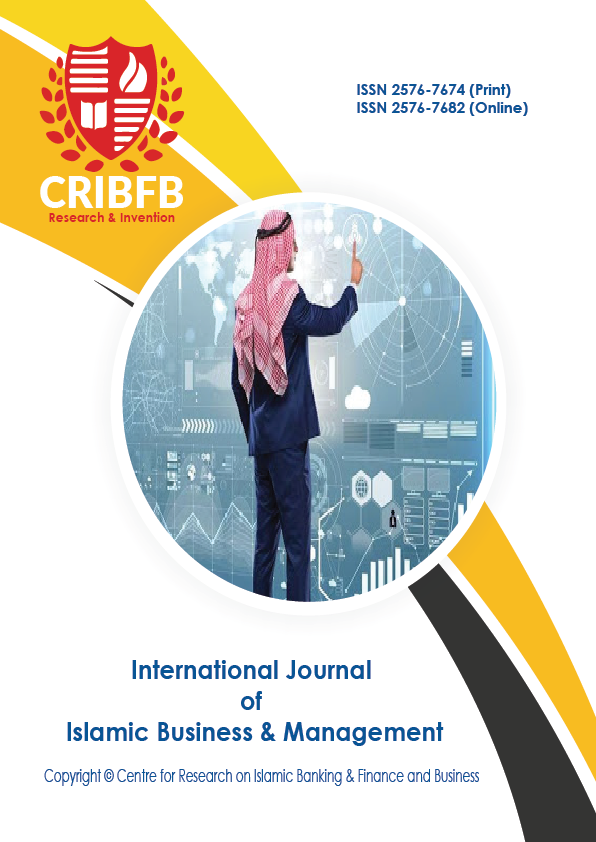 How to Cite
Bidabad, B. (2019). Economic- Juristic Analysis of Usury in Consumption and Investment Loans and Contemporary Jurisprudence Shortages in Exploring Legislator Commandments. International Journal of Islamic Business & Management, 3(2), 1-15. https://doi.org/10.46281/ijibm.v3i2.275
Section
Original Articles/Review Articles/Case Reports/Short Communications
Copyright (c) 2019 Bijan Bidabad
This work is licensed under a Creative Commons Attribution 4.0 International License.