Attaining Financial Inclusion through Ijarah Contract: Assessing the Potentials of Ijarah-Wa-Iqtina in Venture Financing of Tricycles in Kano Metropolis, Kano State, Nigeria
Muhammad Bako

M.Sc., Islamic Banking and Finance and currently working with Account and Finance Dept., Radio Nigeria, Jigawa State,Nigeria

Shehu U. R. Aliyu

Professor of Financial Economics at the Department of Economics and the pioneer Director of the International Institute of Islamic Banking and Finance, Bayero University, Kano, Nigeria
Keywords:
Ijarah-Wa-Iqtina, Tricycles Operation, Kano Metropolis, Islamic Finance, Financial Inclusion
Abstract
Ijarah-wa-iqtina, also known as Al-Ijarah Thummal Al-Bay (AITAB) is a leasing contract where the ownership of the leased asset is transferred to the lessee at the end of the leasing contract. With the inception of Ja'iz Bank Nigeria Plc, the product has grown in the Ja'iz Bank's housing and auto-finance. Despite this popularity, majority of small scale businesses especially tricycle operators in Kano metropolis are still not aware of the product and the benefits attached to it. This research assesses the potentials of Ijarah-wa-iqtina in financing tricycle operation in Kano using a multiple regression model from a sample of 311 respondents. The study found myriad of problems associated with conventional mode financing arrangements prior to ijarah-wa-iqtina. It was also established that religious inclinations of respondents have strong influence on potential benefits from switching to ijarah-wa-iqtina. The paper recommends that Islamic financial institutions and well-to-do business persons in Kano metropolis on the need to promote both formal and non-formal Islamic finance among tricycles operators via ijarah-wa-iqtina.
References
Ahmad, N., and Haron, S. (2002). Perceptions of Malaysian Corporate Customers towards Islamic Banking Products and Services. International Journal of Islamic Financial Services, 3(4).
Aliyu, S. U. R. (2014). Potentials of Islamic Banking in the Development of Micro and Macro Enterprises in Nigeria. A paper presented at the IIIBF's 1st international conference on Islamic banking and finance, BUK, Nigeria.
Amin H. (2010). AL-Ijarah Thumma AL-BAY Facility in Labuan Car Markets: An Application of Structural Equation Model. Labuan e-Journal of Muamalat and Society, Vol. 4, 2010, pp. 45-57.
Bank Negara Malaysia, (2010). Shari'ah Resolution in Islamic finance. Second edition.
Benzomah, M. S., (2008). The Feasibility of using Profit and Loss Sharing (PLS) in Financing Small and Medium Scale Enterprises (SMEs) in Saudi Arabia. Ph. D research dissertation submitted to the School of Government and International Affairs Institute of Middle Eastern and Islamic Studies, Durham University, Durham.
Bello G. B. and Ayuba H. (2015). Perceived Readiness of Business Persons' Usage of Islamic Trade Debt and Non-Debt Financing Instruments in Kano Metropolis. A paper presented at the 2ndIIIBF's International Conference on Islamic Banking and Finance, Bayero University, Kano, 28th to 29th April, 2015.
ChapraU. M. (1998). Major modes of Islamic finance, A Paper Prepared for Presentation at the 6th Intensive Orientation Course on "Islamic Economics, Banking and Finance at bookboon website: www.bookboon.com
El-Gamal, M. A. (2000). A Basic Guide to Contemporary Islamic Banking and Finance. Houston.
Erol, Cengiz, and Radi El-Bdour. (1989). "Attitude, Behaviour and Patronage Factors of Bank Customers towards Islamic Banks." International Journal of Bank Marketing, vol. 7, no. 6: 31-37
Hameed, M. A. (2012). Adoption Process of Information Technology (IT) Innovations in Organizations. A Ph. D. Research dissertation submitted to the Brunel University London.
Haron, Sudin, Norafifah Ahmad, and Sandra L. Planisek. (1994). "Bank Patronage Factors of Muslim and Non-Muslim Customers." International Journal of Bank, vol. 12, no. 1: 32-40.
Islamic Fiqh Academy, (1985). The Resolution. Makkah Mukarramah.
Jamshedi, D. and Hashemi, K. and Hussin, N. and Lai, H. W. and Mussafa, S. (2014). Investigating critical factors influencing acceptance and marketing strategies of Islamic Banking Services in Malaysia. International Journal of Accounting Research Vol. 1, No. 10, 2014.
KATA, (2014). Registered Number of Tricycles According to Local Governments.
Kurfi, A. K. (2003) Principles of Financial Management. 1st ed. Benchmark Publishers limited.
Muhammad, A. D. and Alsmady, A. and Abdurrahman, R. (2014). Ethical Responsibility and Applicability of Islamic Micro-Investment Model (IMIM) in Jordan. A paper presented at the IIIBF's 1st international conference on Islamic banking and finance, BUK, Nigeria.
Nwaogbe, O. R. and Ibe, C. C. and Ukaegbu, S. I. (2012). Quality of the Paratransit service (Tricycle) and its Operations in Aba, Nigeria: An analysis of Customers Opinions. Journal of Transport and Supply Chain Management | 2012.
Rogers, E. M. (1983). Diffusion of Innovations. 3rd edition, The Free Press, New York.
Rogers, E. M. (1995). Diffusion of Innovations. 4th edition, The Free Press, New York.
Shehu, F. M. And Aliyu, S. U. R. (2014). Predisposition of Small Scale Businesses in Fagge, Kano State, Nigeria, Towards Profit and Loss Sharing Mode of Finance. Bayero International Journal of Islamic Finance (BIJIF), IIIBF, BUK, Nigeria.
Usmani, M. T. (1998). An Introduction to Islamic Finance. Karachi.
Yosuff, R, and Kamdari, N. A. And Masri, D. N. A. (2013). Selection Factors of Accepting Al Iajarah Thummal Al Bay (AITAB) In Shar Alam. Paper Presented At The 5th Islamic Economics Conference (Iecons 2013) Organized by Faculty of Economics and Mu'amalat, Universiti Sains Islam Malaysia 4th-5th September, 2013.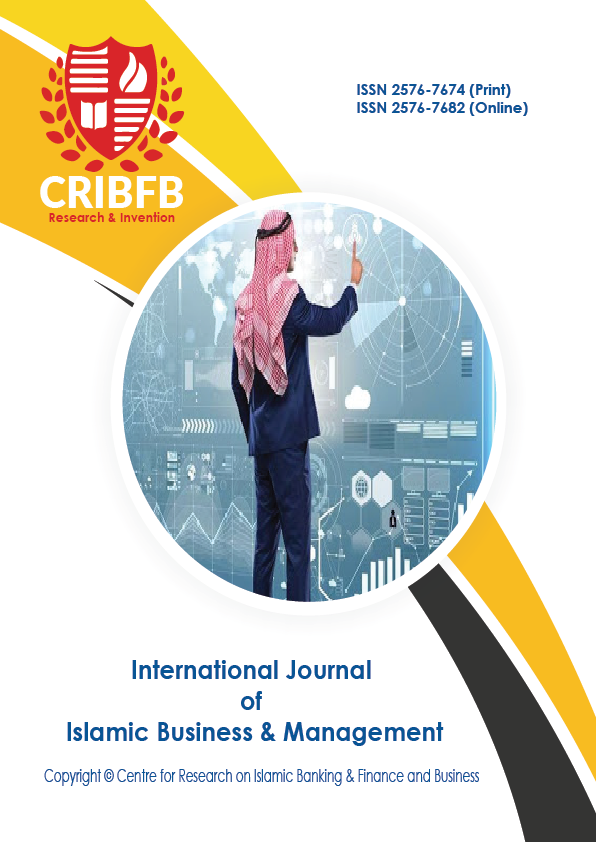 How to Cite
Bako, M., & Aliyu, S. U. R. (2018). Attaining Financial Inclusion through Ijarah Contract: Assessing the Potentials of Ijarah-Wa-Iqtina in Venture Financing of Tricycles in Kano Metropolis, Kano State, Nigeria. International Journal of Islamic Business & Management, 2(2), 9-18. https://doi.org/10.46281/ijibm.v2i2.204
Section
Original Articles/Review Articles/Case Reports/Short Communications
Copyright (c) 2018 Muhammad Bako, Shehu U. R. Aliyu
This work is licensed under a Creative Commons Attribution 4.0 International License.