Effects of Storytelling on Improving EFL Students' Critical Thinking and Reading Comprehension
Javed Sahibzada

Senior Teaching Assistant, English Language and Literature Department, Kandahar University, Kandahar, Afghanistan

https://orcid.org/0000-0003-2032-7142

Yar Mohammad Bahrami Ahmadzai

Associate Professor, English Language and Literature Department, Kabul University, Kabul, Afghanistan

https://orcid.org/0000-0002-8618-2866

Azadkhan Niaz

Teaching Assistant, English Language and Literature Department, Kabul University, Kabul, Afghanistan

https://orcid.org/0000-0002-4497-4937

Susan Hussein Laftah

Assistance Lecturer, Department of English Language and Literature Department, Dhi Qar Education Directorate, Thi-Qar, Iraq
Keywords:
Critical Thinking, EFL, Reading Comprehension, Storytelling.
Abstract
The purpose of this study is to find the effects of storytelling (ST) on improving critical thinking and reading comprehension of EFL students at Kandahar University. The design of the study was quasi-experimental with critical thinking and reading comprehension pre and posttests. Total 27 Afghan EFL students were selected based on their performance on Placement test.  The participants of experimental group listened to their teacher telling the story. In order to find the improvement and different between these variables is significant the Paired Sample T-Test was administrated and the result indicates that there is significant improvement in post-tests in areas of reading comprehension and critical thinking in group of storytelling. However, improvement is higher in reading comprehension section than critical thinking. 
References
Abrahamson, C. E. (1998). Storytelling as a pedagogical tool in higher education. Education, 118(3), 440-452.
Alkaaf, F., & Al-Bulushi, A. (2017). Tell and Write, the Effect of Storytelling Strategy for Developing Story Writing Skills among Grade Seven Learners. Open Journal of Modern Linguistics, 7(02), 119.
Al-Mansour, N. S., & Al-Shorman, R. E. A. (2011). The effect of teacher's storytelling aloud on the reading comprehension of Saudi elementary stage students. Journal of King Saud University-Languages and Translation, 23(2), 69-76.
Belet, S. D., & Dala, S. (2010). The use of storytelling to develop the primary school students' critical reading skill: the primary education pre-service teachers' opinions. Procedia-Social and Behavioral Sciences, 9, 1830-1834.
Chan, C. (2019). Using digital storytelling to facilitate critical thinking disposition in youth civic engagement: A randomized control trial. Children and Youth Services Review, 107, 104522.
Craig, S., Hull, K., Haggart A., & Crowder, E. (2001). Storytelling: Addressing the Literacy Needs of Diverse Learners. Teaching Exceptional Children. 43 (5), 46-51. Retrieved fromhttps://journals.sagepub.com/doi/abs/10.1177/004005990103300507?journalCode=tcxa
Cremin, T., Mottram, M., Collins, F., Powell, S., & Safford, K. (2009). Teachers as readers: building communities of readers. Literacy, 43(1), 11-19.
Dugan, J. (1997). Transactional literature discussions: Engaging students in the appreciation and understanding of literature. The Reading Teacher, 51(2), 86-96.
Ellis, G., & Brewster, J. (2014). Tell it again!: the storytelling handbook for primary english language teachers. London: British Council. Penguin Books.
Free Practice Critical Thinking Test. (n.d). Retrieved October 10, 2018, from https://www.testpartnership.com/free/critical/1/
Furlong , R. (2013, February) 21st Century English Education Remixing the Teaching of English for a New Generation retrieved 28,Junavery, 2019, from http://21stcenturyenglisheducation.blogspot.com/2013/02/oral-narratives-and-story-telling-in.html
Gallets, M. P. (2005). Storytelling and Story Reading: A Comparison of Effects on Children's Memory and Story Comprehension. Retrieved from https://dc.etsu.edu/cgi/viewcontent.cgi?article=2180&context=etd
Goudvis, A., & Harvey, S. (2000). Strategies that work: Teaching comprehension to enhance understanding. York, ME: Stenhouse.
Haven, K. F., & Ducey, M. (2007). Crash course in storytelling. Boston: Greenwood Publishing Group.
Haycock, K., & Huang, S. (2001). Are today's high school graduates ready? A closer look at college students: Self-efficacy and goal orientation. Journal of Advanced Academics, 18, 454-476.
Hemmati, F., Gholamrezapour, Z., & Hessamy, G. (2015). The effect of teachers' storytelling and reading story aloud on the listening comprehension of Iranian EFL learners. Theory and Practice in Language Studies, 5(7), 1482-1488.
Isbell, R., Sobol, J., Lindauer, L., & Lowrance, A. (2004). The effects of storytelling and story reading on the oral language complexity and story comprehension of young children. Early Childhood Education Journal, 32 (3), 157-163.
Marcus, S. (Ed.). (2005). 2nd edn. A world of fiction: Twenty timeless short stories. Boston: Allyn & Bacon.
Mello, R. (2001). Building bridges: How storytelling influences teacher and student relationships. In Proceedings, storytelling in the Americas conference. St. Catherine, ON: Brooks University Press ERIC Document Reproduction Service No. ED457088) retrieved from https://files.eric.ed.gov/fulltext/ED457088.pdf
Mikulecky, B. S., & Jeffries, L. (2003). 2nd edn. More reading power. New York: Longman Pearson.
Miller, S., & Pennycuff, L. (2008). The power of story: Using storytelling to improve literacy learning. Journal of Cross-Disciplinary Perspectives in Education, 1(1), 36-43.
National Council of Teachers of English: Position Statement from the Committee on Storytelling. (1992). Teaching Storytelling. Retrieved June 27, 2019, from http://www2.ncte.org/statement/teachingstorytelling/
Palmer, B. C., Harshbarger, S. J., & Koch, C. A. (2001). Storytelling as a constructivist model for developing language and literacy. Journal of Poetry Therapy, 14(4), 199-212.
Phillips, L. (1999). The role of storytelling in early literacy development. (ERIC Document Reproduction Service No. ED444147). Retrieved from https://files.eric.ed.gov/fulltext/ED444147.pdf
Reading Comprehension Practice Test 1 - Test Prep Review. (2019) Retrieved October 10, 2018, from https://www.testprepreview.com/modules/reading1.htm
Remenyi, D. (2005). Tell me a Story–A way to Knowledge. The Electronic Journal of Business Research Methodology, 3(2), 133-140.
Rivera Pinzón, M. X. (2016). Storytelling & Story-Reading: A way to Enhance EFL Students' Literacies.(Master's Thesis) Retrieved from University Distrital Francisco José de Calda.(Access No. 19. 1988-177).
Saadati, F., Tarmizi, R. A., & Bayat, S. (2010). Assessing critical thinking of postgraduate students. Procedia-Social and Behavioral Sciences, 8, 543-548.
Sahibzada, J., Saeedi, K.H., & Hussaini, M. A.(2018) The Causes of English Language and Literature Students' Poor English Skills at Kandahar University. International Journal for Innovative Research in Multidisciplinary Field, 4(10),1-14.
Sanaeifar, S. H. (2018). The Effect of Word Exposure Frequency through Story Reading and Story Listening on Learning Collocations. Language Education Studies, 4(4),1-8.
Soleimani, H., & Akbari, M. (2013). The effect of storytelling on children's learning English vocabulary: A case in Iran. International Research Journal of Applied and Basic Sciences, 4(11), 4005-4014.
Straková, Z. (2011). Using Storytelling with Intensive Reading in Adult Classes (Doctoral dissertation). Retrieved from University Masarykova). (Access No. 104497).
Ta'amneh, M. I. (2018, September) The Effect of Using Storytelling on Developing Saudi EFL University Students' Reading Comprehension. Journal of Education and Practice, 9, 80-87.
Tovani, C. (2000). I read it, but I don't get it: Comprehension strategies for adolescent readers. Portland: Stenhouse Publishers.
Watson, G. (1980). Watson-Glaser critical thinking appraisal. San Antonio, TX: Psychological Corporation. Retrieved October 10, 2018, from https://www.assessmentday.co.uk/free/watson glaser/freetest1/Inferences/index.php?extratime=999999999999999999999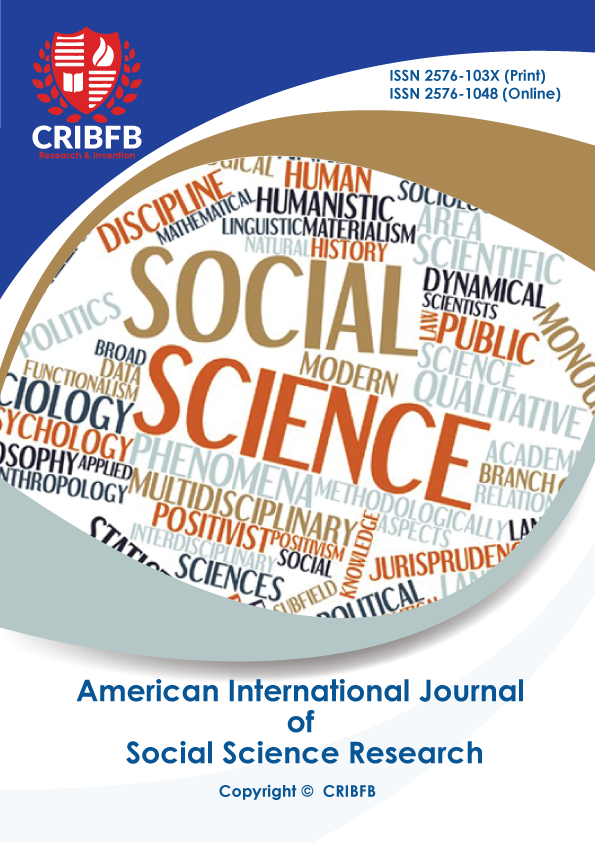 How to Cite
Sahibzada, J., Ahmadzai, Y. M. B., Niaz, A., & Laftah, S. H. (2020). Effects of Storytelling on Improving EFL Students' Critical Thinking and Reading Comprehension. American International Journal of Social Science Research, 5(1), 33-47. https://doi.org/10.46281/aijssr.v5i1.485
Section
Original Articles/Review Articles/Case Reports/Short Communications
Copyright (c) 2020 Javed Sahibzada ,Yar Mohammad Bahrami Ahmadzai ,Azadkhan Niaz, Susan Hussein Laftah
This work is licensed under a Creative Commons Attribution 4.0 International License.