Perceptions of Inmates on Social Work Intervention in Osun State Prisons, Nigeria
Eyitayo Olufunmilayo Akinyemi

Department of Adult Education, Adekunle Ajasin University, Akungba Akoko, Ondo State, Nigeria
Keywords:
Inmates, Intervention, Perceptions, Prison, Social Work
Abstract
The study investigated the inmates on social work intervention in Osun State prisons, Nigeria. The specific objectives of the study identified the age range of the inmates, inmates' perception towards a societal valued life, level of engagement in skill acquisition and formal education, attitude of government and prison service employees towards inmates' reformation. The study adopted descriptive research design. The sample consisted of 88 inmates randomly selected from the 880 inmates and eight (8) warders from Ilesa prison yard. The research instrument was a close ended questionnaire and focus group discussion. Data obtained were analysed using percentages and frequency counts. Results showed that inmates' ages range mostly between 21 and 25 years. Findings also showed inmates perceived they could still live a good and societal acceptable life; the societal services rendered to them were good to an extent that they had positive attitudes towards skill acquisition and formal education; inmates were satisfied with the services rendered by prison workers and welfare provisions from the government. Findings concluded that the inmates believed they could still live an acceptable life during and as an ex-convict. The study recommended that individual inmate could be tailored and encouraged on the need to better their lives in the prison yard and become acceptable and self-reliant ex-convict.
References
Abubakar, K.H.& Abba, M. (2018). Participation of prison inmates in vocational skills acquisition programme
For self-reliance and sustainable economic growth in Sokoto State, Nigeria. Review of European Studies,10 (2) 2018.
Arnett. (2017). Committee www. archieve.pov.org assessed on 17-1-2018.
Byrne, D. (2018). Prison reform www.reasons to be cheerful.
Clemens, D. (2003). Prison: To punish or to reform? Archieve.pov.org
Daramola V.A.O .(2004). The administration of relief materials in prison.A paper presented at the workshop for social pastoral workers in the prison by JDPC, Ibadan.
Daily Punch.(2017). Inspiring tales of life prisoners piling up degrees.
Davis, L.M, Steele, J.L., Bozick R., Williams, M.V., Miles, N.V., Saunders, J., Turner, S., Steinberg, P.S.,
(2014). Does providing inmates with education improve post release outcomes? A Meta-Analysis of
Correctional Education Programmes in United States. Journal of Experimental Criminology.Department of Safety and Security Management, Tshwane University of http://www.dailytrust.com.ng/daily/index.php/5267
Index.php/52674-
Job creation. International Journal of Education Research, 13(1), 128-144
Kabiru, C. (2019). More than half of Nigerians awaiting trial- prisoners under age. Premium Times.
Kelowna, (2011). www.dataangel.com
Kruidenier, J. (2002) Literacy education in Adult Basic Education: National Centre for the Study of Adult Learning and Literacy. Vol 3 www.ncsall.net
Mc Clary, T. (2003). National criminal justice representative, American friends service committee. www,archive
.pov.org assessed on 17-1-2019
Nigerian Prison Service (2014). Prisons in Edo State, Nigeria. en.m.wikipedia.org: assessed 11 February 2019
Obioha, E.E. (1995). Prison culture in Nigeria; A study of life within Agodi prison community, Ibadan.M.Sc Dissertation, Unpublished. Ibadan: Department of Sociology, University of Ibadan.
Obioha, E.E.(2011).Challenges and reforms in the Nigerian prisons system. Department of Safety and Security
Management, Tshwane University of Technology, Pretoria, South Africa. Journal of SocialScience, 27(2)
-109.
Oloruntegbe. K.O. (2014). Creating productive parental and community involvements in Science Education of the youths. Akungba Journal of Research in Education. ( 2), 122-138.
Oreloye, A.K. (2018).Rehabilitation and welfare of inmates in Nigeria Prisons: A case of selected prisons in Southwestern Nigeria. Canadian Social Science. 14 (6). pp 78-86.
Punch.(2015). Inspiring tales of life prisoners pilling up degrees. August 29, punching .com
Saturday Punch (2018). 30 Prison, inmates to die by hanging. Saturday Punch, May 12. pov. org assessed on 17-1-2019
Schiraldi V. (2003), Founder and president of the justice policy institute www.pov.org
Social Science, 14(6), 78-86.
Talba, A.M. (2015). Remembering the inmates of Kaduna Prison. Daily Trust News Paper Report, April, 22
Retrieved August, 2015 from http://www.dailytrust .com.ng/index. Php/52674
The Guardian (2008). What good is prison? www.the guardian.com assessed 17-1-2019
Whelan, R. (2004), Prisons are good for society. The telegraph www. telegraph.co.uk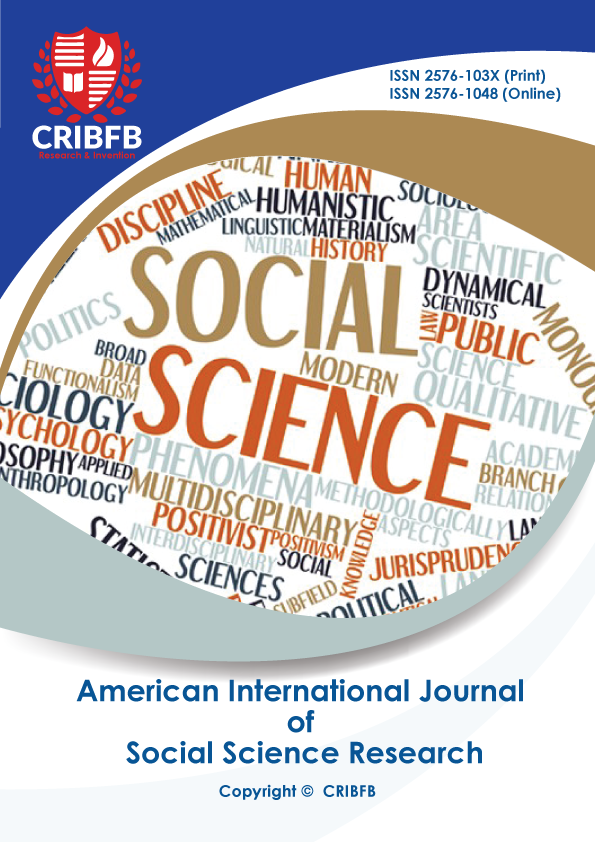 How to Cite
Akinyemi, E. O. (2019). Perceptions of Inmates on Social Work Intervention in Osun State Prisons, Nigeria. American International Journal of Social Science Research, 4(2), 45-52. https://doi.org/10.46281/aijssr.v4i2.340
Section
Original Articles/Review Articles/Case Reports/Short Communications
Copyright (c) 2019 Eyitayo Olufunmilayo Akinyemi
This work is licensed under a Creative Commons Attribution 4.0 International License.