Internally Displacement and Cognitive Reasoning in Children of North Central, Nigeria
Philemon Atume Agashua

Department of Psychology, Nigerian Defence Academy, Kaduna

Awopetu Ronke Grace

Department of Psychology, Benue State University, Makurdi

Jonathan Iornenge Ugese

Department of Psychology, Nigerian Defence Academy, Kaduna
Keywords:
Cognitive Assessment, Educational Development, Internally Displaced Children, North Central
Abstract
The cognitive progression of displaced children has suffered major setback in Nigeria in recent time as a result of boko haram insurgency, Fulani herdsmen militia and communal clashes. Therefore, this study examines the cognitive reasoning of the children of primary and secondary school ages that are currently seeking refuge at internally displaced camps in North-Central, Nigeria. 1,222 internally displaced children were assessed using visual, numerical and verbal reasoning analysis tests respectively, developed by Barrett (2004). Of the total number of participants, 29.8% responded correctly to numerical reasoning tests, 15.6% answered correctly the verbal reasoning tests and 31.7% responded to visual analysis tests. The result showed that majority of the children could not respond correctly to reasoning and analysis tests.  The study concludes that children are worst vulnerable to current ongoing displacement in the country and this has resulted into downfall in the educational system and cognitive improvement of the children. It is therefore recommended that quick response to IDP children in the area of education should not be ignored or neglected in case of displacement of any type by government, philanthropists and non-governmental organizations.
References
Benue State Emergency Management Agency (BSEMA) 2018 Report.
Boyden, J., Berry, J., Feeny, T., & Hart, J. (2002). Children affected by armed conflict in south Asia. A review of trends and issues identified through secondary research.
IOM/DTM, (2015). Displacement highlights. https://data2.unhcr.org/en/documents/download/48599
Lawal, A.I. Obasaju, B. Rotimi E.M. (2012). Towards Achieving Millennium Development Goals (MDGs) in Nigeria: Prospect and Challenges, Journal of Economics and Sustainable Development, Vol. 3, No. 9.
Oladunjoye, P. & Omemu F. (2013). Effect of Boko Haram on school attendance in Northern Nigeria. British Journal of Education Vol.1, No 2. Pp.1-9. www.ea-journals.org
Ugwumba, E. U. & Odom, T. C (2015). Boko haram insurgency: a peril to achievement of education for all in nigeria. International Journal of Education Learning and Development Vol.3, No.1, pp.1-11, www.eajournals.org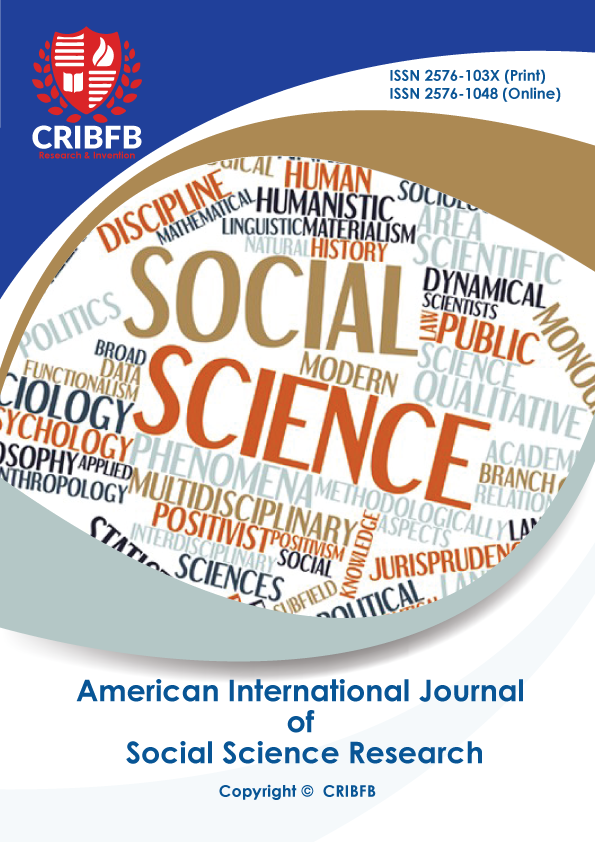 How to Cite
Agashua, P. A., Grace, A. R., & Ugese, J. I. (2018). Internally Displacement and Cognitive Reasoning in Children of North Central, Nigeria. American International Journal of Social Science Research, 3(1), 34-38. https://doi.org/10.46281/aijssr.v3i1.198
Section
Original Articles/Review Articles/Case Reports/Short Communications
Copyright (c) 2018 Philemon Atume Agashua, Awopetu Ronke Grace, Jonathan Iornenge Ugese
This work is licensed under a Creative Commons Attribution 4.0 International License.