Adoption of International Financial Reporting Standard in Nigerian: The Good, the Bad and the Ugly
Shafi'u Abubakar Kurfi

Department of Accounting, Umaru Musa Yar"adua University, Katsina, Nigeria
Keywords:
Nigeria, Convergence, IFRS, Nigerian GAAP, Challenges.
Abstract
This paper examines the mandatory adoption of IFRS in Nigeria that started since January, 2012; and how far the Nigerian government via the Financial Reporting Council has gone in the transition of Nigerian local GAAP (SAS) to International GAAP (IFRS).The study examined and identified the benefits that Nigeria and Nigerians gained so far as a result of convergence into IFRS; the bottlenecks that paralyze the full percentage of the transition as well examined the techniques taken by Nigeria in making sure a smooth, successful and amicable implementation of the three stages of convergence.In the course of this study the study observed vividly that Nigeria has gained a lot from the convergence because most of its local financial expertise are now turned into International expertise as well as International financial consultants, thus, convergence has increase the level of employment in the country.The main drawbacks of the transition is amendments of Nigerian tax laws, because tax laws are among the most complicated laws in accounting arena; weak compliance and enforcement mechanisms by Financial Reporting Council. As a manner of recommendation, for Nigerian government to gain more from dividend of convergence there is need to increase the time period for the on-going transition because implementation of certain requirements of International Standards like IFRS successfully should be in a gradual and careful process not just three years, because convergence to IFRS is not just an Accounting and Taxation exercises but a total and complete transition that requires every stakeholders concerned to learn a new technical language as well as new modes of working with a new standard.
References
Adejoh, E. & Hasnah, K. (2014). Adoption of International Financial Reporting Standard iNigeria: Concepts and Issues, Journal of An advanced Management Science.
Ahmed, A.S., Nell, M. & Wang (2013). Does mandatory adoption offers improve accounting Quality? Preliminary evidence, Contemporary Accounting Research.
Baba, B. U (2013). Assessing Nigeria"s Journey towards IFRS Adoption, Information Management and Business Review.
Doupnik, T. & Perera, H. (2012). International Accounting, Third Edition.
Daske, H., Hail, L., Leuz, C., & Verdi, R. (20O8). Mandatory IFRS reporting around the world:Early evidence on the economic consequences. Journal of Accounting Research
FASB Facts About FASB, Financial Accounting Standards Board, viewed 25 July 2010. http://fas.org/jsp/FASB/Page/SectionPage&cid=1176154536495.html
Ikpefan, O. A., & Akande, A. O. (2012). International Financial Reporting (IFRS): Benefits, Obstacles and Intrigues for Implementation in Nigeria, Research Journal of Finance Accounting.
Iatridis, G. (2010). IFRS Adoption and Financial Statement Effects: The UK Case. International Research Journal of Finance and Economics
Josiah, M, Okoye, A. E., & Adediran, O. S. (2013). Accounting Standards in Nigeria, the journey So Far, Research Journal of Business Management and Accounting.
Odia, J. O., & Ogiedu, K. O. (2013). IFRS Adoption: Issues, Challenges and Lessons for Nigeria And other Adopters, Meanditerranean Journal of Social Science.
Terzungwe, N. (2012). Challenges of Convergence to IFRS in Nigeria, International Business Journal for Information and Technology
World Bank (2004). Report on Accounting and Auditing practices in Nigeria. World Bank, 2008.
Zeghal, D. and Mhedhbi, K. (2006). An analysis of the factors affecting the adoption of international accounting standards by developing countries. Published by University of Illinois, 2006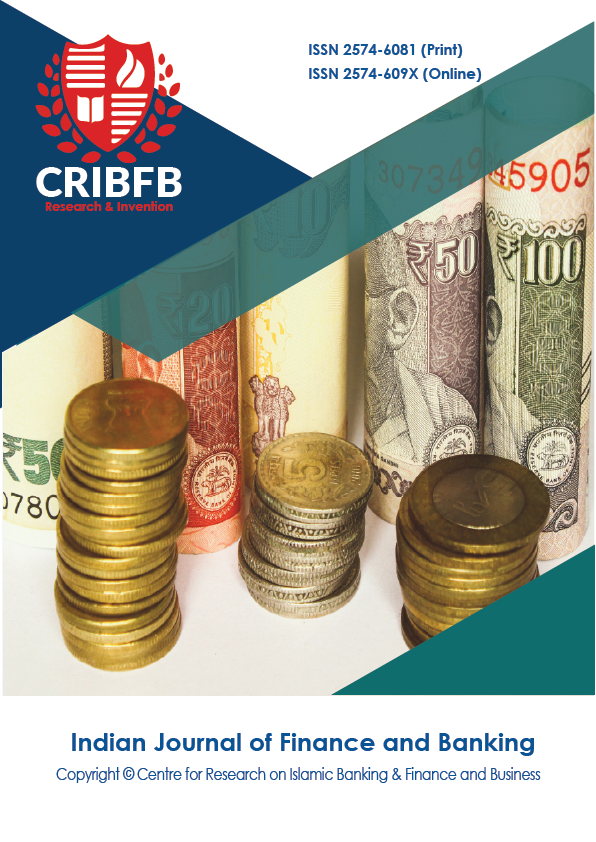 How to Cite
Kurfi, S. A. (2017). Adoption of International Financial Reporting Standard in Nigerian: The Good, the Bad and the Ugly. Indian Journal of Finance and Banking, 1(1), 42-61. https://doi.org/10.46281/ijfb.v1i1.84
Section
Regular Research Article/ Short Communication Article
Copyright (c) 2017 Shafi'u Abubakar Kurfi
This work is licensed under a Creative Commons Attribution 4.0 International License.