Current Issue
Vol 4 No 2 (2020): Indian Journal of Finance and Banking [In Progress]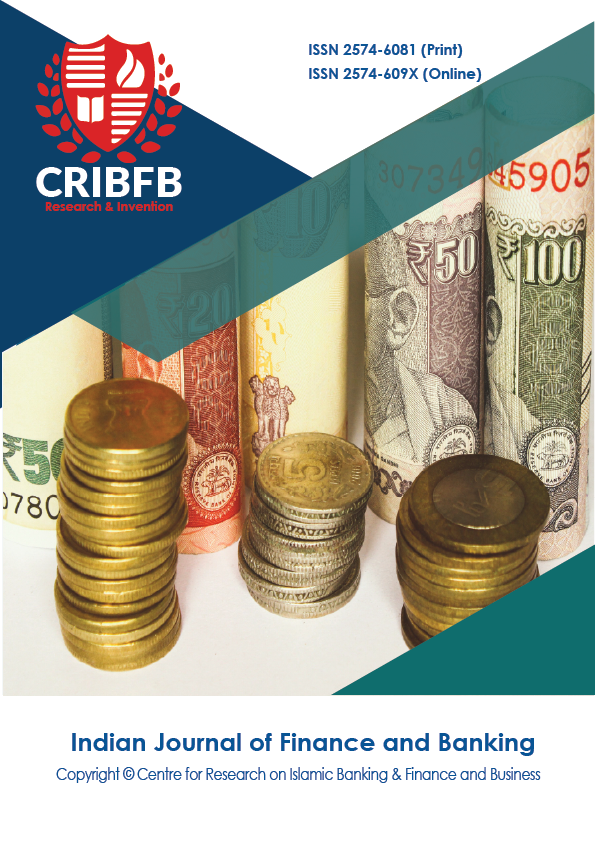 Editor-in-Chief of the IJFB Journal:
Professor Dr. Mbodja Mougoué, Wayne State University, United States of America
General Information of IJFB
ISSN: 2574-6081 (Print)
ISSN: 2574-609X (Online)
Publisher: Centre for Research on Islamic Banking & Finance and Business
Contact Information
CRIBFB USA
Management Office: 8700, Broadway St., Houston, TX-77061, USA
E-mail: info.ijfb@cribfb.com
Publication and Update
Last day of Every Month
Journal Paper Publication Policy
A maximum of thirty-nine (39) papers will be included in every journal issue (effective July 2020).
Multiple submission of the same paper on different journal submissions will all be discarded (effective July 2020).
The paper title, author, and corresponding author(s) names should be the same as the submitted paper and on the submission system (effective July 2020).
Each paper should only have one (1) corresponding author and cannot be changed (effective July 2020).
If the plagiarism problem was found, all authors including the corresponded authors cannot submit the paper(s) to our journal for three years.
The paper will be removed even though it was already published, and this will be noticed on the home page (effective July 2020).
If the double submission was found, all authors including the corresponded authors cannot submit a paper(s) to our journal for three years.
The paper will be removed even though it was published, and this will be noticed on the home page (effective July 2020)).
Only paper(s) containing simulation, implementation, case study, or other evidence of research advancement will be published.
Ideal paper can be published after the editorial board grants permission after reviewing the paper (effective July 2020).
Papers from one country cannot exceed 60% in every journal issue; it will be based on the first authors' nationality (effective July 2020).
Only one (1) paper from the same author can be included in each issue regardless of role and order (effective July 2020).
CRIBFB DOES NOT ALLOW ANY AGENTS FROM ANY COUNTRY to act on our behalf in collecting papers for our journals. CRIBFB has standard procedures in the publication of submitted papers.
View All Issues
Indian Journal of Finance and Banking
Indian Journal of Finance and Banking(IJFB) is an international, double-blind peer-reviewed, scholarly open access journal on the financial market, instruments, policy, and management research published both online and print by CRIBFB.
Aims & Scope
IJFB aims to provide a platform for high-quality original research papers related to finance, banking, and business. The subject areas include, but are not limited to the following fields:
Insurance
Uncertainty
Portfolio Theory
Asset Pricing
Futures Markets
Investment Policy
Agency Theory
Risk Management
Banking Systems
Computational Finance
Behavioral Finance
Financial Econometrics
Corporate Governance
Credit and Market Risk
Advanced Stochastic Methods
Financial Intermediation
Public Finance Management
Financial Regulation and Policy
Fiscal Markets and Instruments
Financial Derivatives Research
Financial Instruments for Risk Management
Statistical and Empirical Financial Studies
Asset-Liability Management
Bank Assurance
Banking Crises
Derivatives and Structured Financial Products
Efficiency and Performance of Financial Institutions and Bank Branches
Financing Decisions of Banks
Investment Banking
Management of Financial Institutions
Technological Progress and Banking
Foreign Exchange Management
Conventional Vs. Non-Conventional Banking
Internet Banking
Mobile Banking
Retail Banking
E-Banking
CSR of Bank
SMEs Banking
Bankruptcy Prediction and Determinants
Corporate Finance
International Finance
Rural Finance
Fixed Income Securities
Alternative Investments
Portfolio and Security Analysis
Time Value of Money
Credit Risk Modelling and Management
Financial Engineering
Foreign Exchange Markets
Law and Finance
Mergers and Acquisitions
Mutual Funds Management
Portfolio Management
Regulations of Financial Markets
Venture Capital
Microcredit
Valuation
Risk and Return
Liquidity Management
Foreign Direct Investment
Financial Accounting
Financial Statement Analysis
Microeconomics
Econometrics models
Macroeconomics
Information in Relation to Finance, Banking, and Business, etc.
Indian Journal of Finance and Banking currently has an acceptance rate of 25%. The average time between submission and final decision is 20 days and the average time between acceptance and publication is 30 days.
----------------------------------------------------------------------
Author Guidelines
1. Authors must ensure that their papers are free of spelling and grammatical errors and typos.
2. Research papers should not exceed 8,000 words.
3. A separate title page of an article should contain the title of the paper, name(s) and affiliation(s) of the author(s).
4. The first page of an article should contain an abstract not exceeding 250 words and a maximum of eight keywords.
5. Equations in the text should be numbered consecutively using Arabic numerals within simple brackets and aligned against the right margin.
6. All appendices should be numbered consecutively using uppercase roman numerals and shown after the list of references.
7. References should be cited within the text as follows: According to Wickremasinghe (2005), foreign exchange market … These results are inconsistent with those of other studies (Perera, 1995; Silva, 2000)
8. List of references should show each citation in alphabetical order and follow the style of APA
9. The author should register with the journal before submitting manuscripts.
10. Page proofs will be sent to the corresponding author. The corrected manuscripts should be submitted, and the publication fee should be paid within 10 working days.
11. To support this open access journal, we have an honorary charge of USD 300 for the publication of an accepted manuscript.
----------------------------------------------------------------------
Paper Selection and Publication Process

1. Upon receipt of paper submission, the Editor sends an E-mail of confirmation to the corresponding author within 1-3 working days. If you fail to receive this confirmation, your submission/e-mail may be missed. Please contact the Editor in time for that.

2. Peer review. We use a double-blind system for peer-review; both reviewers and authors' identities remain anonymous. The paper will be peer-reviewed by three experts; two reviewers from outside and one editor from the journal typically involve in reviewing a submission. The review process may take 2-3 weeks.
3. Notification of the result of review by E-mail.

4. The authors revise the paper and pay the publication fees.

5. E-journal in PDF is available on the journal's webpage, free of charge for download. We aim to post articles online within 3 weeks of acceptance.
----------------------------------------------------------------------
Open-access Policy
We follow the Gold Open Access way in journal publishing. This means that authors publish in the journals that provide immediate open access for readers to all articles on the publisher's website. The readers pay nothing, while authors (or their institutions or funders) pay a publishing fee to maintain the journal operation.
All articles published are open-access articles distributed under the terms and conditions of the Creative Commons Attribution license.
--------------------------------------------------------------------------------
NOTE:
The publisher and journal have a policy of "Zero Tolerance on the Plagiarism". We check the plagiarism issue through two methods: reviewer check and plagiarism prevention tool (https://www.turnitin.com).
All submissions will be checked by Turnitin before being sent to reviewers.
Keep a Similarity Index <20% and single-source matches are not >3%
----------------------------------------------------------------------
Statistics
2020Q1: Articles Received: 44; Accepted: 14; Rejected: 30; Published: 13; Retracted: 1

2019Q2: Articles Received: 24; Accepted: 6; Rejected: 18; Published: 6; Retracted: 0
2019Q1: Articles Received: 31; Accepted: 4; Rejected: 27; Published: 4; Retracted: 0
2018Q2: Articles Received: 27; Accepted: 4; Rejected: 23; Published: 4; Retracted: 0
2018Q1: Articles Received: 28; Accepted: 4; Rejected: 24; Published: 4; Retracted: 0
2017Q2: Articles Received: 30; Accepted: 5; Rejected: 25; Published: 5; Retracted: 0
2017Q1: Articles Received: 25; Accepted: 5; Rejected: 20; Published: 5; Retracted: 0
----------------------------------------------------------------------
Indexing/Ranking Under Process In:--
IBSS (ProQuest's List)
JourQUAL 2.1 (Germany)
The Association of Business Schools' (ABS) Academic Journal Guide

The Chartered Association of Business Schools' (CABS) Academic Journal Guide

Association to Advance Collegiate Schools of Business journal ranking (AACSB) (USA)
University of Sydney Business School Journal Rankings List (Australia)
Internet Archive
Journal Factor
International Journal Research Citation Index (IJRCI)
Microsoft Academic Example
International journal impact factor (IJIF)
BASE (Bielefeld Academic Search Engine)
CNKI Scholar
IARC Impact Factor
ResearcherID
EndNote
JournalSeek
Saif Scholars Impact
International Society for Research Activity (ISRA)
AcademicKeys
Anoox
Academic-journal-index
Live Journal
SJI-Factor
International Journal Impact Factor
ANVUR journal list (Italy)
AIDEA list (Italian Academy of Business Administration)
NSD Database (Norway)
SIDREA (Italy)
Elektronische Zeitschriftenbibliothek EZB (Germany)
ZBW economic journal list (Germany)
EconBiz (Germany)
BASE (Germany)
European Reference Index for the Humanities and the Social Sciences (ERIH PLUS) (Norway)
EconLit (American Economic Association, USA)
Pubindex (Colombia)
List of Journals recommended by the Danish Ministry of Higher Education and Science
EconStor (Germany)
Dimensions (Altmetric) (UK)
Qualis (Brazil)
Polish Scholarly Bibliography (PBN)
IJFB is Indexing Under Process in the digital libraries of the following world's universities and centers:--
EBSCO
ProQuest Pharma Collection (ProQuest)
Bielefeld University Library (Germany)
German National Library of Science and Technology
European Organization for Nuclear Research
Open Science in Europe
Open Science MOOC,

Berlin, Germany

British Library
Federal Science Library (Canada)