Impacting the B2B-Business Development Process: Social Media Usage within a Global Software Environment
Keywords:
B2B, Business Development Process, Social Media, Global Software Environment.
Abstract
The thesis aims to explore and explain how Social Media impacts the B2B-Business Development process in a global software environment. Mixed-methods uncover the leading media platforms applied in the Business Development process cycle. The thesis produced a model, illustrating two dimensions of Social Media Business Usage, four critical Business Development process phases, and their impact on Performance mediated by Social Capital. To extend generalizability, future research may focus on testing the model for New Business Development exclusively. Significant contributions are classifying relevant Social Media platforms, distilling the process phases with the greatest impact on performance. The creation of new indices advances the performance discussion, and the typology of Business Developers capitalises on optimising the process sequence.
References
Adler, P. S., & Kwon, S.-W. (2002). Social Capital: Prospects for a New Concept. Academy of Management Review, 27(1), 17-40.
Agnihotri, R., Kothandaraman, P., Kashyap, R., & Singh, R. (2012). Bringing "social" into sales: The impact of salespeople's social media use on service behaviors and value creation. Journal of Personal Selling and Sales Management, 32(3), 333-348.
Alves, H., Fernandes, C., & Raposo, M. (2016). Social Media Marketing: A Literature Review and Implications. Psychology & Marketing, 33(12), 1029-1038. doi:10.1002/mar.20936
Avlonitis, G. J., & Panagopoulos, N. G. (2010). Selling and sales management: An introduction to the special section and recommendations on advancing the sales research agenda. Industrial Marketing Management, 39(7), 1045-1048.
Brennan, R., & Croft, R. (2012). The use of social media in B2B marketing and branding: An exploratory study. Journal of Customer Behaviour, 11(2), 101-115.
Brown, S. (2011). Social media for company research: A few of the best tools. Business Information Review, 28(3), 163-174.
Chiu, C.-M., Hsu, M.-H., & Wang, E. T. (2006). Understanding knowledge sharing in virtual communities: an integration of social capital and social cognitive theories. Decision Support Systems, 42(3), 1872-1888.
Colwyn, S. (2014). The best social media platform for generating B2B leads? [Infographic]. Retrieved from http://www.smartinsights.com/social-media-marketing/linkedin-marketing/generating-leads-linkedin-infographic/
Davis, C. H., & Sun, E. (2006). Business development capabilities in information technology SMEs in a regional economy: An exploratory study. The Journal of Technology Transfer, 31(1), 145-161.
Eckhardt, J. T., & Shane, S. A. (2003). Opportunities and entrepreneurship. Journal of Management, 29(3), 333-349.
Eidhoff, A. T., & Poelzl, J. (2014). Business Development: What's Behind the Name? International Journal of Economic Practices and Theories, 4(5), 835-844.
Engelen, A., Kaulfersch, A., & Schmidt, S. (2016). The Contingent Role of Top Management's Social Capital on the Relationship between Entrepreneurial Orientation and Performance. Journal of Small Business Management, 54(3), 827-850. doi:10.1111/jsbm.12164
Glynn, F. (2015). It takes 6 to 8 Touches to Generate a Viable Sales Lead. Here's why. Retrieved from https://www.salesforce.com/blog/2015/04/takes-6-8-touches-generate-viable-sales-lead-heres-why-gp.html
Hoffman, D. L., & Fodor, M. (2010). Can you measure the ROI of your social media marketing? Sloan Management Review, 52(1), 41-49.
Itani, O. S., Agnihotri, R., & Dingus, R. (2017). Social media use in B2b sales and its impact on competitive intelligence collection and adaptive selling: Examining the role of learning orientation as an enabler. Industrial Marketing Management, 66, 64-79. doi:10.1016/j.indmarman.2017.06.012
Jussila, J. J., Kärkkäinen, H., & Aramo-Immonen, H. (2014). Social media utilization in business-to-business relationships of technology industry firms. Computers in Human Behavior, 30, 606-613. doi:http://dx.doi.org.idpproxy.reading.ac.uk/10.1016/j.chb.2013.07.047
Kaplan, A. M., & Haenlein, M. (2010). Users of the world, unite! The challenges and opportunities of Social Media. Business Horizons, 53(1), 59-68.
Katona, Z., & Sarvary, M. (2014). Maersk Line: B2B Social Media--"It's Communication, Not Marketing". California Management Review, 56(3), 142-156. doi:10.1525/cmr.2014.56.3.142
Keinänen, H., Kuivalainen, O., & Karjaluoto, H. (2015). Antecedents of social media B2B use in industrial marketing context: customers' view. Journal of Business & Industrial Marketing, 30(6).
Kind, S., & Knyphausen-Aufseß, D. Z. (2007). What Is "Business Development"? - The Case Of Biotechnology. Schmalenbach Business Review (SBR), 59(2), 176-199.
Lee, Y. W., Strong, D. M., Kahn, B. K., & Wang, R. Y. (2002). AIMQ: a methodology for information quality assessment. Information & Management, 40(2), 133-146. doi:http://dx.doi.org/10.1016/S0378-7206(02)00043-5
Lin, N. (2008). A Network Theory of Social Capital. The Handbook of Social Capital, 50, 1-25.
McCorkindale, T., DiStaso, M. W., & Sisco, H. F. (2013). How millennials are engaging and building relationships with organizations on Facebook. The Journal of Social Media in Society, 2(1), 67-87.
Michaelidou, N., Siamagka, N. T., & Christodoulides, G. (2011). Usage, barriers and measurement of social media marketing: An exploratory investigation of small and medium B2B brands. Industrial Marketing Management, 40(7), 1153-1159.
Moore, J. N., Raymond, M. A., & Hopkins, C. D. (2015). Social Selling: A Comparison of Social Media Usage Across Process Stage, Markets, And Sales Job Functions. Journal of Marketing Theory & Practice, 23(1), 1-20.
Pöyry, E., Parvinen, P., & McFarland, R. G. (2017). Generating leads with sequential persuasion: should sales influence tactics be consistent or complementary? Journal of Personal Selling & Sales Management, 37(2), 89-99. doi:10.1080/08853134.2016.1275973
Ramos, L., & Young, G. O. (2009). The Social Technographics® Of Business Buyers. Retrieved from http://www.rbrdatasolutions.com/ACTblog/wp-content/uploads/2009/03/2009_forrester_social_technographics_of_business_buyers_0209.pdf
Rauniar, R., Rawski, G., Yang, J., & Johnson, B. (2014). Technology acceptance model (TAM) and social media usage: an empirical study on Facebook. Journal of Enterprise Information Management, 27(1), 6-30.
Rodriguez, M., Peterson, R. M., & Ajjan, H. (2014). CRM/Social Media Technology: Impact on Customer Orientation Process and Organizational Sales Performance. Journal of Marketing Development and Competitiveness, 8(1), 85-97.
Rodriguez, M., Peterson, R. M., & Krishnan, V. (2012). Social Media's Influence On Business-To-Business Sales Performance. Journal of Personal Selling and Sales Management, XXXII(3), 365-378.
Rollins, M., Wei, J., & Nickell, D. (2014). Learning by Blogging: Understanding Salespeople's Learning Experiences on Social Media. Paper presented at the 47th Hawaii International Conference on System Science(HICSS), Waikoloa.
Royle, J., & Laing, A. (2014). The digital marketing skills gap: Developing a Digital Marketer Model for the communication industries. International Journal of Information Management, 34(2), 65-73.
Schultz, M., Doerr, J. E., & Frederiksen, L. (2013). Professional services marketing: how the best firms build premier brands, thriving lead generation engines, and cultures of business development success (2nd ed.). Hoboken, NJ: John Wiley & Sons, Inc.
Schultz, R. J., Schwepker Jr, C. H., & Good, D. J. (2012). Social media usage: an investigation of B2B salespeople. American Journal of Business (Emerald Group Publishing Limited), 27(2), 174-194.
Stephen, A. T., & Galak, J. (2012). The effects of traditional and social earned media on sales: A study of a microlending marketplace. Journal of Marketing Research, 49(5), 624-639.
Taken Smith, K., Blazovich, J. L., & Murphy Smith, L. (2015). Social Media Adoption By Corporations: An Examination By Platform, Industry, Size, And Financial Performance. Academy of Marketing Studies Journal, 19(2), 127-143.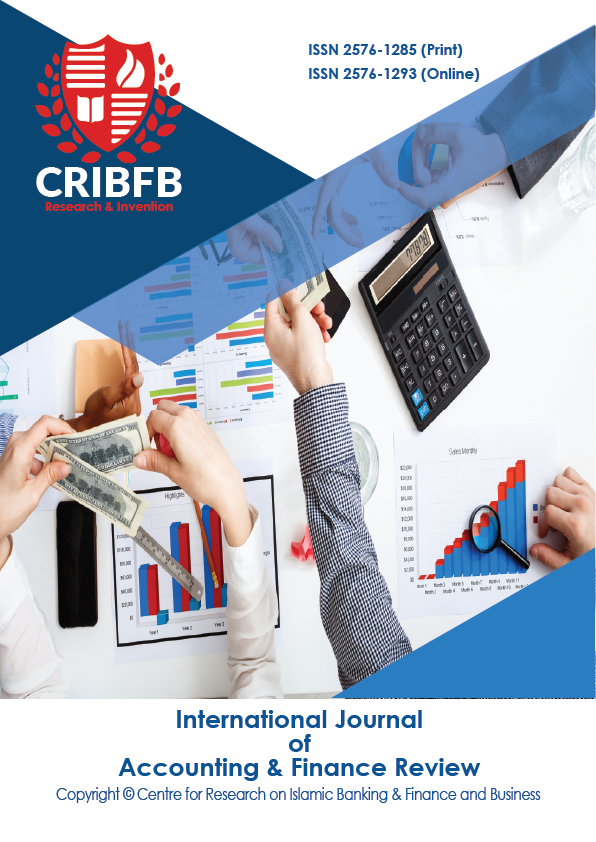 How to Cite
Krings, W. (2020). Impacting the B2B-Business Development Process: Social Media Usage within a Global Software Environment. International Journal of Accounting & Finance Review, 5(1), 1-11. https://doi.org/10.46281/ijafr.v5i1.450
Section
Regular Research Article/ Short Communication Article
Copyright (c) 2020 Werner Krings
This work is licensed under a Creative Commons Attribution 4.0 International License.