The Impact of E - Accounting in Modern Businesses
Susan Peter Teru

Department of Accountancy, Taraba State University, Jalingo, Nigeria

Innocent Felix Idoko

Department of Business Administration, Taraba State University, Jalingo, Nigeria

Lukman Bello

Department of Accountancy, Taraba State University, Jalingo, Nigeria
Keywords:
Accounting, E- Accounting, Information, System, Technology.
Abstract
There has been constant growth and development in information technology which had brought the digital revolution in our daily economic, social and cultural fields. This technological development changed the methods and ways of carrying out tasks within the scope of accounting transactions and activities through the use of electronic media. One of the digital applications produced on this issue is E- accounting.  E- accounting is a new development in the field of accounting adopted at the international level. E- accounting stands for electronic accounting with the characteristics of high speed, accuracy and with an immediate result. Accordingly, source documents and accounting records exist in a digital form instead of on paper in an electronic accounting system.  It helps businesses keep their financial data and accounting software in a safe, secure environment allowing real-time access to authorized users irrespective of their location or computing platforms. This paper sheds light on the impact of e-accounting in the modern business, the concept of E- accounting, benefits, and problems of e- accounting. The main source of data used for this paper is the secondary data from the review of related literature basically to create a theoretical background for the study. It was found from the studies that many organizations fail in the business, not because of poor quality of material, not the availability of trained staff, management problems, but the main reason is the accounting practices adopted by the businesses. Therefore, there is a need for businesses to adopt e -accounting practices as a replacement for traditional practices.
References
Fitriati, A., & Mulyani, S. (2015). Factors that affect accounting information system success and its implication on accounting information quality. Asian Journal of Information Technology, 14(5), 154-161.
Ghasemi M., Valid S., Aslani M., & Elham B. (2011). The Impact of Information Technology (IT) on Modern Accounting systems. Procedia - Social and Behavioral Sciences, (28) 112-116.
Guney A. (2014). Role of technology in accounting and e- accounting. Procedia- Social and Behavioural Sciences. 152, 852-855.
Hajera, F. (2016). Impact of e-accounting in today's scenario. International Journal of Engineering and Management Research. 6(1) 260- 264.
http://www.svtuition.org/2008/12/e-accounting.html
https://en.wikipedia.org/wiki/E-accounting
Kieso, E., Weygandt J., & Terry D. (2011). Intermediate Accounting 14th Edition. New Jersey USA, John Wiley & Sons, Inc.
Kumar, S. & Preeti J. (2012). What and why e - Accounting? The Economic Changer 14(55). PP 123
Laudon, K.C., and Laudon, J.P. (2011). Management Information Systems: Managing the Digital Firm (Upper Saddle River, NJ: Prentice Hall).
Smith S. (1997). The smart ways to invest in computers. Journal of Accountancy 63(1) 65.
Toshniwal, R. (2016). E- Accounting: the necessity for modern businesses. 4th International Conference on Science, Technology, and Management. ISBN: 978-81-932074-8-2. PP 579-583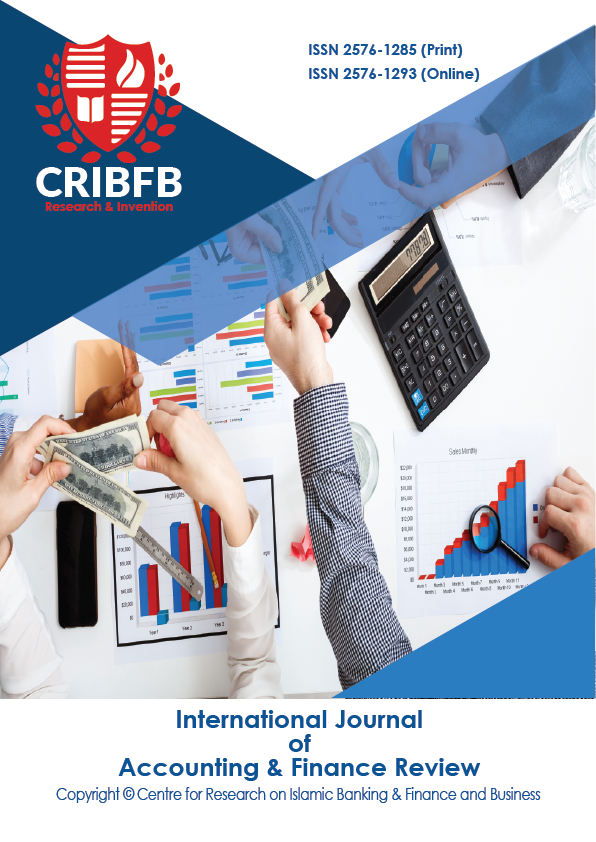 How to Cite
Teru, S. P., Idoko, I. F., & Bello, L. (2019). The Impact of E - Accounting in Modern Businesses. International Journal of Accounting & Finance Review, 4(2), 1-4. https://doi.org/10.46281/ijafr.v4i2.355
Section
Regular Research Article/ Short Communication Article
Copyright (c) 2019 Susan Peter Teru, Innocent Felix Idoko ,Lukman Bello
This work is licensed under a Creative Commons Attribution 4.0 International License.