The Effects of Facebook on Students' Social Life: A Case Study at Mirwais Khan Nika Zabul Institute of Higher Education, Zabul
Abdul Nafi Himat

English Language and Literature Department, Education Faculty, Kandahar University, Kandahar, Afghanistan
Keywords:
Facebook, Devoted Time, Effects, Social Life, Students
Abstract
In the world, Facebook is one of the most well-known social networking sites, which is used a lot among students. The purpose of this research is to identify the devoted time students' spend on the usage of Facebook, and its impacts on learners' social life at Mirwais Khan Nika Zabul Institute of Higher Education, Zabul, Afghanistan. In this study, the quantitative research method was used to collect data from one hundred and fifteen students, and they were selected through a random sample. Likewise, the questionnaire was designed based on the literature review then the data was collected from the participants. Similarly, the data was analyzed by using IBM 24 version of SPSS and found out the frequency and percentage of the demographic data as well as the items. Also, the findings of this research illustrate that learners were devoted from half to one-hour time for using Facebook. Moreover, the results assert that learners want to maintain in connection with people, feel fine when they share their ideas on Facebook and it had positive effects on students' social life.
References
Akbiyik, C. (2013). Effects of Social Networks on Social life of Undergraduate students. Middle Eastern & African Journal of Educational Research, 4(6), 4-10.

Alhazmi, A. K., & Rahman, A. A. (2013). Facebook in higher education: Students' use and perceptions. Advances in Information Sciences and Service Sciences, 5(15), 32.

Ali, A., Iqbal, A., & Iqbal, K. (2016). Effects of Social Media on Youth: A Case Study in the University of Sargodha. International Journal of Advanced Research, 4(11), 369-372.

Aliaga, M., & Gunderson, B. (2002). Interactive statistics. Virginia. America: Pearson Education.

Altai Consulting for Interviews. (2017). Social Media in Afghanistan, Afghanistan.

Aygul, E. (2010). Facebook'ta Nefret Söyleminin Üretilmesi Ve Dolaşıma Sokulması, Yeni Medyada Nefret Söylemi, Tuğrul Çomu (Ed.), İstanbul.

Boateng, R., & Amankwaa, A. (2016). The impact of social media on student academic life in higher education. Global Journal of Human-Social Science, 16(4), 1-8.

Chowdhury, I. R., & Saha, B. (2015). Impact of Facebook as a social networking site (SNS) on youth generations: A case study of Kolkata city. International Journal of Humanities and Social Science Invention, 4(6), 28-42.

Diraditsile, K., & Gamakabadi, G. (2018). The effect of social media on student engagement and collaboration: The use of Facebook at the University of Botswana. Nonaka J. Learn. Teach, 9, 70-83.

Eke, H., Omekwu, C. & Jennifer, N. (2014). The use of social networking sites among the undergraduate student of the University of Nigeria, Nsukka. Library Philosophy and Practice, 0_1.

Ellefsen, L. (2016). An Investigation into Perceptions of Facebook-Use in Higher Education. International Journal of Higher Education, 5(1), 160-172.

Ellison, N. B., Steinfield, C., & Lampe, C. (2007). The benefits of Facebook "friends:" Social capital and college students' use of online social network sites. Journal of computer-mediated communication, 12(4), 1143-1168.

Gafni, R., & Deri, M. (2012). Costs and benefits of Facebook for undergraduate students. Interdisciplinary Journal of Information, Knowledge, and Management, 7(1), 45-61.

Gomm, R., Hammersley, M., & Foster, P. (2000). Case study and generalization. Case study method, 98-115.

Heiberger, G. & Harper, R. (2008). Have you Facebooked Astin lately? Using technology to increase student involvement. New Directions for Student Services, 124.

Johnson, S. (2013). The Effect of Social Media for College Students Today. Available on http://sierrajfinalproj.weebly.com/uploads/2/5/2/1/2521758/iteration2_sierraj.pdf [Retrieved on January 2017]

Kirik, A., Arslan, A., Çetinkaya, A., & Mehmet, G. Ü. L. (2015). A quantitative research on the level of social media addiction among young people in Turkey. International Journal of Sport Culture and Science, 3(3), 108-122.

Kirkpatrick, D. (2010). The Facebook Effect: The Inside Story of the Company That is Connecting the World. New York: Simon & Schuster.

Lenhart, A., & Madden, M. (2007). Social networking websites and teens: An overview (pp. 1-7). Washington, DC: Pew/Internet.

Madan, C. R., & Kensinger, E. A. (2017). Test-retest reliability of brain morphology estimates. Brain informatics, 4(2), 107-121.

Mason, M. (2017). The use of the internet and social media by young people.

Mustafa, S. E., & Hamzah, A. (2011). Online social networking: A new form of social interaction. International Journal of Social Science and Humanity, 1(2), 96.

Nawafleh, S., Harfoush, O., Fakhouri, S., Obiedat, R., Rababah, O. (2012). Facebook Impact on Users Social Life. Journal of American Science, 8(12). 333-339.

O'Keeffe, G. S., & Clark-Pearson, K. (2011). The impact of social media on children, adolescents, and families. Pediatrics, 127(4), 800-804.

Orr, E. S., Sisic, M., Ross, C., Simmering, M. G., Arseneault, J. M., & Orr, R. R. (2009). The influence of shyness on the use of Facebook in an undergraduate sample. CyberPsychology & Behavior, 12(3), 337-340.

Paul, A. (2017). Impact of Facebook on urban youth: A study on Kolkata Metropolitan. International Journal of Research in Social Sciences, 7(7), 453-463.

Pempek, T. A., Yermolayeva, Y. A., & Calvert, S. L. (2009). College students' social networking experiences on Facebook. Journal of applied developmental psychology, 30(3), 227-238.

Salvation, M., & Adzharuddin, N. A. (2014). The influence of social network sites (SNS) upon the academic performance of Malaysian students. International Journal of Humanities and Social Sciences, 4(10), 131-137.

Sangwaan, R. (2019). Use of Social Media in Education: Positive and Negative Impact on The Students. International Journal on Transformations of Media, Journalism & Mass Communication, 4(2).

Schneider, N. (2010). Facebook, Other Social Network Sites Could Lead to Lower Grades for Students.

Selwyn, N. (2007). Screw Blackboard do it on Facebook!': an investigation of students' educational use of Facebook. Ponencia. En: Poke.

Sheldon, P. (2008). Student favorite: Facebook and motives for its use. Southwestern Mass Communication Journal, 23(2).

Stern, L. A., & Taylor, K. (2007). Social networking on Facebook. Journal of the Communication, Speech & Theatre Association of North Dakota, 20(2007), 9-20.

Tang-Mui, J., & Teng, C. E. (2017). Impacts of social media (Facebook) on human communication and relationships: A view on behavioral change and social unity. International Journal of Knowledge Content Development & Technology, 7(4), 27.

Valenzuela, S., Park, N., & Kee, K. F. (2009). Is there social capital in a social network site?: Facebook use and college students' life satisfaction, trust, and participation. Journal of computer-mediated communication, 14(4), 875-901.

Wang, Q., Chen, W., & Liang, Y. (2011). The effects of social media on college students.

Yin, R. K. (1994). Case Study Research Design and Methods: Applied Social Research and Methods Series. Second ed. Thousand Oaks, CA: Sage Publications Inc.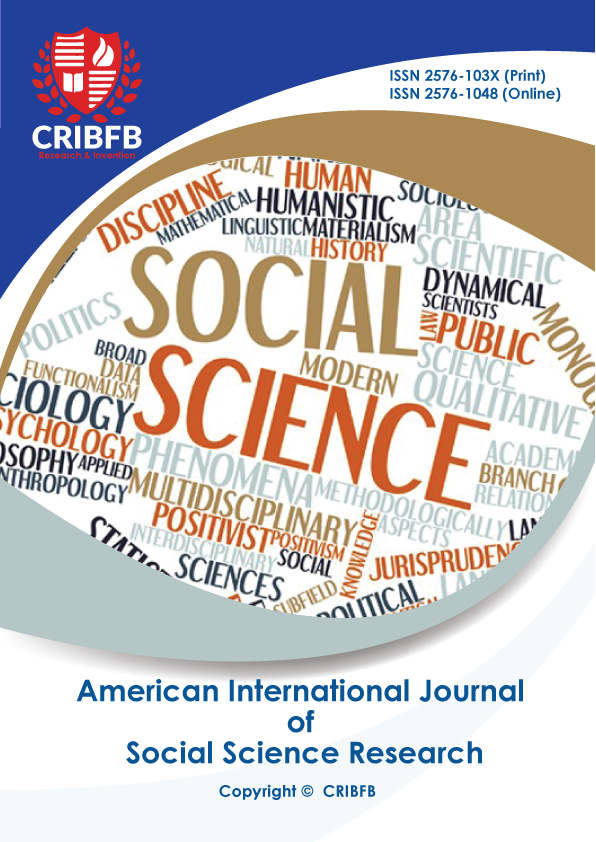 How to Cite
Himat, A. N. (2020). The Effects of Facebook on Students' Social Life: A Case Study at Mirwais Khan Nika Zabul Institute of Higher Education, Zabul. American International Journal of Social Science Research, 5(3), 7-16. https://doi.org/10.46281/aijssr.v5i3.593
Section
Original Articles/Review Articles/Case Reports/Short Communications
Copyright (c) 2020 Abdul Nafi Himat
This work is licensed under a Creative Commons Attribution 4.0 International License.