The Pair Lion Motif in Shiva Temple of Medieval Bengal: Its Source and Evaluation
Sk. Zohirul Islam

Research Student, Department of Islamic History & Culture, University of Dhaka, Bangladesh
Keywords:
Pair Lion, Motif, Shiva Temple, Bangladesh.
Abstract
Lions, particularly male lions, have been an important symbol for thousands of years and appear as a theme in cultures across Europe, Asia, and Africa. The cultural significance of stucco pair lion motif in Shiva temples of Bengal and relates with various types of representation of the same motif found in others. The pair Lion used as stucco (Jora Shiva Temple, Muroli, Jessore district). Shiva is the braver among the all God and Goddesses in Hindu religion during the early period and still. Thus we have found many Shiva temple build in Bengal (present West Bengal(Paschimbango) and Bangladesh). This article try to analyses about how the pair lion motif is depicting of the Shiva temple and what is the relation between Shiva and lion under Mythology and Purana. Shiva is the second most important male deity of Hindu. The usual Shiva –lingam's which were mainly worshipped in the temples and under trees or in an open space. We would have tried to decipher about Pair Lion Motif decoration of 18th – 19th century Shiva temple of Bangladesh. Those would have to help the history of evaluation of stylized art waves is coming out by its  decoration  motif with ritual, beliefs and faith of Bengal society. We may look at the artistic tradition of lion sculptures those are widely found from different parts of west Bengal and Bangladesh.
References
Bandyapadhyay, Sudipa, 2002, Architectural Motifs in Early Medieval Art of Eastern India (Pala- Sena Period), Kolkata, India.
Battacharchya, Narendranath, 1996, Dharma o Sanskriti: Prachin Varotio Prekhapat(in Bengal), Itihas granthamala-5, Ananda publishers, Calcutta.
Bhattacharya, Hanshanarayan, 1984, Hinduder Devdevi: Udbhav o Chromobikash, 2nd vol., pharma k. I. M. private ltd. Calcutta (enlarged revision edition).
Benarjea, Jitendra Nath, 2002, The Development of Hindu Iconography, Delhi (fifth edition).
Bandyopadyay, Amiyo kumer, 2008, "Mandir Bhaskarje Protifolito Samajchittra", Paschimbanger Mondir Terracotta, Calcutta.
Danielou, Alain, 1991, The Myths and Gods of India, (The classical work on Hindu Polythism from the Princeton Bollngen series), Inner Traditions International, Rochester, Vermont, New York.
Dowson, J., 1953, Classical Dictionary of Hindu Mythology.
Divyabhanusinh, 2005, The Story of Asia's Lions, Marg publications, Mumbai.
Dasgupta, Kalyankumer, 2000, Protima Shilpe Hindu Devdevi (in Bengal), Paschimbongo Bangla academy, Calcutta.
Gill, Sandrine, 2007, "Kantanagar Temple (North East Bengal): A Carefully Planned Iconographic Universe?" Proceedings of the 19th Meeting of the European Association of South Asian Archaeology,(ed.) Pierfrancesco Callieri and Luca Colliva. Ravenna: Archaeopress, Oxford. 111-121.
Ganguly, Kalyankumer,1963, Designs and Traditions Arts of Bengal, Directorate of Industries, Government of West Bengal, Calcutta.
Haque, Zulekha, 2014, Terracottas of Bengal: An Analytical Study (ed. Enamul haque), ICSBA, Dhaka.
Haque, Zulekha, and S. S. Biswash, 1995, Terracotta Temples of Bengal, Calcutta.
Haque, Enamul, 2007, The Art Heritage of Bangladesh, ICSBA, Dhaka.
Handa, O. C., 1992, Siva in Art: a Study of Saiva Iconography and Miniatures, Indus publishing company, New Delhi.
McCutchion J., David, 1972, Late Medieval Temples of Bengal, Calcutta: The Asiatic Society.
Michell, George, (ed.) 1983, Brick Temples of Bengal. New Jersey: Princeton University Press.
—. "The Revival of Hindu Temple Architecture in Bengal in the Late -Sixteenth Century," Journal of Bengal Art (1997): 195-210.
Nivvedita, Sister, and Ananda k. Coomaraswamy,1994, Hindus and Buddhist: Myths and Legends, Senate, London.
Sarma, I. K., 1982, The Development of Early Saiva Art and Architecture (with special references to andharadesa), Sundeep prakashon, Delhi.
Subramuniyaswani, Satguru Saivaya, 1996, Dancing with Siva: Hinduism contemporary catechism, Munshiram Monoharlal publishers, New Delhi.
Zimmer, H., 1962, Myths and Symbols in Indian Art and Civilization, New York.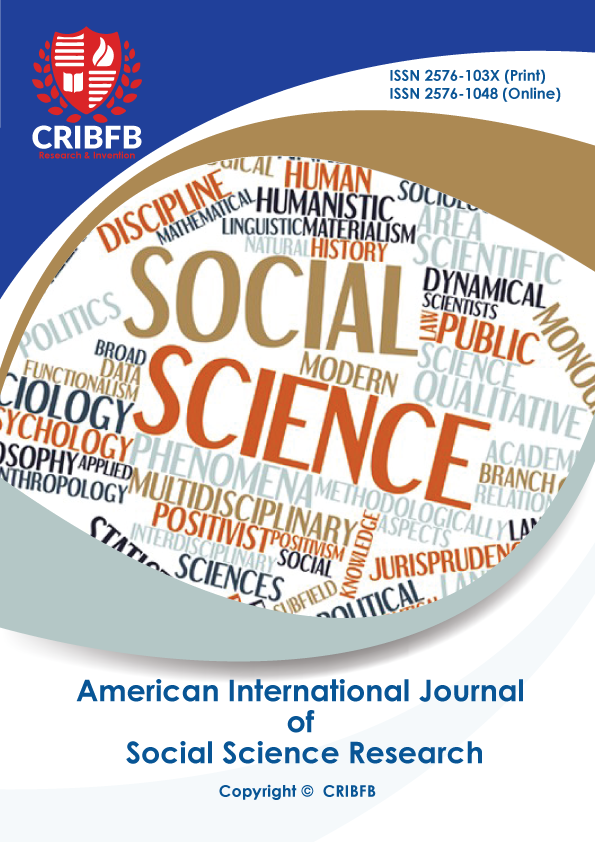 How to Cite
Islam, S. Z. (2018). The Pair Lion Motif in Shiva Temple of Medieval Bengal: Its Source and Evaluation. American International Journal of Social Science Research, 3(1), 1-12. https://doi.org/10.46281/aijssr.v3i1.138
Section
Original Articles/Review Articles/Case Reports/Short Communications
Copyright (c) 2018 Sk. Zohirul Islam
This work is licensed under a Creative Commons Attribution 4.0 International License.