Causal Factors of Flight Delay in Nigerian Airport: A Case Study of Murtala Muhammed International Airport
Ayo-Agunbiade Oluwafisayo T.

Department of Transport Management Technology, Federal University of Technology Akure, Nigeria

Stephens Mobolaji S.

Department of Transport Management Technology, Federal University of Technology Akure, Nigeria
Keywords:
Flight Delay, Factor Analysis, Congestion, Scheduling.
Abstract
Delay is a prominent event mostly experienced at the airport by both airline and passengers. Globally delay is permitted at 15mins later than the scheduled time. Assessing the level of delay in the airport is a major criterion for measuring airport performance. Aircraft not adhering to schedule flight results in increased airport congestion, cancellation flight and flight delay. This study made use of primary data through well-structured questionnaires to obtain information from selected NAMA Staff at the Murtala Muhammed International Airport (MMIA). Operational delay report for a month and Airlines flight were examined for two months under the MMA2 to know the deviation of scheduled flight time from actual flight time. Descriptive Analysis, Wilcoxon Rank test, Factor Analysis and Step Wise Regression were the statistical tools deployed for this research. Findings showed that on a monthly base, 63% of the domestic traffic flows are delayed. Some factors responsible for delay were considered: aircraft damage, bad weather, aircraft maintenance, VIP movement and fueling are the major factor responsible for delay of aircraft Movement.
References
Adeniran, A. O., and Kanyio, O. A. (2019). Quantitative model of single-server queue System. Indian Journal of Engineering, 16, 177-183.
Ayantoyinbo, B. (2015). Preferences for nigerian domestic passenger airline industry: a conjoint analysis. Journal of academia.
Mike, H. (2008). The air transport system. England woohhead publishing limited.
Mueller E.R and G. B. Chatterji. . (2002). Analysis of aircraft arrival and departure delay characteristics. Aiaa's aircraft technology, integration, and operations (atio), los angeles, california.
Stephens, M. S., and Ukpere, W. I. (2011). Airport capacity utilization in nigeria: a performance and efficiency analysis. African journal of business management, pp. 11104-11115.
Mohleji, S. (2001). Terminal airspace/airport congestion problems in us and fms/rnav applications to reduce delays. The mitre corporation , 9-10.
Schaefer L, M. D. (2011). Flight delay propagation analysis with the detailed policy assessment tool. Proceedings of the 2001 ieee systems, man and cybernetics conference .
Hansen, M. (2002). Micro-level analysis of airport delay externalities using deterministic queuing models: .a case study . . Journal of air transport management, 8 (2):73-87.
Jianfeng, John F. Shortley; Juan wangz and Lance sherry. (2012). Analysis of gate-waiting delays at major us airports. Center for air transportation systems research, george mason university, fairfax, va, 22030, usa.
Grigoriy, Y., Richard, S., Denis, C., John, F., Damon, L., & Manoj. (2014). Flight delay performance at hartsfield-jackson atlanta international. Journal of airline and airport management, 78-95.
Trani, A. A. (2003). Review of airport runway capacity. Airport capcity .
Wu, C. (2005). Inherent delays and operational reliability of airline schedules . Journal of air transport management, volume 11, issue 4, pages 273-282.
Yufeng, T., Michael, B., & Wolfgang, J. (2005). Estimating flight departure delay distributions a statistical approach with long-term trend and short-term pattern. Robert h. Smith school research paper no. Rhs 06-034.
Yuqiong., B. (2001). Analysis of aircraft arrival delay and airport on-time performance. . Huazhong university of science and technology, china, 1-119.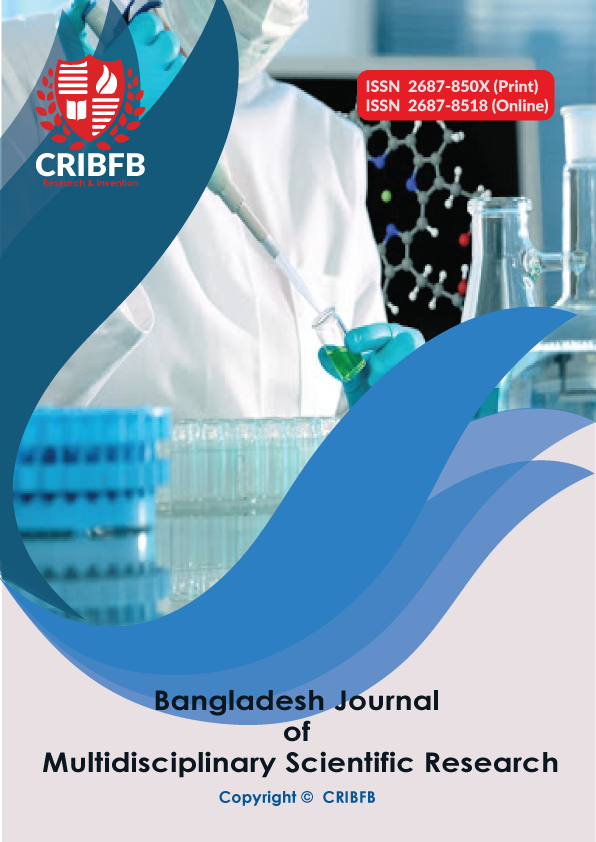 How to Cite
Oluwafisayo T., A.-A., & Mobolaji S., S. (2019). Causal Factors of Flight Delay in Nigerian Airport: A Case Study of Murtala Muhammed International Airport. Bangladesh Journal of Multidisciplinary Scientific Research, 1(2), 54-59. https://doi.org/10.46281/bjmsr.v1i2.381
Section
Original Articles/Short Communications
Copyright (c) 2019 Ayo-Agunbiade Oluwafisayo T.,Stephens Mobolaji S.
This work is licensed under a Creative Commons Attribution 4.0 International License.