The Roles and Challenges of Micro Finance in Women Empowerment: A Case Study in Oromia Credit and Saving Institution in West Shoa Zone, Ethiopia
Diriba Ayele Gebisa

Ambo University; Ethiopia

Aman Rikitu Dassa

Ambo University; Ethiopia
Keywords:
Microfinance, Women's Empowerment, Credit and Saving.
Abstract
Empowerment of women has emerged as an important issue in recent times since women remained disadvantaged part of society for a long period of times. Empowerment of women facilitates development by the uplifting their economic, social and political status. Microfinance is proved to be the instrument to handle poverty that exists mostly in urban and rural areas of the country. It is treated as a key strategy in addressing development issues across the country since the last decade. This study basically attempts to analyze the roles and challenges of microfinance in women empowerment. A primary survey has been carried out to capture the realistic experiences from the women beneficiaries of Oromia Micro Credit and Saving Institution of West Shoa Zone branch. In order to address the objectives of the study, a mixed approach has been adopted and primary data were collected and analyzed using quantitative and qualitative analysis techniques. A total sample of 268 women customers' was selected using simple random sampling technique out of 1316 target populations. Data collected from these respondents were analyzed and interpreted using percentage, weighted mean and mean ranking and the hypothesis was tested using the paired t-test. The findings showed that a significant number of clients had increased their income, saving, decision making and asset ownership rights and safeguarded themselves and their families from financial difficulties. Besides its role, the main challenging factors are unproductive usages of the loan, limited loan size, lack of training and follow up, low awareness and high-interest rate of the loan.
References
Adongo, J. and C. Stork (2005), "Factors Influencing the Financial Sustainability of Selected Microfinance Institutions in Namibia", NEPRU Research Paper, No. 39

Aklilu, Y. (2002), "The Importance of Micro Finance Institutions in Developing Economies: Country Experience and Policy Implications to Ethiopia", NBE Staff Working Paper, ERD/SWP/005/2002.

Ahmadabad (2001), Role and Impact of Micro finance on poor - a study of clients using microcredit in two south Indian states: Friends of Women's World Banking (FWWB)

Ahmed, (2011). Rates on interest in the microcredit sector: comparing NGOs with commercial banks. In Attacking Poverty with Microcredit, S. Ahmed and M. Hakim, eds. Dhaka: University Press.

Asmamaw (2014): The Role of Microfinance Institutions in the Development of Small and Medium Size Businesses in ETHIOPIA: A Case Study in Amhara Credit and Saving Institutions, Journal of Business Administration and Management Sciences Research, Vol. 3(6), pp.106-120, June, 2014

Basic Research Journal of Business Management and Accounts.(2014) The importance of microfinance and credit service for women economic development case study in Yirgalem Ethiopia. Available at: http//www.basicresearchjournals.org. 2014 pdf

Basic Research Journal of Business Management and Accounts Wolday Amha (2003), Microfinance Institutions in Ethiopia: Performance, Challenges and Role in Poverty Reduction, Occasional Paper No. 7, Addis Ababa, Ethiopia

Cheston, Susy and Lisa, Kuhn. (2002). Empowering women Through Microfinance. Washington: Published by UN IFEM for Micro-credit Summit 2002

Croom HELM (1984), Women and property, Women as property St. Martin's press New York CSA (2005), Central Statistical Agency of Ethiopia. Annual statistical Report: Addis Ababa

Diriba A (2014), Roles of NGOs in poverty alleviation. Unpublished MBA thesis, Jimma University of Ethiopia.

Getachew A. (2005) Women Economic Empowerment and Microfinance: A Review on Experiences of Awassa Women Clients in Gebrehiot A. (ed). AEMFI: Addis Ababa, Ethiopia

Getaneh Gobezie (2005) Regulating Microfinance in Ethiopia: Making it More Effective. Essays on Regulation and Supervision, No.3. Amhara Credit and Savings Institution (ACSI).

International NGO Journal Vol. 4 (10) pp. 446-455, October 2009 Available online at http:// www.academicjournals.org/ingoj ISSN 1993–8225 © 2009.

International Fund for Agricultural Development. (2011) Women empowerment and micro finance Rome, Italy Available at: www.ruralpovertyportal.org/2011pdf.

Lakew, B. (1998), " Micro enterprise Credit and Poverty Alleviation in Ethiopia: The Case the Project Office for the Creation of Small Scale Business Opportunities (POCSSBO) In Addis Ababa", Unpublished MSc. Thesis, Department of Economic, Addis Ababa University.

Mayoux, L., and M. Hartl (2009) Gender and rural microfinance: Reaching and empowering women – a guide for practitioners. IFAD report. Rome: International Fund for Agricultural Development.

Mehra, A.K. (2003), 'The voluntary sector and political parties in India' in Ajay K. Mehra, Anil K Singh and Gert W. Kueck (eds.), Society, politics and the voluntary sector, Delhi.

Meron, A. (2009). Female-Headed Households and Poverty in Urban Ethiopia June 2009 Addis, Ababa University School of Graduate Studies, Pp. 15-17.

One NGOs Contribution to Women's Economic Empowerment and Social Development in Zimbabwe MARIAJULIA* Jsda 014001300 pdf.

Tsegaye A (2006). 'Ethiopian Microfinance Institutions Performance Analysis Report', A

Tsehay T, Mengistu B (2002) 'The Impact of Microfinance Services among Poor Women in Ethiopia,' Association of Ethiopian Institutions, Occasional Paper No 6, August, 2002, Addis Ababa, Ethiopia

Wolday A. (2002). Occasional Paper No.2, Association of Ethiopian Microfinance Institution (AEMFI) Review of Microfinance Industry in Ethiopia: Regulatory Framework and Performance.

Yamane, T. (1967) Statistics: An Introductory Analysis, 2nd Ed., and New York: Harper and Row.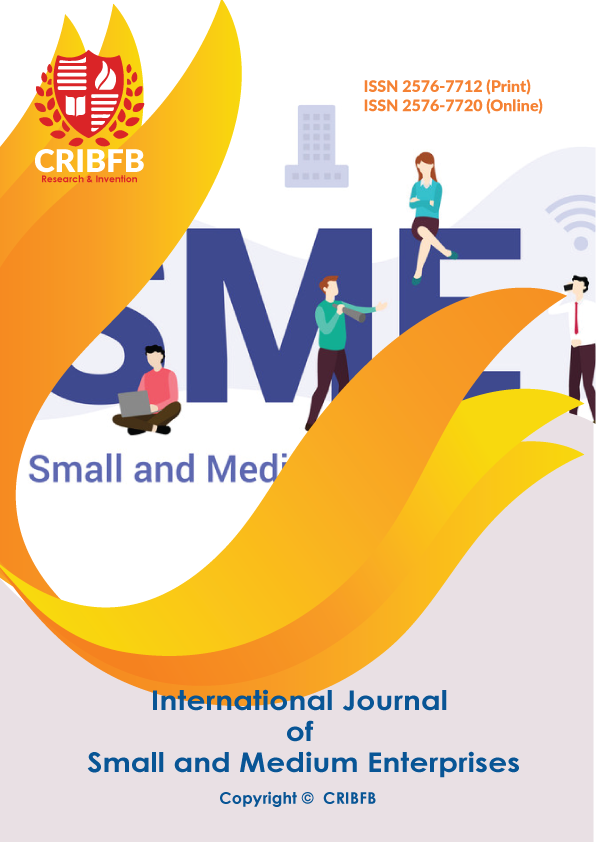 How to Cite
Gebisa, D. A., & Dassa, A. R. (2019). The Roles and Challenges of Micro Finance in Women Empowerment: A Case Study in Oromia Credit and Saving Institution in West Shoa Zone, Ethiopia. International Journal of Small and Medium Enterprises, 2(2), 14-19. https://doi.org/10.46281/ijsmes.v2i2.412
Section
Original Articles/Review Articles/Case Reports/Short Communications
Copyright (c) 2019 Diriba Ayele Gebisa,Aman Rikitu Dassa
This work is licensed under a Creative Commons Attribution 4.0 International License.