Relationship between Profitability and Non-Performing Loan and A Comparative Financial Performance Analysis of Shari'ah Based Banks of Bangladesh
S. M. Akber

Lecturer, Department of Business Administration, Ranada Prasad Shaha University, Bangladesh
Keywords:
Financial Performance, Nonperforming loans, Profitability, Shari'ah based banks, Bangladesh.
Abstract
In Bangladesh's banking sector is considered as the nerve system of economic activities nowadays. Banks' performances are considered as the indicator of a country's economic forthcoming. Banks are considered as an influential factor in reducing poverty and unemployment problem because of their capacity to have a higher investment. But this promising sector is facing the challenge of raising the level of nonperforming loans in recent times. The basic objective of the study is to analyze and measure the impact of NPLs on the profitability of shari'a based banks of Bangladesh for the period of the last five (2014-2018) years. For this, it has worked with a sample of five selected Islami banks. Through excel, regression and ratio analysis was used to find the bank's comparative financial performance and identify the variable that affects the profitability of shari'ah based banks of Bangladesh.  The findings of this paper recommend that if the authority of the banks becomes more careful about these issues then the performance of the banking sector will be better than previous and it could have an even more significant contribution to the country's economy.
References
Arora, N., & Ostwal, N. (2014). Unearthing the Epidemic of Non-Performing Assets: A Study of Public and Private Sector Banks. Management Insight, 10(1).

Batra, S. (2003, November). Developing the Asian Markets for Non-Performing Assets; Developments in India. In 3rd Forum on Asian Insolvency Reform, Seoul, Korea.

Chatterjee C., Mukherjee, J, Das R (2012). Management of nonperforming assets -a current scenario. International Journal of Social Science and Interdisciplinary Research 2012(1):11.

Ganesan, D., & Santhanakrishnan, R. (2013). Non-performing assets: a study of State Bank of India. Retrieved from Asia Pacific Journal of Research, 1.

Michael, J. N., Vasanthi, G., Selvaraju, R. (2006). Effect of Non-Performing Assets on Operational Efficiency of Central-Cooperative Banks, Indian Economic Panorama 16(3):33-39. Available at: https://papers.ssrn.com/sol3/papers.cfm?abstract_id=1735329&down load=yes

Panta, R. (2007). Challenges in Banking: A Nepalese Diaspora. Socio-Economic Development Panorama, 1(2), 9-22.

Patidar, S., & Kataria, A. (2012). Analysis Of Npa In Priority Sector Lending: A Comparative Study Between Public Sector Banks And Private Sector Banks Of India. Retrieved from Bauddhik, 3(1).

Parmar, R. (2014). Non-Performing Assets (NPAs): A Comparative Analysis of SBI and ICICI Bank. International Journal for Management and Pharmacy, 3(3), 68-72.

Samir, D., & Kamra, D. (2013). A comparative analysis of non-performing assets (NPAs) of selected commercial banks in india. Opinion: International Journal of Management, 3(1).

Tandon, D., Chaturvedi, A., & Vidyarthi, H. (2017). Non-performing assets and profitability of Indian banks: an econometric study. International Journal of Business Competition and Growth, 6(1), 60-76.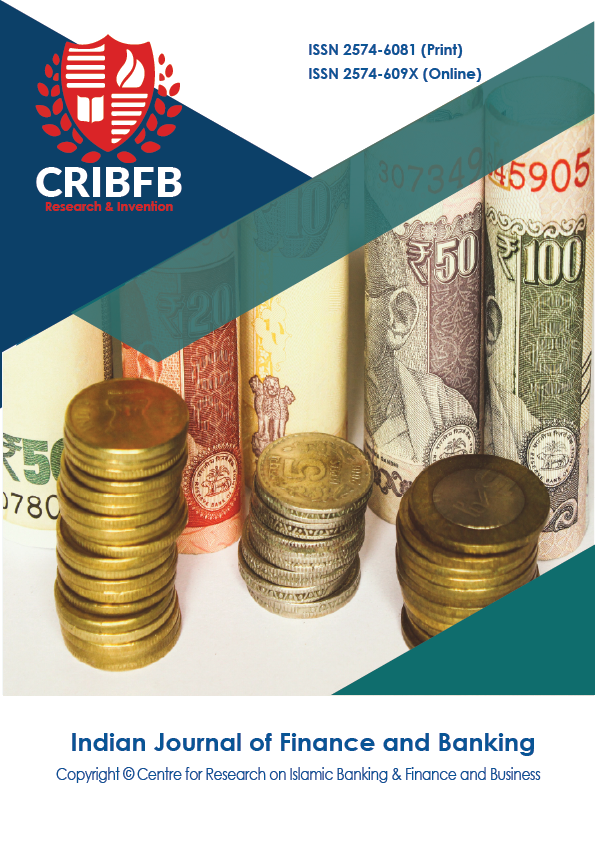 How to Cite
Akber, S. M. (2019). Relationship between Profitability and Non-Performing Loan and A Comparative Financial Performance Analysis of Shari'ah Based Banks of Bangladesh. Indian Journal of Finance and Banking, 3(2), 32-42. https://doi.org/10.46281/ijfb.v3i2.448
Section
Regular Research Article/ Short Communication Article
Copyright (c) 2019 S. M. Akber
This work is licensed under a Creative Commons Attribution 4.0 International License.