SME FINANCING OF COMMERCIAL BANKS IN BANGLADESH: POLICY DIRECTIONS BASED ON SME LOAN BORROWERS' VIEW
Keywords:
Small and Medium Enterprises, Commercial Banks, SME Financing.
Abstract
The importance of bank financing for the growth and development of Small and Medium Enterprises is extensively documented in the literature. SME finance is essential not only to starting an SME business but also to enhance the growth of the business. Unfortunately, SME businessmen are facing difficulties in getting and repaying all kinds of financing in Bangladesh. Moreover, because of financing problems, SMEs cannot enter the manufacturing industry spite many potentialities.  This research aims to identify key financing obstacles encountered by Bangladeshi SMEs and recommend policy guidelines to tackle those obstacles. Necessary data were collected through a structured questionnaire from 200 SME loan borrowers of 10 commercial banks by using a simple random sampling technique. Descriptive analysis was performed to analyze collected data. The findings indicate some constraints related to SME financing, such as higher interest rates, complex documentation, etc. SME borrowers face various obstacles before and after the sanction of SME loans. Although some initiatives related to SME financing have been adopted recently, most are not yet implemented. Moreover, SMEs' existing financing policies are inadequate, poorly designed, and inconsistent.  
JEL Classification Codes: A19, B10, B25, C10, C53. 
References
Ali, M. R., & Islam, M. A. (2018). Present Status of SMEs and SME Financing in Bangladesh: An Overview. Journal of Science and Technology, 8 (1 & 2), 55-71.

Bangladesh Bank (2006). Access to Finance by Small and Medium Enterprises (SMEs). Financial Sector Review, 2(1).

Beck, T., Demirgüç‐Kunt, A. S. L. I., & Maksimovic, V. (2005). Financial and legal constraints to growth: does firm size matter? The journal of finance, 60(1), 137-177.
Chowdhury, S. A., Azam, K. G., & Islam, S. (2013). Problems and prospects of SME financing in Bangladesh. Asian Business Review, 2(2), 51–58.

Demirgüç-Kunt, A., &Maksimovic, V. (1998). Law, finance, and firm growth. The journal of finance, 53(6), 2107-2137.

EBRD (2004). SME finance in the early transaction countries. The EBRD US experience, European Bank of reconstruction and development.

Haque, A. K. E., & Mahmud, S. (2003). Economic policy paper on access to finance for SMEs: Problems and Remedies. The Dhaka Chamber of Commerce and Industry (DCCI) & The Center for International Private Enterprise (CIPE) (CIPE is an affiliate of the US Chamber of Commerce, Washington, DC, USA).

Hossain, N. (1998). Constraints to SME development in Bangladesh. Institutional Reform and the Informal Sector, University of Maryland, College Park.

Hossain, M. K., Hossain, M. A., &Baten, M. A. (2016). Performance Evaluation of SME Banking in Bangladesh using Stochastic Frontier Analysis. Asia-Pacific Journal of Business, 7(1), 31-42.

Levy, B. (1991).Obstacles to developing Small and Medium-sized Enterprises. Working paper Series no-0588, The World Bank.

Nehereen, K. (2016). SME Financing and Its Impact on Financial Performance: A Case Study on Dhaka Bank Ltd. Management Development, 27(3&4), 47–92.

RAM Consultancy Services (2005). SME access to financing: addressing the supply side of SME financing (Vol. 1). Regional Economic Policy Support Facility, ASEAN-Australia Development Cooperation Program, ASEAN Secretariat.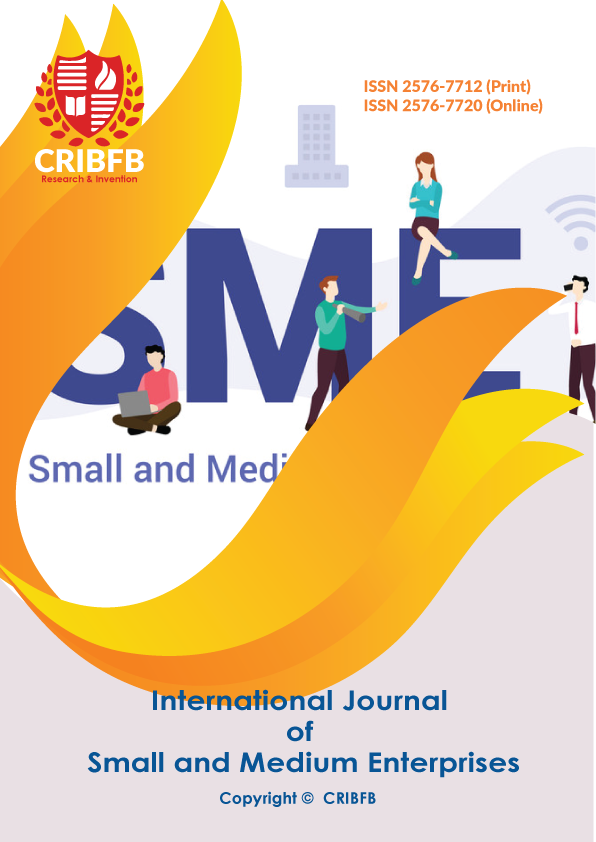 How to Cite
Rahid, A. O. (2023). SME FINANCING OF COMMERCIAL BANKS IN BANGLADESH: POLICY DIRECTIONS BASED ON SME LOAN BORROWERS' VIEW. International Journal of Small and Medium Enterprises, 6(1), 1-8. https://doi.org/10.46281/ijsmes.v6i1.1831
Section
Original Articles/Review Articles/Case Reports/Short Communications
Copyright (c) 2023 Abu Obida Rahid
This work is licensed under a Creative Commons Attribution 4.0 International License.