Challenges of the Nigerian Banking Sector and the Way Forward
Ibrahim Aliyu Gololo

Department of Accounting, Faculty of Social and Management Science, Bauchi State University Gadau, Bauchi, Nigeria
Keywords:
Banking Sector, Challenges, Nigeria, Nigerian Economy.
Abstract
Nigerian banking sector struggle with challenges in the day to day running of their business activities, challenges are enormous and can either be market or operational challenges and regulatory or reforms challenges instituted by the regulatory agencies such as CBN, NDIC, SEC and CIBN etc. Therefore, this paper seeks to examine the challenges facing the Nigerian banking sector and proper possible solutions to the challenges based on the prevailing economic environment. The paper utilized questionnaires as source of data collection, fifteen out of 24 banks were selected based on purposive sampling method. Chi-Square (x2) method was adopted as a statistical tool of data analysis to analyze the collected data.  The result reveals that myriad of challenges exist in the Nigerian banking sector some of which are challenges both within and outside Nigeria. Banks are left behind in technological innovation aspect of banking transactions, movement of high volume of deposit or capital flight to foreign banks by the political class which reduce banks opportunity to expand their market base and the prevalent of fraud in the sector also hinders the banks progress, these challenges affects the sector to compete equally with banking sector in the developed nations. However, we also found that the challenges does not affect their financial performance. It is recommended that that government and relevant regulatory agencies should put heads together to render support and address those challenges identified that affect the sector, also Nigerian banking sector should invest in both technological innovation and human capital development, they should imbibe the culture of good corporate governance and stick to the issue of banking ethics and professionalism among others.
References
Adeniji, A.A. (2004). Auditing and Investigations, Lagos: Value Analysis Consult.
Asika, N. (2004). Research Methodology in the Behavioral Science, Lagos Longman Nigeria, Limited.
Auquo, B. E . (2007). Microfinance And Public. The Nation, May 18,2007. Pg 16
Clementina, K., & Isu, I. G. (2016). Security challenge, bank fraud and commercial bank performance in Nigeria: An evaluation. Journal of Business and Management, 5(2), 1-21
CNBC Africa Nigeria 6th Floor (East & West Wing), South Atlantic Petroleum Towers, 1 Adeola Odeku Street, Victoria Island, Lagos State Nigeria.
Ekundayo, B.I. (1996). Financial And Real Sector Interactions In Developing Economies: The Case Of Nigeria. A Paper Submitted To African Development Finance Policy Workshop For Consideration in The Workshop.
Kanayo and Micheal (2011) Foreign Portfolio Investment and Economic Growth in Nigeria.international Journal of Business and Social Science. (5) 11, 1-14
Nwankwo, G.O. (1991). Bank Management, Principles and Practice. Malthouse Press Ltd.
Lagos
Ochejele, J. J. (2003) .The Nigerian Financial Market and the Challenges of the Twenty First Century. Unpublished Paper.
Ofanson E. J. Ukinamemen A. A. And Agbadua O. B. (2013) Assessing The Impact Of Banking Reforms On The Performance Of The Banking Industry In Nigeria . Indian Journal of Commerce & Management Studies. (4) 2, 2240-0310
Sanusi, L. S. (2010). The Nigerian banking industry: What went wrong and the way forward. Being an address delivered at the convocation Square.
Soludo, C. C. (2004). Consolidating The Banking Industry To Meet The Development Challenges of The 21st Century; Being An Address To The Special Meeting of The Bankers Committees Held On July 16th 2004 At The CBN Headquarter Abuja.
Uche Basil Onwe [2013] The Nigerian Financial Market And The Challenges Of Information Technology-Based Operational Services. Kuwait Chapter of Arabian Journal of Business and Management Review. (2) 6
World Bank (1995). World development report 1995, Washington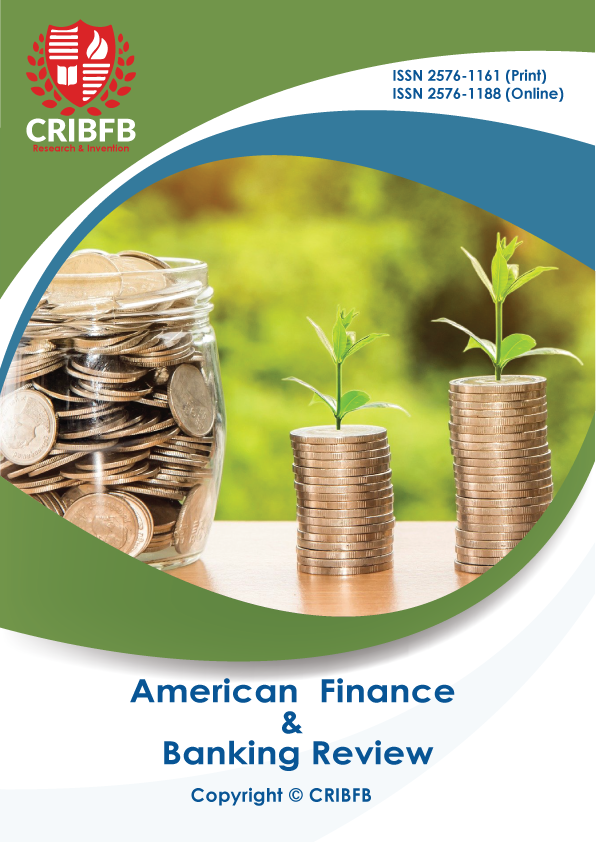 How to Cite
Gololo, I. A. (2018). Challenges of the Nigerian Banking Sector and the Way Forward. American Finance & Banking Review, 3(1), 26-34. https://doi.org/10.46281/amfbr.v3i1.216
Section
Original Articles/Short Communications
Copyright (c) 2018 Ibrahim Aliyu Gololo
This work is licensed under a Creative Commons Attribution 4.0 International License.