Nigeria's Border and Its Effect on the Economic and Security Development: A Case of Northern Borders in Nigeria
Hamza Shehu Mohammed

Department of Political Science, Bauchi State University, Gadau, Nigeria
Keywords:
Border, Economy, Security and Development.
Abstract
Generally speaking, the borders in most of the African countries were among the upshot of the colonial ruling in those countries. Such demarcations were mostly created in a kind of problematic situation thereby causing serious misunderstanding among neighboring countries. It is also an imperative to know that these creations were actually perpetrated intentionally by the imperialist to serve so many purposes which includes among others the continuation of exploitation, free access to their colonies and coming back as aids providers. Moreover, such demarcations are being constructed on the papers without visiting those countries during the berlin conference in 1885 with the aid of complimenting the countries that were affected by the second world to revive them. Nevertheless, Nigeria without an exception has also faced with so many challenges in its borders especially the northern area. Therefore, this paper tries to examine why despite so many consideration by different governments and administrations yet border issues continue to be the most challenging factor in this prevailing situation in the country. Furthermore, the borders in the north were so porous to the extent that the issue of proliferation of weapons and food security were very obvious thereby challenging the security and economic wellbeing which in turn affect the nation building in the country.Based on the above, thisresearch concentrates on the qualitative technique on the area of economy and security as the drivers that highly contributed to this menaces and also measures to address it.
References
Afolayan A. A. (1999) "Trans-Border Movement and Trading: A case study of a borderland in southwestern Nigeria"
Adepoju, A. (2005), Migration in West Africa, A Paper prepared for the Policy Analysis and Research Programme of the Global Commission on International Migration, Geneva.
Adeola, G. L. and Ogirai, J. C. (2010) "The Political and Security Implications of Migration in West Africa: Shaping Foreign Policy Direction in the Sub-Region" presented at the 2nd Learned Confernce, College of Business and Social Sciences, Crawford University, Faith City, Igbesa, Ogun State, Nigeria. From 25th - 27th March,
Bakut, B. (2006). "The Environment, Peace and Conflict in Africa" in Shedrack G. Best (ed.), Introduction to Peace and Conflict Studies in West Africa, Ibadan: Spectrum.
Castles S. and Miller J. M. (2009) the Age of Migration: International Population Movements in Modern World. 4th Edition, Palgrave Macmillan, New York.
Carling, J. (2002). Country Profile: Cape Verde: Towards the end of emigration?" in Migration Policy Institute, Migration Information Source.
Eze, O. & J. Hetman, (2005). Security Sector Governance in West Africa: Case Study of Benin, Cote D'Ivoire, Ghana, Mali, Nigeria and Senegal, Lagos: Friedrich Ebert Stiftung.
Ginifer, J. & O. Ismail (2005). Armed Violence and Poverty in Nigeria, Center for International Cooperation and Security.
Gugler, J. (1969) "On the Theory of Rural – Urban Migration: The Case of sub-Saharan Africa"inBeijer G.(Ed) Migration, Cambridge, Cambridge University Press.
Imobighe, T.A, (2003). Nigeria's Defense and National Security Linkages: A Framework of Analysis, Ibadan: Heinemann.
Isa, A.A.M. (2007). "National Defense College and Nigeria's National Security", First University of
Ibadan/National Defense College Distinguished Lecture, 16th November.
Kathleen C. (2014) "Boko Haram and Nigeria's Economy: Why the Poorest Suffer Most"
Lorenzo G. B (2011). "Development and Development Paradigms a (Reasoned) Review of Prevailing Visions" (Easypol module 107).
Marshall Barbara, (Ed) (2006) The Politics of Migration: A survey. Routledge, London
Nwolise, O.B.C. (2006). "National Security and Sustainable Democracy", in E.O. Ojo (ed), Challenges of
Sustainable Democracy in Nigeria, Ibadan: John Archers.
Omolaran A. (2013) "Globalization and Nigeria Border Security: Issues and Challenges"
Ogunsanwo A (1990). The Transformation of Nigeria-Scenarios and Metaphors. Inaugural Lecture University of Lagos, p. 2.
Ojo, O. B. J.(1999) "Integration in ECOWAS: successes and difficulties" in Bach D. C.(ed) Regionalisation in Africa: Integration and Disintegration Cambridge: James Currey Publishers
Simon O. E. (2011) "Trans-border Crime and Its Socio-economic Impact on Developing Economies"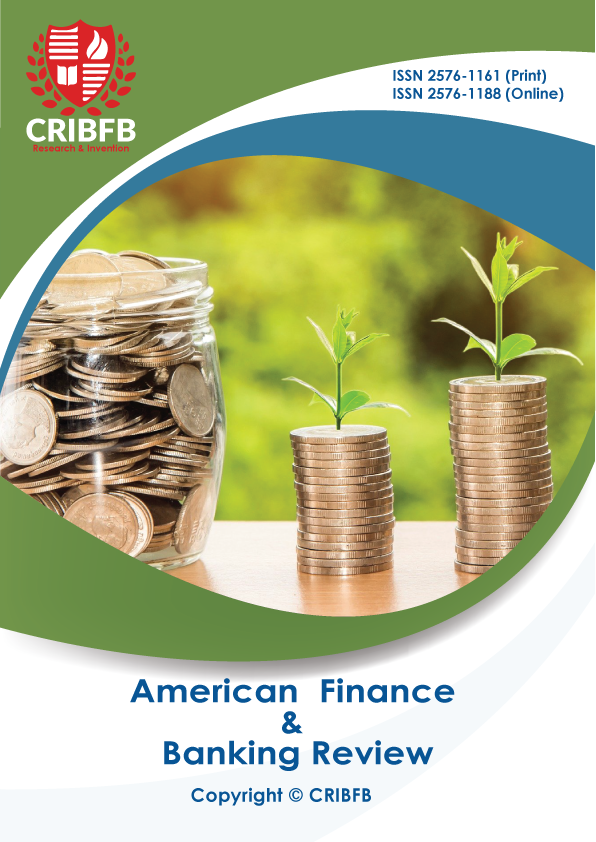 How to Cite
Mohammed, H. S. (2017). Nigeria's Border and Its Effect on the Economic and Security Development: A Case of Northern Borders in Nigeria. American Finance & Banking Review, 1(1), 50-61. https://doi.org/10.46281/amfbr.v1i1.125
Section
Original Articles/Short Communications
Copyright (c) 2017 Hamza Shehu Mohammed
This work is licensed under a Creative Commons Attribution 4.0 International License.