Association between Excessive Use of Mobile Phone and Insomnia among Pakistani Teenagers Cross Sectional Study
Lubna Farooq

MPhil, Assistant Professor, Baqai Medical University, Karachi, Pakistan

Akhtar Ali

MPhil, Lecturer, Ziauudin Medical University, Karachi, Pakistan

Sehrish Mahmood

MBBS, Lecturer, Baqai Medical University, Karachi, Pakistan

Mahnoor Farzand

BDS, Lecturer, Baqai Medical University, Karachi, Pakistan

Hina Masood

MBBS, Lecturer, Baqai Medical University, Karachi, Pakistan

Sumreen Mujahid

MPhil, Lecturer, Baqai Medical University, Karachi, Pakistan
Keywords:
Mobile Phone; Psychological Health; Sleep Quality, Nomophobia, Blue Light
Abstract
Introduction:In the era of modern technology mobile phones have becoming popular, especially in teenagers. Besides of its uses there are various undesirable psychological and physical impact on heath. Aims and objectives: The purpose of this study was to access the link among Excessive Use of Smart Phone and there sleep pattern among Pakistani Adolescents.
Materials and Methods: A detailed cross sectional study was performed on a total of 500 medical graduates range between 18 and 24 years who were using mobile phone atleast a year. Self-designed Questionnaire is given to them having details of their frequency and pattern of using smart phone. Sleep quality was analyzed by using Pittsburg Sleep Quality index .Chi square test was also perform to check the link between frequency of mobile phone and quality of sleep.P value < 0.005 were considered as significant.
Result: Out of 500 participants, the frequency of mobile phone usage was more in males 70% as compare to females30%. Their age varied from 21to 24 with mean age of 20 ± 1.9 years.  Most of students use mobile phone in night 188 (38%)and 202 (40%) participants using mobile phone unlimited. 366 (73%) students mentioned that they start using mobile phone at intermediate level and claimed that no surveillance of the mobile phone being done by the parents . Students who were using unlimited mobile phone reported that they take more than 1 hour to sleep that showed a significant (p-value <0.001) correlation between more mobile phone use and time taken to sleep.
Conclusion: The results of our study conclude that excessive mobile phone usage leads to sleep disturbances and poor quality of sleep. That may implement negative effects on student's mental and physical health along with this it can also affect the students' educational performance and daily life activities.
References
Ali, A., Shaheen, S., Ahmed, F., Zahid, N., Israr, N., & Zehra, D. (2019). Association of Depression, Anxiety and Stress in Medical Students Studying in Modular, Semester and Annual Examination System. Asian Journal of Medicine and Health, 1-8.
Asselbergs, J., Ruwaard, J., Ejdys, M., Schrader, N., Sijbrandij, M., & Riper, H. (2016). Mobile phone-based unobtrusive ecological momentary assessment of day-to-day mood: an explorative study. Journal of medical Internet research, 18(3), e72.
Ali, S., Rizvi, S. A. A., & Qureshi, M. S. (2014). Cell phone mania and Pakistani youth: Exploring the cell phone usage patterns among teenagers of South Punjab. FWU Journal of Social Sciences, 8(2), 43.
Buysse, D. J., Reynolds III, C. F., Monk, T. H., Berman, S. R., & Kupfer, D. J. (1989). The Pittsburgh Sleep Quality Index: a new instrument for psychiatric practice and research. Psychiatry research, 28(2), 193-213.
Chen, W., & Wellman, B. (2005). Charting digital divides: Comparing socioeconomic, gender, life stage, and rural-urban internet access and use in five countries (pp. 467-498). Cambridge, MA: MIT Press.
Dongre, A. S., Inamdar, I. F., & Gattani, P. L. (2017). Nomophobia: A study to evaluate mobile phone dependence and impact of cell phone on health. Natl J Community Med, 8(11), 688-93.
Eggermont, S., & Van den Bulck, J. (2006). Nodding off or switching off? The use of popular media as a sleep aid in secondary‐school children. Journal of paediatrics and child health, 42(7‐8), 428-433.
Gupta N, Garg S, Arora K. Pattern of mobile phone usage and its effects on psychological health, sleep, and academic performance in students of a medical university. National Journal of Physiology, Pharmacy and Pharmacology. 2016;6(2):132.
González-Cabrera, J., León-Mejía, A., Pérez-Sancho, C., & Calvete, E. (2017). Adaptation of the Nomophobia Questionnaire (NMP-Q) to Spanish in a sample of adolescents.
Gamble, A. L., D'Rozario, A. L., Bartlett, D. J., Williams, S., Bin, Y. S., Grunstein, R. R., & Marshall, N. S. (2014). Adolescent sleep patterns and night-time technology use: results of the Australian Broadcasting Corporation's Big Sleep Survey. PloS one, 9(11), e111700.
Hilbert, M. (2011, November). Digital gender divide or technologically empowered women in developing countries? A typical case of lies, damned lies, and statistics. In Women's Studies International Forum (Vol. 34, No. 6, pp. 479-489). Pergamon.
Irmak, M. K., Fadıllıoğlu, E., Güleç, M., Erdoğan, H., Yağmurca, M., & Akyol, Ö. (2002). Effects of electromagnetic radiation from a cellular telephone on the oxidant and antioxidant levels in rabbits. Cell Biochemistry and Function: Cellular biochemistry and its modulation by active agents or disease, 20(4), 279-283.
Khan, A. S. N. (2009). U.S. Patent Application No. 12/151,607.
Munezawa, T., Kaneita, Y., Osaki, Y., Kanda, H., Minowa, M., Suzuki, K., ... & Ohida, T. (2011). The association between use of mobile phones after lights out and sleep disturbances among Japanese adolescents: a nationwide cross-sectional survey. Sleep, 34(8), 1013-1020.
Majumder, S., & Deen, M. J. (2019). Smartphone sensors for health monitoring and diagnosis. Sensors, 19(9), 2164.
Parasuraman, S., Sam, A. T., Yee, S. W. K., Chuon, B. L. C., & Ren, L. Y. (2017). Smartphone usage and increased risk of mobile phone addiction: A concurrent study. International journal of pharmaceutical investigation, 7(3), 125-131.
Prasad, M., Patthi, B., Singla, A., Gupta, R., Saha, S., Kumar, J. K., ... & Pandita, V. (2017). Nomophobia: a cross-sectional study to assess mobile phone usage among dental students. Journal of clinical and diagnostic research: JCDR, 11(2), ZC34.
Repacholi, M. H. (2001). Health risks from the use of mobile phones. Toxicology letters, 120(1-3), 323-331.
Saeb, S., Zhang, M., Karr, C. J., Schueller, S. M., Corden, M. E., Kording, K. P., & Mohr, D. C. (2015). Mobile phone sensor correlates of depressive symptom severity in daily-life behavior: an exploratory study. Journal of medical Internet research, 17(7), e175.
Van den Bulck, J. (2003). Text messaging as a cause of sleep interruption in adolescents, evidence from a cross‐sectional study. Journal of Sleep Research, 12(3), 263-263.
Varshney, A. M., Shukla, A. K., Ahmad, S., & Mattas, S. (2017). An Interventional Study on Smartphones Usage Pattern among Dental Student of District Meerut,(UP). EXECUTIVE EDITOR, 8(1), 68.
Van den Bulck, J. (2007). Adolescent use of mobile phones for calling and for sending text messages after lights out: results from a prospective cohort study with a one-year follow-up. Sleep, 30(9), 1220-1223.
Yang, J. (2013). Mobile assisted language learning: review of the recent applications of emerging mobile technologies. English Language Teaching, 6(7), 19-25.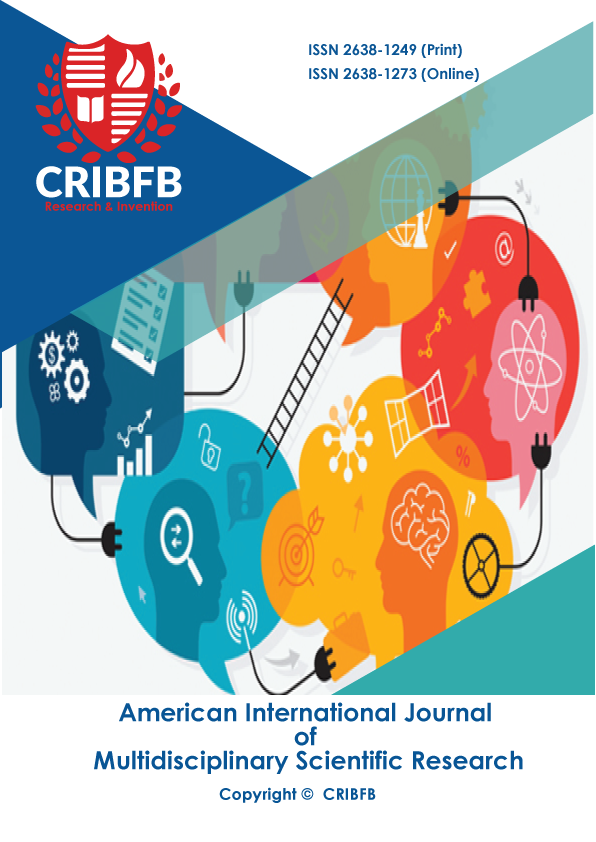 How to Cite
Farooq, L., Ali, A., Mahmood, S., Farzand, M., Masood, H., & Mujahid, S. (2019). Association between Excessive Use of Mobile Phone and Insomnia among Pakistani Teenagers Cross Sectional Study. American International Journal of Multidisciplinary Scientific Research, 5(4), 10-15. https://doi.org/10.46281/aijmsr.v5i4.406
Section
Original Articles/Review Articles/Case Reports/Short Communications
Copyright (c) 2019 Lubna Farooq, Akhtar Ali, Sehrish Mahmood,Mahnoor Farzand,Hina Masood,Sumreen Mujahid
This work is licensed under a Creative Commons Attribution 4.0 International License.