Internal, External, and Religiosity Determinant of Performance in Indonesian Navy Primary Cooperative(Primkopal)
Lilik Mulyono

Trisakti University, Jakarta, Indonesia

Miyasto .

Trisakti University, Jakarta, Indonesia

Roikhan .

Trisakti University, Jakarta, Indonesia
Keywords:
Tawhidy, Worship, Maslahah, Cooperative, Religiosity, Performance
Abstract
The background of this research is the desire to make Cooperative as the Indonesian Economy Piillar yet the goal has not been achieved. On the other hand the majority of Indonesian people are Islam who have the obligation to run the sharia completely and perfectly. In Islamic business which is guided by Tawheed and by applying the Islamic economic value that upholds the value of brotherhood, honesty, mutual trust, reject usury, and justice is the basic sharia that must be run for the ummah.Therefore, the board, supervisors, executors, and members of the cooperative are expected to implement the guidelines to create and increase the true welfare, namely happiness and peace of mind.The research by SEM-PLS method concluded that the test result to get empirical evidence with internal, external, and religiosity  variables  in cooperative management and performance at Headquarter of Navy Detachment Primary Cooperative, Jakarta give the positive impact for cooperative development on sharia concept.The recommendations that writer can disclose is the need for seriousness in managing cooperatives, whole in strategy, structure, system, commitment, and capital for the welfare of the members. Furthermore it can help the worship more beneficial by implementing concept of sharia which is blessed by Allah SWT.
References
Abdul Manan, (2012)Hukum Ekonomi Syariah dalam Perspektif Kewenangan Peradilan Agama, Jakarta: Kharisma Putra Utama
Adams, John. (2014). Religiosity and Its Impact on Individual Support For Welfare Spending Over Time.HonorsTheses. Paper 33.University of Colorado Boulder
Amalia, Euis dan Mahmudah Atiqah. (2015). Evaluating The Models Of Sharia Microfinanve In Indonesia : An Analytical Network Process ( ANP ) Approach.Al-Iqtishad:Vol. VII No. 1, Januari 2015. Page : 13 – 30
Arifin Sitio,Halomoan Tamba, (2001). Koperasi – Teori dan Praktek, Erlangga, Jakarta.
Anwar Abbas, (2010).Bung Hatta dan Ekonomi Islam Jakarta . Kompas
Asren Nasution .(2013)Membangun Karakter Bangsa.Jakarta PT Fajar InterPratama Mandiri
Amin Azis M., 1985, Partisipasi Anggota dalam Pengembangan Koperasi, dalam Sri Edi Swasono, "Koperasi di Dalam Orde Ekonomi Indonesia, Jakarta UI Press.
Aziz, Roikhan Mochamad. 2016. Hahslm Islamic Economics Methodology. Proceeding: SMICBES, UNS Surakarta.
Aziz, Roikhan Mochamad. 2016. Teori H Sebagai Wahyu Dan Turats Dalam Islam. Jurnal Ushuluddin, UIN Riau.
Aziz, Roikhan Mochamad. 2017. Determinant of Human Capital In Jakarta Islamic Index By Theory Hahslm. Proceeding: ICIFE, UIN Jakarta.
Aziz, Roikhan Mochamad. 2017. Teori H Dalam Perbankan Syariah. Prosiding: Ekonomi Dan Keuangan Syariah, UIN Jakarta.
Aziz, Roikhan Mochamad. 2017. Performa Dan Prospek Sukuk Serta Obligasi Di Indonesia Dengan Metodologi IER (Internal, Eksternal, Religiusitas) Dalam Pendekatan hahslm Sebagai Petunjuk (H) Jalan (A) Lurus (H) Manusia (S) Ke Allah (L) Untuk Ibadah (M) sesuai Quran Surat Al-Hijr 15.87 Serta Rukun Islam. Prosiding: KNEMA, Universitas Muhammadiyah Jakarta.
Aziz, Roikhan Mochamad. 2017. Determinant Of IER Factors (Internal, External, And Religiocsity) To Return On Asset (ROA) H Sharia Bank With IER Methodology In Hahslm Approach As A Guidance (H) Path (A) Straight (H) Human (S) To Allah (L) For Worship (M) As Quran Al-Hijr 15.87 And Pillars Of Islam. Journal ACEBFM, Universitas Muhammadiyah Surabaya.
Berhard Limbong(2012). Pengusaha Koperasi Memperkokoh Fondasi Ekonomi Rakyat Jakarta Margaretha Pustaka
Becker.Gary S (1965).The Economic Aproach to Human Behaviour. Chicago: The University of Chicago Press.
Baswir, R . (2000) .Koperasi I ndonesia (Edisi Pertama). Yogyakarta: BPFE.
Chapra, Umer. (1993). Islam and Economic Development. Islamabad : IRTI
Choudhury, M.A. (1993). Comparative Development Studies In Search of The World View. Great Britain : MacMillan Press Ltd.
Choudhury, M.A. (2013). Handbook Of Tawhidi Methodhology: Economic, Finance, Society and Science. Jakarta : USAKTI.
Feroz, E.H. & Goud, B., (2008). Grameen La Riba Model: A Strategy for Global Poverty Alleviation. SSRN Electronic Journal, pp.1–32. Available at: 2
Faisal Basri (1995).Perekonomian Indonesia Menjelang abad XXI Distorsi, Peluang dan Kendala . Jakarta Penerbit Erlangga
Ghozali, Imam. (2014). Structure Equation Modelling Metode Alternatif Dengan Partial Least Square. Semarang : BadanPenerbitUniversitas Diponegoro (UNDIP).
Ghazali, Imam dan Hengky Latan. (2014). Partial Least Square, Konsep, Tekhnik dan Aplikasi Menggunakan Program Smart PLS 3,0 untuk Penelitian Empiris.Semarang : Badan Penerbit Universitas Diponegoro (UNDIP).
Hendar (2010) Manajemen Perusahaan Koprasi. Jakarta. Erlanga.
Hendar & Kusnadi SE (2005) Ekonomi Koperasi Jakarta . Fakultas Ekonomi Universutas Indonesia
Hermawan, Asep. (2009). Penelitian Bisnis : Paradigma Kuantitatif. Cetakan Kedua (Revisi). Jakarta : PT. Gramedia Widiasarana Indonesia.
Hendri Tanjung,Abrisa Devi (2013).Metodologi Penelitian Ekonomi Islam Bekasi-Jawa Barat.Gramata Publishing
Hanel, Alfred, 1989.Organisasi Koperasi – Pokok-pokok Pikiran Mengenai Organisasi Koperasi di Negara-negara Berkembang. Universitas Padjadjaran, Bandung.
Hasibuan, Malayu SP.( 2003). Manajemen Sumber Daya Manusia (Edisi Revisi). Jakarta: Bumi Aksara.
Hasibuan, Malayu SP.( 2003). Organisasi dan Motivasi Dasar Peningkatan Produktivitas. Jakarta: Bumi Aksara.
Hendrojogi, (1999) Koperasi – Azas-azas, Teori dan Praktek, Rajawali Pers, Jakarta.
H.Veithzal Rivai . (2009). Islamic Human Capital. Jakarta. PT Raja Grafindo Persada
H.Veithzal Rivai,H BasriModding, Andrean Permata, Tatik Maryanti (2013).Financial Institution Management( managemen Kelembagaan Keuangan). JakartaPT RajaGrafindo Persada
Husni Syahrudin, 2003, Hubungan antara Manfaat Koperasi dengan Partisipasi Anggota, Tesis, UNPAD, Bandung.
Jhingan, M.L. (2004). Ekonomi Pembangunan dan Perencanaan. Jakarta: Raja Grafindo Persada.
King, Elizabeth M. and Andrew D. Mason. (2001). Engendering Development: Through Gender Equality in Rights, Resources and Voice. Washington, D.C. and New York: The World Bank and Oxford University Press. A World Bank Policy Research Report.
Kishor S (2000). Empowerment of women in Egypt and links to the survival and health of their infants. In: Women's empowerment and demographic processes, Harriet B. and Gita Sen Presser. New York: Oxford University Press.
Indriantoro, Nur dan Bambang Supomo. 1999. Metodologi Penelitian Bisnis Untuk Akuntansi dan Manajemen. BPFE : Yogyakarta.
Ikhwan A. Basri (2006). Menguak Pemikiran Ekonomi Islam Ulama Klasik . Jakarta Lembaga Pengembangan Perbankan Indonesia
Imam Ghozali dan Fuad. (2008) .Structural Equation Modeling. Semarang. Badan Penerbit Universitas Diponegoro
Ign. Sukamdiyo,(1996) Manajemen Koperasi, Erlangga, Jakarta.
Kantor Menteri Negara Koperasi dan UKM RI, 2000 Rencana Strategi Pembangunan Koperasi, Usaha Kecil dan Menengah RI Tahun 2001-2005, Jakarta
Lukman M Baga (2012) Potret Perkembangan Koperasi Di Indonesia Dalam Dasa Warsa Terakhir Departemen Agribisnis FEM­IPB
Kasmawati, 2003, Pengaruh Kewirausahaan Manajer terhadap Keberhasilan Usaha KUD di Kabupaten Buton Sulawesi Tenggara, Tesis, Bandunng: UNPAD.
Masrukhin dan Waridin. 2006. Pengaruh Motivasi Kerja, Kepuasan Kerja, Budaya Organisasi, dan Kepemimpinan Terhadap Kinerja Pegawai. Jurnal EKOBIS, Vol. 7 No. 2.
Muenker, Hans, (1989),Cooperative Principles and Cooperative La(Terjemahan), Universitas Padjadjaran, Bandung
Muslimin Nasution,( 2002).Kinerja Koperasi-Mengukur Keberhasilan Koperasi, Jakarta.
Neni Sri Imaniyati (2009) Regulasi dan Eksistensi Koperasi Syariah di Bandung Citra Aditya Bakti.
Ninik Widiyati. (2010).Manajemen Koperasi. Jakarta. Rinika Cipta.
Pandji dan Ninik, (2003) Dinamika Koperasi, Jakarta: Bina Adiaksara 6.
Pramanik, A.H. (1993). Development and Distribution in Islam.Petaling Jaya: Pelanduk Publications.
Peraturan menteri Negarakoperasi dan Usahakecil dan Menengah Republik Indonesia Nomor : 07 /PER/M.KUKM/IX/2011 tentang Pedoman Pengembangan Koperasi Skala Besar
Peraturan Menteri Koperasi Dan Usaha Kecil Dan Menengah Republik Indonesia Nomor 10/Per/M.KUKM/Ix/2015
Peraturan Menteri Koperasi Dan Usaha Kecil Dan Menengah Republik Indonesia Nomor 14/PER/M.KUKM/IX/2015 Tentang Pedoman Akuntansi Usaha Simpan Pinjam dan Pembiayaan Syariah Oleh Koperasi
Ridwan, Muhmmad. (2005). ManajemenBaitulMaalWatTamwil (BMT).Yogyakarta : UII Press.
Ropke, 1997, Ekonomi Koperasi (Teori dan Manajemen), Terjemahan Sri Djatnika S. Arifin, Jakarta, Salemba Empat.
Ropke, Jochen, (1995). Kewirausahaan Koperasi - Dinamika Kewirausahaan dan pengembangandalam Organisasi Swadaya, UPT Penerbitan IKOPIN, Bandung
Rusidi dan Maman Suratman, 1992, Pokok-pokok Pikiran Tentang Pemba-ngunan Koperasi, IKOPIN, Bandung.
Ritchie, M. 2000. Organizational Culture: An Examination of Its Effect on the Internalization Process and Member Performance, Southern Business Rivew, Spring 2000
Robert H. Waterman, Jr. and Tom Peters ( 1980s) The McKinsey 7S Framework is a management model developed by well-known business
Robbins, S.P. 2003. Organizational Behavior, Tenth Edition, Singapore: Prentice Hall.
Sayuti, 2006. Motivasi dan Faktor-faktor yang Mempengaruhi. Jakarta: Penerbit Ghalia.
Sari Rusiana Agustin, Susanti Beny(2011). Pengaruh Modal Sendiri, Modal Luar, dan Volume Usaha Pada Sisa Hasil Usaha Koperasi di Propinsi daerah Istimewa Yogyakarta. Fakultas Ekonomi Universitas Gunadarma.
Sitio, Tamba.( 2002). Koperasi Teori dan Praktik. Jakarta : Erlangga. Sudjana, 1992.Metode statistika. Bandung.
Sugiyono . (2000). Statistika untuk Penelitian Bandung. Alfabeta Bandung
Sugiyono, 2009. Metode Penelitian Bisnis (Pendekatan Kuantitatif, Kualitatif, dan R&D), Bandung : Alfabeta
Sugiyono. 2009. Memahami Penelitian Kualitatif. Bandung: Alfabeta.
Sudarsono ,Edilus . (2010). Manajemen Koperai Indonesia. Jakarta. Rinika Cipta
Sukanto Reksohadiprodjo (1988). Manajemen Koprasi. Yogyakarta. BPFE Yogyakarta.
Sukamdiyo Ign, 1997.Manajemen Koperasi. Semarang : Erlangga
Tanjung, Hendri dan Abrista Devi. (2013). Metodologi Penelitian Ekonomi Islam. Jakarta : Gramata Publishing
Todaro. M.P & Stephen C. Smith. (2011). Ekonomi Pembangunan Edisi kesebelas. Jakarta : Erlangga
Titik Sartika Partomo. (2009). Ekonomi Koperasi. Bogor. Ghalia Indonesia.
Undang-undang Koperasi No. 25 Tahun 1992 tentang Perkoperasian, 1992, Jakarta.
Undang-undang Koperasi No. 17 Tahun 2012 tentangPerkoperasian. Jakarta
Walker, J.W. 1992. Human Resource Strategy. New York: McGraw-Hill, Inc.
Widiyanto, Ibnu (1998). "Koperasi sebagai Pelaksana Distribusi Barang: Realita dan Tantangan",(Sebuah Pendekatan Pragmatis).
Widiyanti Ninik,( 1998) .Dinamika Koperasi. Jakarta : Rineka Cipta
Winardi, J. 2002. Motivasi dan Pemotivasian dalam Manajemen. Jakarta: Rajawali Pers.
William AMC Eachern /Sigit Triandaru. SE (2000) Ekonomi Makro Pendekatan Kontemporer Jakarta . Salemba Empat
World Bank Institute (2005). Introduction to Poverty Analysis. Diakses melalui http://siteresources.worldbank.org/PGLP/Resources/PovertyManual.pdf
Yadi Janwari, Lembaga-lembaga Perekonomian Syariah, Bandung, Pustaka Mulia dan Fakultas Syariah IAIN SGD, 2000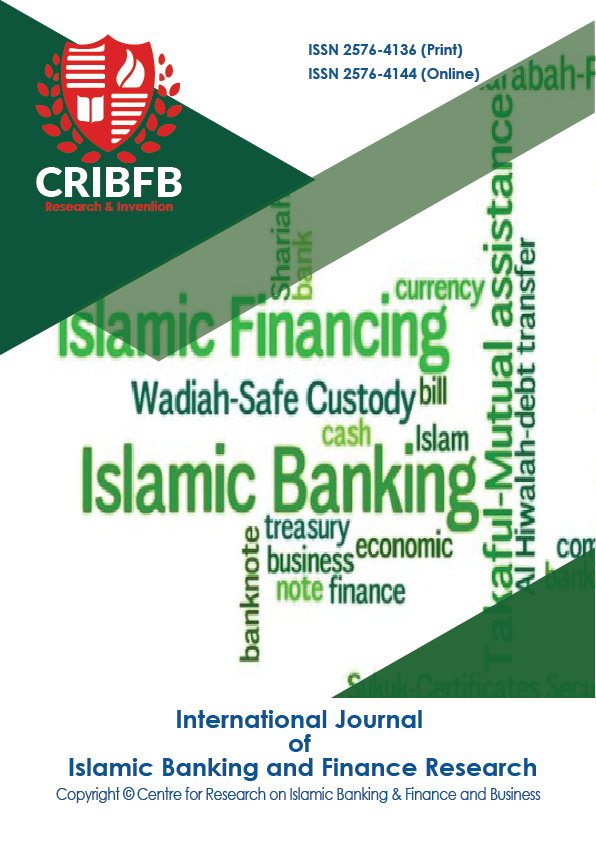 How to Cite
Mulyono, L., ., M., & ., R. (2018). Internal, External, and Religiosity Determinant of Performance in Indonesian Navy Primary Cooperative(Primkopal). International Journal of Islamic Banking and Finance Research, 2(1), 51-72. https://doi.org/10.46281/ijibfr.v2i1.40
Section
Original Articles/Short Communications
Copyright (c) 2018 Lilik Mulyono, Miyasto, Roikhan
This work is licensed under a Creative Commons Attribution 4.0 International License.