International Journal of Small and Medium Enterprises (IJSMEs) is a refereed international, double-blind peer-reviewed journal which is published semiannually. IJSMEs aims is to provide to the field of Small Medium Enterprises such as entrepreneurship, family-owned businesses, SMEs banking, performance measurement and business improvement, innovation in international SMEs, business models, women entrepreneurship, branding of SMEs products & services and other relevant issues.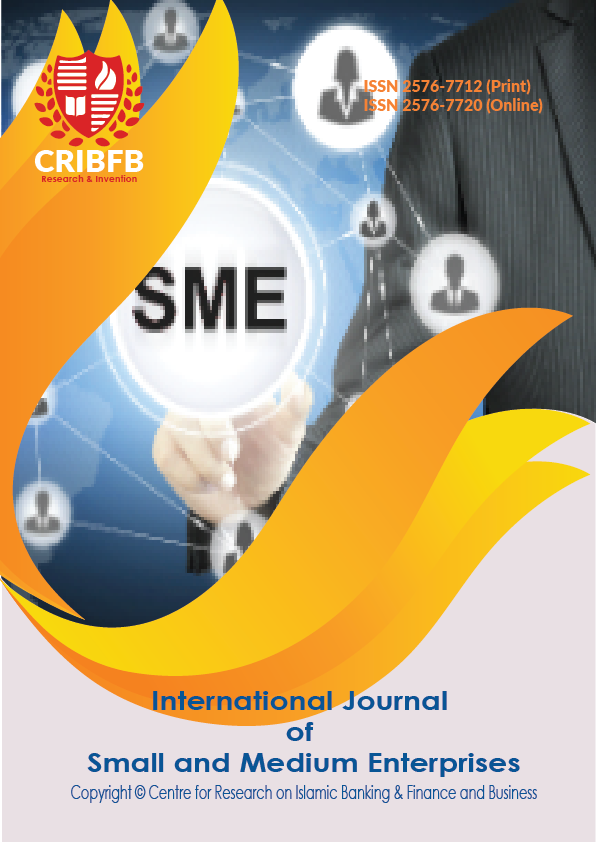 Statistics
2018: Articles Received: 0; Accepted: 0; Rejected: 0; Published: 0; Retracted: 0
---------------------------------------------------------
-----------------------------------------------------------
IJSMEs follows APA style.
----------------------------------------------------------
Author Guidelines
1. Authors must ensure that their papers are free of spelling and grammatical errors and typos.
2. Research papers should not exceed 8,000 words.
3. A separate title page of an article should contain the title of the paper, name(s) and affiliation(s) of the author(s).
4. The first page of an article should contain an abstract not exceeding 250 words and a maximum of eight keywords.
5. Equations in the text should be numbered consecutively using Arabic numerals within simple brackets and aligned against the right margin.
6. All appendices should be numbered consecutively using uppercase roman numerals and shown after the list of references.
7. References should be cited within the text as follows: According to Wickremasinghe (2005), foreign exchange market … These results are inconsistent with those of other studies (Perera, 1995; Silva, 2000)
8. List of references should show each citation in alphabetical order and follow the style of APA
9. Page proofs will be sent to the corresponding author. The corrected manuscripts should be submitted, and the publication fee should be paid within 05 working days.
10. The publication fee is $100 USD(Excluding Print Copy).
NOTE:
The publisher and journal have a policy of "Zero Tolerance on the Plagiarism". We check the plagiarism issue through two methods: reviewer check and plagiarism prevention tool (www.ithenticate.com).
All submissions will be checked by iThenticate before being sent to reviewers.
Keep a Similarity Index <30% and single source matches are not >6%
Announcements
Call for Papers - International Journal of Small and Medium Enterprises
International Journal of Small and Medium Enterprises welcomes the original research article, Review Papers, long papers, conference paper and short papers etc.
Last Date for Manuscript Submission: 25th of every month.
Online Publication Date: Last date of every month. Periodical update within the month
Frequency: 2 issues per year.
Posted: 11.12.2017
Join our Reviewer Board
International Journal of Small and Medium Enterprises welcomes academics and researchers expertizing in business to join the Reviewer Board. Reviewers' names will be listed in the printed journal and on the journal's webpage. Please find the application form and details at: http://www.cribfb.com/apply.php
Posted: 11.12.2017
Vol.1, No.2 (2018)
e-Version FirstTM
Table of Contents
Articles (In Progress)
| | | |
| --- | --- | --- |
| | Ebire Kolawole,Onmonya Lucky O | p1-12 |