American International Journal of Multidisciplinary Scientific Research(AIJMSR) is a refereed international journal which is published Quarterly. The journal aims are to publish the papers that provide current issues within Multidisciplinary Scientific Research such as Sciences and Engineering, Physical Sciences, Materials Science, Biology and Life Sciences, Mathematics & Statistics ,Transportation & Logistics, Engineering & Technology, Electrical & Computer Science, Earth, Energy & Environment, Architecture & Civil Engineering, Medicine, Health & Food Sciences, Chemistry & Chemical Engineering. The Journal focuses on topics related to Aeronautical/ Aerospace Engineering, Agricultural Engineering, Agronomy, Allergy, Analytical Chemistry, Anatomy, Anesthesiology, Astronomy, Atmospheric Sciences, Atomic and Molecular Physics, Automation, Automobile Engineering, Biochemistry, Bioinformatics, Biological & Biosystem Engineering, Biophysics, Biotechnology, Botany, Cardiology, Cell Biology, Ceramic Engineering, Chemical Engineering, Chemical Reaction Engineering, Civil Engineering, Collaborative Engineering, Communication Engineering, Complexity in Applied Science and Engineering, Computational Biology, Computational Science and Engineering, Computer Aided Engineering and Technology, Computer Applications in Technology, Computer Engineering, Computer Science Engineering, Condensed Matter Physics, Continuing Engineering Education and Life-Long Learning, Control Theory Engineering, Critical Care, Data Mining and Bioinformatics Engineering, Dentistry, Dermatology, Design Engineering, Developmental Biology, Ecology, Electrical Engineering, Electronic and Electrical Engineering, Embedded Systems, Emergency Medicine, Endocrinology, Energy, Engineering Management and Economics, Environmental Chemistry, Environmental Engineering, Epidemiology, Evolutionary Biology, Forensic Engineering, Gastroenterology, Genetics, Genomics, Geology, Geophysics, Geriatrics, Hematology, Hepatology, High Energy Physics, Immunology, Industrial Engineering, Infectious Diseases, Information Systems and Management, Information Technology, Inorganic Chemistry, Instrumentation Engineering, Intelligent Engineering Informatics, Knowledge Engineering and Data Mining, Manufacturing Engineering, Marine Biology, Marine Engineering, Materials Engineering, Mechanical Engineering, Mechatronics, Metallurgical Engineering, Meteorology, Microbiology, Microengineering, Mining Engineering, Molecular Biology, Molecular Imaging, Nephrology, Neurology, Neuroscience, Nuclear Engineering, Nursing, Nutrition, Obstetrics and Gynecology, Oceanography, Oncology, Ophthalmology, Optics, Organic Chemistry, Orthopedics, Otolaryngology, Parasitology, Pathology, Pediatrics, Petroleum Engineering, Pharmaceutics, Pharmacology, Physical Chemistry, Physiology, Process Systems Engineering, Production Engineering, Psychiatry, Public Health, Pulmonology, Radiology, Rehabilitation, Remote Monitoring, Rheumatology, Sensor Network, Soft-computing and Engineering Education, Software Engineering, Soil Science, Strategic Engineering Asset Management, Structural Biology, Structural Engineering, Surgery, Textile Engineering, Tissue Engineering, Toxicology, Transportation Engineering, Urology, Vascular Medicine, Veterinary Science, Virology, Zoology and all the disciplines.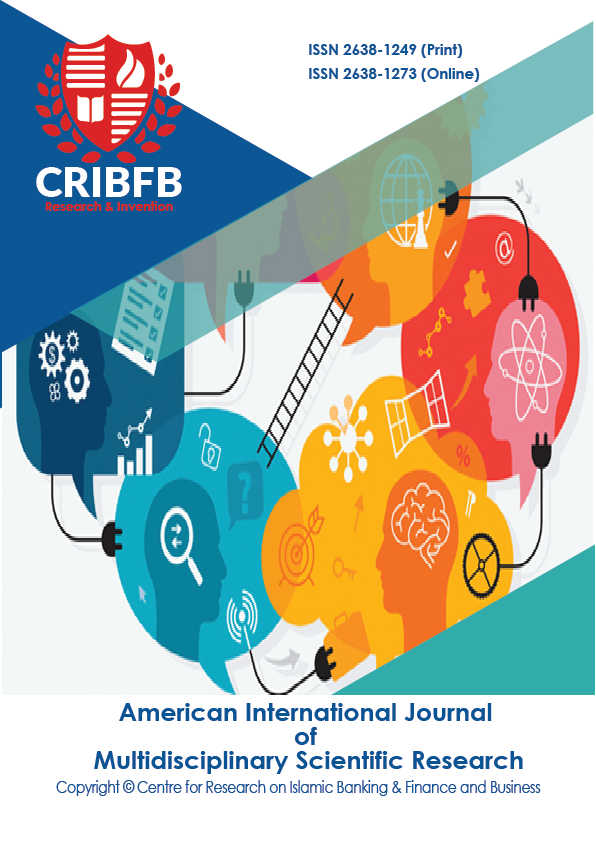 Statistics
2018: Articles Received: 50; Accepted: 11; Rejected: 39; Published: 11; Retracted: 0
---------------------------------------------------------
-----------------------------------------------------------
AIJMSR follows APA style.
----------------------------------------------------------
Author Guidelines
1. Authors must ensure that their papers are free of spelling and grammatical errors and typos.
2. Research papers should not exceed 8,000 words.
3. A separate title page of an article should contain the title of the paper, name(s) and affiliation(s) of the author(s).
4. The first page of an article should contain an abstract not exceeding 250 words and a maximum of eight keywords.
5. Equations in the text should be numbered consecutively using Arabic numerals within simple brackets and aligned against the right margin.
6. All appendices should be numbered consecutively using uppercase roman numerals and shown after the list of references.
7. References should be cited within the text as follows: According to Wickremasinghe (2005), foreign exchange market … These results are inconsistent with those of other studies (Perera, 1995; Silva, 2000)
8. List of references should show each citation in alphabetical order and follow the style of APA
9. Page proofs will be sent to the corresponding author. The corrected manuscripts should be submitted within 05 working days.
10. The publication fee is 100 USD(Authors from Lower and Middle Income Countries).
NOTE:
The publisher and journal have a policy of "Zero Tolerance on the Plagiarism". We check the plagiarism issue through two methods: reviewer check and plagiarism prevention tool (www.ithenticate.com).
All submissions will be checked by iThenticate before being sent to reviewers.
Keep a Similarity Index <30% and single source matches are not >6%
Announcements
Call for Papers - American International Journal of Multidisciplinary Scientific Research
American International Journal of Multidisciplinary Scientific Research welcomes the original research article, Review Papers, long papers, conference paper and short papers etc.
Last Date for Manuscript Submission: 25th of every month.
Online Publication Date: Last date of every month. Periodical update within the month
Frequency: 4 issues per year.
Posted: 2.7.2018
Join our Reviewer Board
American International Journal of Multidisciplinary Scientific Research welcomes academics and researchers expertizing in sciences to join the Reviewer Board. Reviewers' names will be listed in the printed journal and on the journal's webpage. Please find the application form and details at: http://www.cribfb.com/apply.php
Posted: 2.7.2018
Vol.1, No.3 (2018) Special Issues
e-Version FirstTM
Table of Contents
Articles (In Progress)
| | | |
| --- | --- | --- |
| | B. Vijaya Lakshmi, B. Ravi Kumar | p1-3 |
| | | |
| --- | --- | --- |
| | Alsaied Alnaimy Mostafa Habeeb | p4-16 |
| | | |
| --- | --- | --- |
| | Habeeb, A. A. M.; A. A. EL-Tarabany; A. E. Gad; M. A. A. Atta | p17-25 |